Customer Satisfaction: The key to innovation and sustainable profitability

How to best measure customer satisfaction remains a hot topic in the field of customer relationship management, writes Gregoire Vigroux, marketing director Europe, Telus International.

To help decision-makers better understand this question, Telus International, a global BPO provider of multilingual contact centers, has reviewed four ways to approach this topic: Customer Satisfaction (CSAT), Net Promoter Score (NPS), Customer Effort Score (CES), and the Wow Effect.

The importance of assessing the customer relationship

The measurement of customer satisfaction is complex due to its dependence on multiple variables. At a time when information is immediate and viral and, by its very nature, difficult to control, companies are seeking to rationalize this relationship. The ultimate aim is simple: anticipate the future to limit the risks. Long neglected by companies since it was considered complex and volatile, the assessment of customer satisfaction has now become a priority. Now, more than ever, brands need to stand out from the competition and always be one step ahead of customer requirements.

Effectively managing customer satisfaction is synonymous with increased flexibility and, above all, excellence. In the era of social networks, the customer has become the expert. An influential voice can, at a stroke, heap praise on, or cause significant damage to, the image of a company, brand, service or product. As a result, customer satisfaction is associated with danger, since the fear of alienating any customer whatsoever presents a major risk today.

The importance of acute awareness of customer satisfaction has its roots in five variables that are characteristic of our time: low market growth in a crisis context; relationships that are more than ever direct and instantaneous between consumers and the brands, orchestrated, in this era of information societies, by the all-powerful social networks; the assertion of new low cost entrants; a general trend towards the highly competitive; and finally the maturity of the markets, products and services.

Loyalty at all costs

CSAT was the pioneer measurement index for customer satisfaction and is the most commonly used by companies, regardless of the sector. The principle is simple: a customer is asked a question to assess their satisfaction in regards to the brand or service provided (from 1: "not at all satisfied", to 5: "very satisfied"). Based on the answers provided, the CSAT or the company's score can be determined.

The advantages of satisfaction questionnaires are legibility and speed. This simplicity is also felt by the customers who often respond to these surveys. The high return rates (up to 70%) are evidence that CSAT is seen as a valuable form of after-sales service in the supplier/customer relationship.

However, it does have its limits, one of which is that it is difficult to establish a proven link between customer satisfaction and financial results. For example, from 2005 to 2010, General Motors had positive results on customer satisfaction surveys despite its financial struggles. It is also difficult to establish a link with customer loyalty, a concept put forward in two reference works dealing with this topic: The ultimate question 2.0 by renowned American writer Fred Reicheld, and The effortless experience by Matthew Dixon, executive director, financial services and customer contact at CEB.

Another limit to CSAT is that merely seeking to exceed the customers' expectations may result in losing sight of their basic requirements, thereby creating distortions. Thus, blindly pursuing an artificial increase in satisfaction levels may prove to be counter-productive. The other problem with CSAT stems from the few details and little precise information obtained due to the inflexibility of the process. This is in fact rather like a brief dialogue where, ultimately, a significant place remains for what is not said and for interpretation. It is often difficult to detect or understand the subliminal messages in the customers' answers. CSAT is still fairly well suited to all industries, in B2B as well as in B2C.

The Net Promoter Score first appeared in the famous 2003 Harvard Business Review article titled: One number you need to grow, by Fred Reicheld and has quickly established itself as a complement to CSAT. Like CSAT, it is used to immediately collect information via an opinion poll composed of quick questions (or a single question in the case of NPS) that can be easily interpreted. The results have a mobilizing effect within the company and promote ongoing improvement. NPS and CSAT also offer virtually the same advantages in the field of outsourcing: information in real time, customizable measurements, fast feedback, installation of score-related bonuses and very short questionnaires.

In fact, NPS is a managerial tool used to gauge the loyalty of a customer in relation to a supplier – company, employer or other – through their inclination to recommend the brand. In short, it indicates whether a customer contributes, or not, towards promoting your brand, service or product. We could talk of a form of righteous loyalty for the company in the event of good results. In practice, the question is a simple one: on a value scale from 0 to 10, "would you recommend us to someone you know?" The results identify promoters (those who become true ambassadors of the brand), the so-called passive customers, and also the detractors (those likely to participate in negative word of mouth). The key is to have a positive NPS indicator, i.e. more promoters than detractors. NPS is especially useful for comparing the performances of different companies on a given market and geographic zone.

According to the Advocacy Drives Growth report from the prestigious London School of Economics, researchers were able to demonstrate that an average increase of 7% in NPS amounted to an average increase of 1% in sales. Any decrease in the number of detractors is equivalent to an increase in sales. With NPS, the key words "customer satisfaction" and "loyalty" are, by their very nature, sales growth drivers. NPS is also used to reliably benchmark the performance of the customer relationship in relation to the company's competitors. At the end of the day, NPS assesses mid- and long-term loyalty fairly well. Oriented towards B2C, it serves to continuously improve customer service and to associate customer service performance metrics with the company's financial performance.

The Wow effect

Although not considered a measurement, the Wow effect is often assumed to achieve high customer satisfaction ratings. It first appeared at the end of the 1990s, when surveys and studies revealed that satisfaction alone was not sufficient to retain customers, but that it was also necessary to delight and dazzle customers The Wow effect refers to the fact that a product, service or even an ad campaign can ostentatiously trigger customer surprise or admiration which can be summed up by the exclamation wow! The Wow effect often results in interest and support from those consumers confronted by the product and has the strong potential for recommendations and virality. A veritable fad among all those who champion the state of the art, the Wow effect is usually contingent on a strong and innovative characteristic of the product, service or advertising message. A prime example is the successful launch of the Nintendo 3DS console back in 2011, when consumers first discovered the 3D screen effects.

Highlighted by Timothy Keiningham and Terry Vavra in their book The Customer Delight Principle, the Wow effect is based on several factors. First, it excludes the dissatisfaction zone and opponents disloyal to the brand. Ideally, the delight and dazzle zone enables a brand to stand out from the competition while also allowing its customers to benefit. It is at this point in the delight that the phenomenon of a consumer's attachment to a brand can be seen. We could almost talk of a miracle solution. The effect presents a number of drawbacks. There is the cost, since the Wow effect usually involves a substantial investment. An opportune Wow effect can be beneficial, as in the case of a clothing store giving away unsold goods or having a massive clearance sale. As a rule, however, delighting and impressing a customer through special offers or gifts implies a high cost and it is usually best to treat all customers in the same way.

Research conducted by Matthew Dixon, with 125,000 customers, 5,000 agents and 100 companies, revealed that in only 16% of cases do customers really wish to be delighted and dazzled by a brand. Additionally, when the cost and the benefits are analyzed, any return on investment is relatively low. Second, Dixon found one of the intrinsic characteristics of the Wow effect, by its very nature representative of a trend phenomenon, is its transient aspect. Continuously renewing the exceptional is, after all, a challenging issue. Third, the Wow effect basically distracts customers from their primary concerns, leading us to question whether companies are overly focused on increasing customers' expectations rather than actually meeting their requirements. The final consideration that decidedly puts a damper on the Wow effect is the limited impact in numerous sectors. Exceeding expectations is difficult to achieve in B2B, since the Wow effect is by definition more useful in a marketing approach that targets individuals rather than companies. It rarely takes effect in mass B2C, but rather in niche markets, including the luxury sector, where the values conveyed by the brand may require this type of treatment


Customer satisfaction: less effort and a greater focus on the human element

In addition to the need to anticipate customer loyalty or provide customers with a very special experience (the Wow effect), the customer relationship has recently opened up to a new approach that aims to reduce customer effort. According to research carried out by Matthew Dixon, the Customer Effort Score (CES) is the best indicator for increasing customer loyalty without cutting back on margins. It measures customer effort when trying to resolve a problem with a product and is especially important in terms of technical support. Using a score from 1 to 10, it assesses the interaction with the customer support agent. Time spent waiting drains the most effort and, accordingly, has a devastating effect. The quality of the interaction is also key to estimating customer satisfaction. 94% of customers who classified themselves as using low effort when contacting customer service expressed an intention to repurchase, while 88% said they would increase their spending. Conversely, 81% of customers who had to deploy effort which they considered intense reported an intention to spread negative word of mouth. Paradoxically, with today's multiple contact channels, customers don't necessarily know how to get in touch with the company in question when a problem arises. Informing customers which channel will most effectively solve their problem is now vital, whether it be through self-service interactions or via a customer support agent.

Overall, CES applies relatively well to all industries, in both B2C and B2B. This indicator is the most pertinent for gauging whether or not a customer intends to come back and buy more. All consumers hope to have an enjoyable experience when making a purchase. However, once this phase has passed, each consumer expects to have a transparent experience when contacting a customer support service. This is why measuring the customer effort is an all-important tool, not only to assess customer satisfaction, but also to make the necessary adjustments to optimize and simplify the customer experience.

In short, a high CES is about offering a simple and easy experience aimed at extending the life of a brand over and beyond any initial love at first sight. This is in fact a comprehensive and perfected method for measuring and enhancing the customer relationship, even though it is more complex to deploy than the other approaches.

Conclusion

After many difficult years struggling to embrace new communication channels (from Facebook to YouTube, to smartphones and tablets), perhaps we have come full circle. Isn't it time we moved closer to customers and endeavored to really understand their experience?

With customers more than ever ready to give their opinion on anything and everything, companies seem to have gradually lost sight of them. Better informed and less influenced by media hype, customers are more difficult to delight and dazzle.

So why concentrate exclusively on recruiting new prospects rather than focusing the effort on existing customers? Focusing on the later ensures the relationship is built for the long term and demonstrates greater foresight and more stability. Simultaneously performing well on both the satisfaction and conquest levels is far from easy, since a choice has to be made to optimize expenditure while maximizing results. Focusing on loyalty is also a way to protect yourself from a form of competition that is increasingly aggressive and inexpensive.

Representing the key to innovation and sustainable profitability, customer satisfaction hinges on several major values: making customers feel valued, establishing empathy, proximity, quality of service and information. This is then part of a long-term profitability process which encompasses the purchase, ownership and renewal cycles. Ultimately, isn't this also a way of giving more credence to what your company produces and, implicitly, increasing its value?



---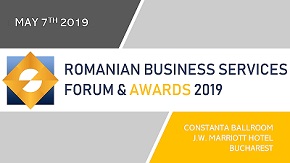 » Submit your nomination for ROMANIAN BU...
» Ciprian Dan, Wipro BPS: The industry n...
» Yonder: The first Dutch company in Clu...
» Exclusive OT: Federal-Mogul to expand ...
» Exclusive OT print issue: Genpact may ...
» Federal-Mogul inaugurates new manufact...
» Bosch continues double-digit expansion...
» GRS has one of the fastest growths and
» TELUS International Europe: Assessing ...
» Next Generation Shared Services Roadsh...

Workplace of the Future conference to take place on November 20th at Bucharest

The Diplomat-Bucharest together with Outsourcing Today organize the 3rd Edition of WORKPLACE OF THE FUTURE, on 20th of November 2019, in Bucharest, at Capital Plaza Hotel.
Read Full article »
Strategic Talent Acquisition at People Empowering Business Forum on October 30 in Bucharest

Latest trends like demographic upheaval, globalization, digital technology, and changing social values and worker expectations, are disrupting business models and radically changing the workplace. These are req
Read Full article »
Informal IT School and UiPath launch an educational program for RPA development to start in October

Informal IT School announced a partnership with UiPath to launch an RPA development educational program of five months, 100 hours of courses, five days a week. The program will run in Cluj-Napoca.
Read Full article »
Impact Hub Bucharest joins 3house to manage three coworking spaces in the city

Impact Hub Bucharest, a coworking spaces manager and developer of accelerator programs and events merged with 3house, a new concept of workplace launched in 2018. By this, Impact Hub reaches 3 locations and 6.7
Read Full article »
JLL: Total office space in Bucharest to reach 3 million sqm

The second quarter of 2019 reconfirmed the increased interest for the office market in Romania. Over 115,000 square meters of office space were leased over this period at the national level, a value similar wit
Read Full article »