Colliers: Outsourcing businesses, prominent pillars of the office sector

Real estate market has gained momentum and transaction volumes will be close to Euro 800 million by the end of the year, encouraged by stable economic environment and growth potential.

Outsourcing businesses are still the prominent pillars of the office sector, as Romania becomes more visible for reputable BPOs, SSCs and IT companies, with focus on Bucharest, but also secondary cities.

More than 60,000 people are currently employed in outsourcing activities and forecasts provision up to 150,000 in the next 5 years. Characterized by vibrant activity, office sector in Bucharest is on the verge of a new era of premium quality deliveries in what is to become a half million sqm office hub by 2020, Floreasca – Barbu Vacarescu area, according to Colliers Q3/2015 Market Report.

"Aligned with our expectations from the beginning of the year, real estate market has been characterized by general positive evolution for transactional activity for all sectors. Relying on good macroeconomics indicators, the year brought more intense consumption and higher interest in investment," says Ilinca Paun, Managing Director of Colliers International (photo).

"With take-up picking up and vacancy rates reporting low record levels, developers felt confident enough to start projects across the entire market. Industrial sector will add new stock to the static inventory registered in the past years, while investment market continues to post remarkable results this year also, with total volume expected to reach Euro 800 million by the end of the year", Paun adds.

The current year continued the growth trend begun in 2014 and saw a real estate market dominated by more courageous players. As forecasted at the beginning of the year, Romanian investment market witnessed sizable transactions value wise, exceeding Euro 100 million threshold, and international investors either entering or consolidating their positions on the local market.

Office Market

Floreasca – Barbu Vacarescu sub-market stands out as the new CBD area in Bucharest. The modern stock of buildings in the area was subject to the biggest part of the demand, with 215,000 sqm leased in the past five years. The area will continue to be in the spotlight in the years to come, 155,000 m2 GLA of office space being planned for development. Nevertheless, the competition in the sub-market becomes fiercer with each new announced development. Based on our extensive analysis, three main sources are to generate the future supply in the area: new companies entering the market, companies that will see their leasing agreements coming to maturity in the next years and those located in poor quality buildings that want to upgrade their location.

"In the past years, Romania not only has undoubtedly become an attractive destination for outsourcing industry, but has also changed the way it's being perceived by large companies. Romania is no longer seen solely as a cost-effective destination, but rather a value-added generator and valuable talent pool. Similar to previous years, in 2015 also, the business services industry has driven most of the office demand. We foresee this trend will grow stronger in the future and Floreasca-Barbu Vacarescu area alone is expected to generate up to 300,000 m2 potential demand in the next five years as renowned outsourcing companies are consolidating their business on the local market, but also new players have entered or announced their presence in Romania," said Andreea Paun, Associate Director Office Agency, Colliers International.

Investment Market

The investment market attracted new investors that will have closed by the end of the year transactions worth ca. Euro 800 million, close to the level registered in 2014 of Euro 950 million, being supported by the positive economic context and development of real estate fundamentals, and a yield crunch in competing markets. With more than 3% GDP growth expected for the end of the year, Romania outpaces other European countries and has the smallest public debt to GDP in EU, 38% compared with EU's 90% average.

Bucharest's prime yields are some of the highest in CEE capital cities and have seized investors' interest. With 7,5% yield for office sector, similar for retail and approximately 9% for industrial, with continued downwards pressure, Bucharest offers investors a wide range of high quality real estate assets.

Year to date, Colliers originated and advised on closed transactions of more than Euro 350 million, including the largest deals on the market for industrial – sale of Europolis Logistics Park, retail – sale of Auchan Titan Shopping Center and office – sale of two institutional office properties.

"2015 investment volumes are expected to be similar to that of last year, the difference being that the
market is becoming more diverse with new sources of capital being attracted by the relatively high returns achievable with high quality investments. Moreover, it is notable that large volume transactions (Euro 50 – 100 million) are taking place across all sectors: office, retail and industrial, a positive indication to investors interested to enter the market with scale. With strong asset fundamentals, capital markets liquidity improving and the still generous yield levels present in all sectors, we believe an important arbitrage opportunity is still present in Romania," said Robert Miklo, Associate Director Investment Services, Colliers International.

Bucharest Industrial Market

Industrial market resumed activity and is looking ahead at a future period of increase. For the first time in the last years, Bucharest's logistic stock is expected to increase by the end of 2016 considering that more than 100,000 sqm of new projects currently under construction will be added to the current stock. The constant volume of logistics stock has contributed to lower vacancy rate, reaching values below 8% in H1/2015 on Bucharest market. The new industrial stock will be available at sustainable rent levels ranging between 3.5 – 4.15 Euro/sqm.

"Industrial investments are entering a new era of growth as the interest in spaces and locations in Romania is rising in the late period. Not only Bucharest is seizing investors' enthusiasm, but also other large cities are rivalling the capital, such as Timisoara, Arad, Brasov, Pitesti, Sibiu, etc. The end of the year should reveal a stable and mature market, with new developers ready to consolidate their position. The new stock announced to be delivered next year stands to prove this trend," said Costin Banica, Senior Associate Industrial Agency, Colliers International.

Retail Bucharest market

Based on forecasted increase of household consumption, Bucharest is expected to sustain more than 100,000 sqm of additional non-food retail spaces by the end of 2018. Taking into account future announced projects, Bucharest will be able to sustain total retail inventory above 900,000 sqm. The stock increase will be supported by household consumption evolution which is forecasted to be on a constant upward trend in the future years, reaching 603 Euro/household/month in 2018.

"The economic stability and overall positive vibe of the market, has triggered a more confident behaviour of Romanians. This translated into higher revenues and retail market saw higher turnover volumes compared with previous year, rising up to 10-15% in 2015. This boost of confidence is also visible regarding deliveries, which have doubled this year compared with previous year," said Liana Dumitru, Associate Director Retail Agency, Colliers International.

Bucharest Land Market

North Area and Theodor Pallady have been the most active transactional areas in Bucharest in the past 2 years. Bucharest's northern part, which includes Aviatiei, Barbu Vacarescu, Caramfil, Dimitrie Pompeiu and Floreasca areas, has supported more than Euro 100 million worth investments in land plots, over 20 ha being transacted in this period of time. For Theodor Pallady, residential and retail sectors have fuelled the transactions of 50 ha in total, worth over 60 million Euro.

"We see increased transactional activity on the land market, across all segments, given the good performance of office leasing segment, of retailers and also residential sales. Aviatiei and Theodor Pallady were the most transacted areas, driving together total investments bigger than Euro 150 million, followed closely by Grozavesti-Politehnica. However, the residential land market was dynamic throughout the entire Bucharest, including the very peripheral areas with improving infrastructure. Price levels are stable and depend to a large extent on the plot destination and the status of the zoning process," concluded Sinziana Oprea, Associate Director Land Agency, Colliers International.


---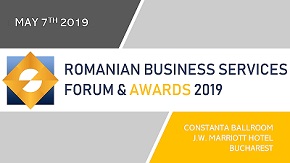 » ROMANIAN OUTSOURCING AWARDS FOR EXCELL...
» Meet the winners of ROMANIAN BUSINESS ...
» Pavel Campan appointed as the new Vice...
» Genpact's COO: Staying ahead of the cu...
» CBRE: Office deliveries expected to br...
» Exclusive OT print issue: Genpact may ...
» N-iX, EPAM, Luxoft, Ciklum, Intetics, ...
» Molson Coors started to grow its busin...
» TELUS International Europe: How fast-g...
» Leoni to open new SSC in Cluj, cut job...

Workplace of the Future conference to take place on November 20th at Bucharest

The Diplomat-Bucharest together with Outsourcing Today organize the 3rd Edition of WORKPLACE OF THE FUTURE, on 20th of November 2019, in Bucharest, at Capital Plaza Hotel.
Read Full article »
Strategic Talent Acquisition at People Empowering Business Forum on October 30 in Bucharest

Latest trends like demographic upheaval, globalization, digital technology, and changing social values and worker expectations, are disrupting business models and radically changing the workplace. These are req
Read Full article »
Informal IT School and UiPath launch an educational program for RPA development to start in October

Informal IT School announced a partnership with UiPath to launch an RPA development educational program of five months, 100 hours of courses, five days a week. The program will run in Cluj-Napoca.
Read Full article »
Impact Hub Bucharest joins 3house to manage three coworking spaces in the city

Impact Hub Bucharest, a coworking spaces manager and developer of accelerator programs and events merged with 3house, a new concept of workplace launched in 2018. By this, Impact Hub reaches 3 locations and 6.7
Read Full article »
JLL: Total office space in Bucharest to reach 3 million sqm

The second quarter of 2019 reconfirmed the increased interest for the office market in Romania. Over 115,000 square meters of office space were leased over this period at the national level, a value similar wit
Read Full article »