Romania: corporate vs. state int'l country brand image promotion

The tragicomic situation of the two refugees from Syria bursting into tears when found out they accidentally have reached Romania, and not Serbia or Hungary is reflecting a much broader image.

The majority of potential investors are dominated by this negative misconception, mostly based on hearsay and kept alive by the lack of perceivable action from the previous Romanian governments.
While Romania is one of the most attractive countries in Europe from the foreign investors point of view that have already been here, the country`s image abroad remains opaque or simply too insignificant for the many.

Talking to various local and foreign investors during the past years, problems that the country poses remain the same: corruption, lack of infrastructure, legal unpredictability and lack of transparency. Yet, there's one issue more to add on that list: lack of international (positive) image promotion.
While the delegations of Romanian government officials said they met other officials and companies, they failed to produce any palpable results.

Instead, private investors, leaders of companies in various areas ranging from stock exchange to outsourced services, do seem to promote Romania better. In their meetings with international investors, private investors from Romania try to lure them in with concrete examples of business cases, and they know where to go and what buttons to push.

It is the case of Bucharest Stock Exchange and Franklin Templeton and it is also the case of the ABSL (Association of Business Services Leaders) delegation meetings in the US, which lobbied for Romania altogether to investors weighing billions of euros in assets under management.

And it is also the case of countless local and foreign investors, which succeeded at least to bring down to zero the unemployment rate in areas such as Timisoara.

The government bodies change often inside out, as the defunct ARIS case proved (Romanian Association for Foreign Investment was established in 2002 and closed in 2009 after suffering various personnel and strategy mutations).

A negative perception, mostly unjustified, creates a risk-adverse attitude. We will always remember the case of the Syrian refugees that once they reached Hungary stated they would have never head towards Romania, as "there's nothing to do there". That is simply wrong, as Romania still lacks developed services, so there's everything to do.

When promoting Romania abroad, local investors hit the reluctance wall mainly because of corruption. A lot of investors say Romania should speed up prosecution and also confiscate the fortunes of those politicians convicted by the local courts, not just imprison them. But that's a different topic.

As negative image is slightly edulcorated by the fight against corruption, the lack of infrastructure and legal stability are still dominating.

Romanian general and outsourcing services investments are therefore based on one pillar: the advantage of educated personnel, with lower wages.

Romanian brand image is also based on one pillar: the already-established investors budget and will to lure in more clients, an attitude that deserves a lot of credit.

The other day, the US Ambassador to Bucharest and several economists reiterated the need for infrastructure and the need to keep the human capital at home. This can only be done with foreign investment, as local resources are limited. And here's the vicious circle.

While the Department for Foreign Investments seemed rather active lately, I suspect it is the corporate lobby that deserves applauses for this year growth in FDI.

The foreign investments increased this year to about 2.3 billion euro in the first eight months, almost reaching the overall annual 2014 weak level of 2.4 billion euro.

But Romania's negative perception leads away also investments from more sophisticated domains, such as in banking and finance BPOs. A local BPO investor discussing the expansion of a western banking client from Poland to Romania hit the reluctance wall yet again. Others simply cannot face the lack of infrastructure, while local existing firms also have their own problems: the lack of personnel makes them move now into more accessible employee-pools such as Iasi area in North-East or even Bulgaria.

But more and more money are coming in, even the flow is yet feeble. And there's mostly corporate lobbyists merit.

Bogdan Tudorache is the editor in chief of Outsourcing Today


---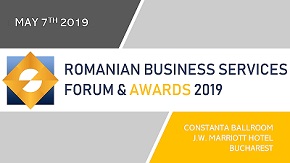 » US: IT outsourcing for healthcare sect...
» Meet the winners of ROMANIAN BUSINESS ...
» CBRE: Office deliveries expected to br...
» Workplace of the Future conference to ...
» Bombardier: from Bucharest subway to t...
» Genpact's COO: Staying ahead of the cu...
» From a Romanian business venture to a ...
» Omnichannel: 4 pillars of a purposeful...
» Elena Calin, CEO UP! Your Service Roma...
» Bosch Service Solutions to grow 20% Ti...

Workplace of the Future conference to take place on November 20th at Bucharest

The Diplomat-Bucharest together with Outsourcing Today organize the 3rd Edition of WORKPLACE OF THE FUTURE, on 20th of November 2019, in Bucharest, at Capital Plaza Hotel.
Read Full article »
Strategic Talent Acquisition at People Empowering Business Forum on October 30 in Bucharest

Latest trends like demographic upheaval, globalization, digital technology, and changing social values and worker expectations, are disrupting business models and radically changing the workplace. These are req
Read Full article »
Informal IT School and UiPath launch an educational program for RPA development to start in October

Informal IT School announced a partnership with UiPath to launch an RPA development educational program of five months, 100 hours of courses, five days a week. The program will run in Cluj-Napoca.
Read Full article »
Impact Hub Bucharest joins 3house to manage three coworking spaces in the city

Impact Hub Bucharest, a coworking spaces manager and developer of accelerator programs and events merged with 3house, a new concept of workplace launched in 2018. By this, Impact Hub reaches 3 locations and 6.7
Read Full article »
JLL: Total office space in Bucharest to reach 3 million sqm

The second quarter of 2019 reconfirmed the increased interest for the office market in Romania. Over 115,000 square meters of office space were leased over this period at the national level, a value similar wit
Read Full article »