150 industry leaders at the HR in Shared Services and Outsourcing Forum

While launching Outsourcing-Today.ro, The Diplomat-Bucharest was host for its first annual event dedicated exclusively to the HR managers in shared services and outsourcing industry. The event took place on October, 28 at InterContinental Hotel in Bucharest.

The 150 attendants enjoyed the two interactive panels and the four workshops held by Genpact, Wipro, SocGen European Business Services and ACCA.

"As Richard Branson said, the key element of succeeding in any business is: People, people and people," said Daniel Bratu, vice president, Operations Support, Genpact Europe and ABSL Romania vice president, Education, during his opening speech.

"The industry started from 400 people and in just 10 years developed to more than 60,000 employees, an important figure, generating significant revenues to the state budget. Today Genpact has 3,000 employees, and we have bet on people," Bratu said.

Genpact launched its recruitment platform youyourself.ro, which posts today more than 420 openings in Bucharest and Cluj, for young and experienced professionals. "We hired 1,000 new employees in 2015," also said Crina Ilie, vice president, Human Resources, Genpact Europe.

Due to fact that Romanian education system is rather based on theory, Genpact launched its own training and education programs, one of the most known being "Genpact Gateway," Bratu explained. Other subsidized certifications and training programs allow employees to advance in their careers inside Genpact, in Romania, but as well in other "geographies."

"I don't think that our competitive differential to other countries should be the cheap cost of labor, but the value offered by our people," Bratu added.

The event benefited by an exquisite moderation from Andrei Romanescu, former leader of the local HP Global Business Center and now a mentor for "go-getters".

While the first panel discussed the local education, Varujan Pambuccian, member of the Chamber of Deputies IT&C Commission, fears that technology is laying people off, and states that Romania need a different type of predictive education.

"Romanian education system must be headed towards what we think, with a vast probability, that may follow," Pambuccian said, explaining that high-schools should educate professionals for the outsourced services industry directly, as it happens in other countries, and should put more accent to practical training.

"We must adapt our education system, unfortunately, we are still reactive and we await to see what is happening in other parts of the world to react," Bratu added.

"Mobility is important and useful only if we look at countries where it is something usual," said Ionut Anica-Popa, Director, Department of Relations with Socio-Economic Environment, Bucharest University of Economic Studies, ASE.

As commuting between cities in Romania is a very infrequent phenomenon, "there's a tremendous pressure on Bucharest from employers and the cost side, as universities only prepare a fixed number of graduates each year, while industry needs grow," Anica said.

"In other countries, such as Holland, we work with high-school graduates, who are covering the so-called 'clerk jobs'," also said Bratu.

ABSL launched a new master program in partnership with ASE, covering 75 positions within the first year. Elsewhere, ABSL also launched a series of regional business mixers and conferences in Bucharest, Cluj, Brasov, Constanta, Craiova and other cities (and following next in Timisoara on November 17).

While ACCA contributed to the ASE master curriculum and partners with universities in Iasi, Timisoara and Cluj, ACCA has adopted an open-doors policy for students, says Mihaela Robu, Acting head of ACCA – South-Eastern Europe.

"Since 1990, we say Romania has a cheap labor force. We must change this paradigm and say we have a valuable work force. And we should not await the state to react. The state doesn't have any money. The civil business society, the companies must be involved into education," added Sebastian Vaduva, president of The informal School of IT.

HR talent management: the challenges of attraction, retention and motivation

Amalia Sterescu, CEO, Outsourcing Advisers, founder of Public Speaking School, opened the second session urging for empowering of the HR training communities.

"Reading a Human Resources Society study, that revealed that during the next 10 years the challenges of the human resources managers will be developing the leaders, ensuring a collaborative environment, assuring a better communication between leaders and a better responsibility, I was thinking that HR managers have a lot on their shoulders," said Sterescu. "The key question is: who is developing the HR manager? …Besides business objectives, HR managers have a huge responsibility, to create future leaders that will support this industry in Romania," Sterescu said.

As such, the HR managers must leave their normal patterns and continuously adapt, she added.
Roxana Tesiu, Europe HR head at Wipro Technologies, said the company is undergoing a transforming process for its Europe HR, and it will reposition its HR strategy.
"I am proud of our team, which had a very low personnel fluctuation during past years…I realized that we need to reinvent ourselves. We can offer solutions to our CEO, instead of demanding," said Tesiu.

Wipro average team age is of 27, but the HR function has a sum of generations to manage. "The X generation has values and life principles totally different from the Y generation. The X managers have the Y generation underneath - an adaptable, passive generation, which has its own protection mechanisms which engulfs lack of rules adoption. We must stimulate the intra-preneur dimension within this generation. We can reinvent HR in many detailed things, such as adopting tasks from entrepreneurial side," said Tesiu.

While newer generations prefer fun, innovative companies, they prefer companies that adapt to their needs, and are also respecting their ethics, also Sterescu explains.
Catalina Magui, deputy head of HR SSC at Societe Generale European Business Services, admits "we must not keep closed into using 25-year old methods", when it comes to compensations and benefits, to keep track with newer generations.

"I bet our parents faced the same problems, we must adapt, along what we witness into our companies and into day to day lives," said Magui.
At the same time, Crina Ilie, vice president, Human Resources, Genpact Europe, said that there's no such thing as unrealistic expectations form the newer generations, but just wrong HR dialogue approaches.

"During my first recruitment years I received the basis that defines me still. There are no candidates with unrealistic expectations. But just HR discussions not so well led. When we talk about people there are no recipes. We are hiring 800 to 1,000 people each year, 80% of which are beginners to this industry. We form local and international talent… and I cannot say that I must reinvent myself, as the business reinvents continuously," said Ilie.

Diana Bocaneala, CEE Head of people Development and Recruitment, Endava, said we should look more at people, as humans. While candidates come to certain expectations to job interviews, their expectations are set by companies' culture that cannot be changed. "Endava also does not fall into the salary spiral, and we do not attract people that are not motivated extrinsically," Bocaneala said.
At the same time, the role of gratification increased with the newer generation of personnel, said Andreea Paun, Associate Director Office Agency, Colliers International Romania.

"Fun at work is the new trend. Many corporations do not feel that way, but HRs are more vocal, lately," she said.

A new energy at the office, and international trends may be observed by HRs, who are CEOs business partners and make proposals. "The new generation is concentrated on gratification. How the office responds to this? By offering mobility and the sensation that you can access the office from anywhere," Paun said. She offered the example of King, the game producer of Candy Crush Saga, that created an office not only with game facilities, but also Segway and rollers special paths, while workspaces booths are not split by conventional materials, but of wood taken from forest floor.

"Besides money, to attract employees, you must be a differentiator," said Andreea Paun.
Also, working from home or bringing your device to work are stimulating the employees, said Andreea Suciu, Head of Employment & Pension Dept,. Noerr.

"The new BYOD concept, or bring your own device, promoted by US employers, states that the employees use at work their own devices, combining work with personal interest," said Suciu. That not only increase productivity, but generates extra-hours of work, even from home.

The conference continued with four simultaneous workshops. The Genpact workshop was sustained by Cristina Ulesan, assistant vice president, Human Resources, Genpact Europe: "New strategies to develop and retain talent in your organization". Societe Generale European Business Services workshop was conducted by Alexandra Olteanu, COO: "Employees value proposition".
The Wipro workshop was managed by Teodora Todoran, Strategic Leadership Development Europe/ Training at Wipro, and by Monica Grigoriu – ICF certified coach, level Professional Certified Coach: "Coaching in organizations: TARGET: Time to act on relations. Get it now!"
And not least, the ACCA workshop, led by Mihaela Robu, Acting head of ACCA – South-Eastern Europe: "A new equation for talent."

Partners at the event included: The Platinum partner, GENPACT, Gold partners: ACCA, Societe Generale European Business Services and Wipro and partners Endava, Noerr, Oregon Park, Stefanini, Omifa and ANIS, The Academy of Economic Studies Bucharest (ASE), CLUJ IT Cluster, Extind, Informal IT School and Nordis.

More about the debates and special reports will be presented in Outsourcing Today website and The Diplomat- Bucharest magazine.

---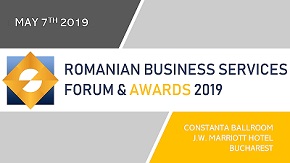 » Meet the winners of ROMANIAN BUSINESS ...
» TELUS International Europe awarded Mos...
» Federal-Mogul inaugurates new manufact...
» TELUS International Europe: Assessing ...
» Wipro launches automotive center of ex...
» Exclusive OT: Federal-Mogul to expand ...
» CBRE: Office deliveries expected to br...
» Why AFI Tech Park is the best value fo...
» Luxoft expands Asia Pacific presence w...
» Ciprian Dan, Wipro BPS: The industry n...

Workplace of the Future conference to take place on November 20th at Bucharest

The Diplomat-Bucharest together with Outsourcing Today organize the 3rd Edition of WORKPLACE OF THE FUTURE, on 20th of November 2019, in Bucharest, at Capital Plaza Hotel.
Read Full article »
Strategic Talent Acquisition at People Empowering Business Forum on October 30 in Bucharest

Latest trends like demographic upheaval, globalization, digital technology, and changing social values and worker expectations, are disrupting business models and radically changing the workplace. These are req
Read Full article »
Informal IT School and UiPath launch an educational program for RPA development to start in October

Informal IT School announced a partnership with UiPath to launch an RPA development educational program of five months, 100 hours of courses, five days a week. The program will run in Cluj-Napoca.
Read Full article »
Impact Hub Bucharest joins 3house to manage three coworking spaces in the city

Impact Hub Bucharest, a coworking spaces manager and developer of accelerator programs and events merged with 3house, a new concept of workplace launched in 2018. By this, Impact Hub reaches 3 locations and 6.7
Read Full article »
JLL: Total office space in Bucharest to reach 3 million sqm

The second quarter of 2019 reconfirmed the increased interest for the office market in Romania. Over 115,000 square meters of office space were leased over this period at the national level, a value similar wit
Read Full article »