KPMG: Business Services industry may grow to about 70,000 employees in 2015

Employment in the business services sector will rise by 15% at the end of 2015, possibly exceeding a general revenue to GDP ratio of 1.6% and reaching to an overall employment to active population ratio of about 2,2%, according to an Outsourcing Today estimation based on a KPMG study.

An additional growth of about 17% in 2016 and a further 19% for 2017 are the average figures forwarded by 29 companies surveyed by KPMG. Expanding the growth figure to the entire industry, the employment may rise to about 70,000 people, from 60.000 last year.

In 2014 about 1.9% of the active working population was employed in the industry, while the business represented 1.4% of the GDP.

While this year the industry is expected to grow some 15%, a resulted grow is rather provided mainly for the Bucharest area, where most of the respondents (81%) reside.

"The forecasted development of the employment workforce for the next three years is positive, with growth in the number of employees expected for each year. The total pool of human resources is expected to increase by 15% in 2015, by another 17% in 2016 and by another 19% in 2017," says Adela Ciucioi, Director of KPMG's outsourced services division.

KPMG has started its shared services center in 2011 and has now more than 110 people providing services throughout five different countries. Meanwhile, the outsourced services industry is expected to see an expansion in activities and customers (21% of the respondents) over the next two years, or simply expand just their activities (20%) or just the customer base (18%), especially in IT&Telecom, banking and industrial sectors, where most of the respondents are active.

"In terms of plans for the future, at least two thirds of the respondents plan to continue to develop, considering the significant growth that we're still forecasting, we have probably all of the scientific arguments needed to consider the industry as a rising star," Ciucioi said.

"Employment growth in companies organized as internal units / captive centers is supported mainly by global restructuring plans (as mentioned by 40% of the respondents), an increase in external demand (by 30% of them) and development of new business areas (by 25% of them)," the study says.

Employment growth in companies organized as commercial providers / outsourcing centers is to a large extent determined by the increase in external demand (as mentioned by 50% of the respondents), followed by the development of new business areas (by 36% of them) and acquisitions (by 14% of them).

Companies organized as hybrid models mentioned all the above growth drivers, the most frequently encountered being the development of new business areas (in the case of 37% of respondents) and acquisitions (for 27% of them), followed by global restructuring plans and external demand increase (each for 18% of the respondents).

Participants in the survey comprised 29 companies operating in the outsourcing market in Romania, most of which located in Bucharest. They are organized as either internal units / captive centers, commercial providers / outsourcing centers or hybrid models. Most of the companies are located in Bucharest, but also have offices in other cities within Romania. The total turnover for all respondents was at least 675 million euro in 2014. Respondents' parent companies are mainly based in Europe or North America and are active in a wide range of sectors, the most frequently encountered being Technology & Telecom, Business and Professional Services and Industrial & Consumer goods.

The services provided by the surveyed companies are diverse, ranging from customer operations, IT, finance and accounting, business transformation, human resources and others. Most of the companies surveyed provide more than one type of service, with a maximum number of services offered of twenty two.

Except for one company not disclosing its plans, all the other respondents expressed their intention to expand the activities within the following one to two years, either through new activities being offered to new or existing clients, or by offering existing activities to new clients. Eight companies are focused on the stabilization and optimization of their current activities, combined with the already mentioned expansion activities. One company is focusing on increasing the automation, besides expansion of activities and stabilization of current ones.

The total number of answers exceeds the number of respondents, as most of the companies plan to use more than one of the alternatives.

The total turnover of the respondents to the survey for the FY2014 is at least EUR 675 million (the exact amount could not be calculated as two companies stated that their turnover exceeds EUR 20 million, without providing the precise amount and another six companies refrained from disclosing this information). A rough estimation of the turnover generated per employee ranges between EUR 8 thousand and EUR 114 thousand, with an average turnover of EUR 39 thousand per year. However, given the data obtained through questionnaires, the figures might not be sufficiently accurate in this respect.

The size of surveyed companies varies from less than one hundred employees to more than three thousand employees.

The average attrition rate, which significates the employment fleeing for other jobs, is of 21%. Eighteen companies have reported an attrition rate lower than the average and only five companies have reported values above it.

Out of the total pool of human resources, most are concentrated in rendering IT, customer operations and finance & accounting services.

The majority of respondents have indicated an average age of the workforce of between 25 and 35. In most cases, female employees are in a clear majority, the overall gender distribution being 64% female employees to 36% male employees.

Key drivers for employment growth vary depending on the type of organization. While employment growth is generated by global restructuring plans for captive centers with a direct impact on the increase in external demand, employment growth in outsourcing centers is generated by both an increase in external demand and the development of new business areas. Hybrid models combine all the above mentioned growth criteria.

Fringe benefits represent an important part of employees' compensation. Although a wide range of such benefits is offered by companies, the most frequently provided ones are medical packages and language courses. In their effort to increase the technical competences of the human resources pool, the companies have developed a wide range of cooperation projects with universities, such as joint educational projects and joint conferences and courses.

The majority of active employees within the companies subject to the survey have at least a bachelor's degree, while about a quarter of them also have a Master or PhD degree.
Participants in the survey have indicated language proficiency as the most needed skill, with a focus especially on German language, followed by IT skills, the KPMG study made for ABSL concludes.

B.T.

---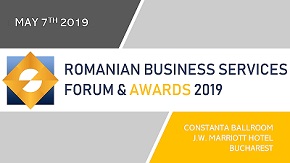 » Ericsson and Skanska trial IoT for Sma...
» CBRE: Office deliveries expected to br...
» DTZ: Office demand outside Bucharest t...
» ROMANIAN OUTSOURCING AWARDS FOR EXCELL...
» Meet the winners of ROMANIAN BUSINESS ...
» Why AFI Tech Park is the best value fo...
» Capgemini to open new office at Suceav...
» Genpact's COO: Staying ahead of the cu...
» Kaspersky's top 4 dangerous file attac...
» Exclusive OT print issue: Genpact may ...

Workplace of the Future conference to take place on November 20th at Bucharest

The Diplomat-Bucharest together with Outsourcing Today organize the 3rd Edition of WORKPLACE OF THE FUTURE, on 20th of November 2019, in Bucharest, at Capital Plaza Hotel.
Read Full article »
Strategic Talent Acquisition at People Empowering Business Forum on October 30 in Bucharest

Latest trends like demographic upheaval, globalization, digital technology, and changing social values and worker expectations, are disrupting business models and radically changing the workplace. These are req
Read Full article »
Informal IT School and UiPath launch an educational program for RPA development to start in October

Informal IT School announced a partnership with UiPath to launch an RPA development educational program of five months, 100 hours of courses, five days a week. The program will run in Cluj-Napoca.
Read Full article »
Impact Hub Bucharest joins 3house to manage three coworking spaces in the city

Impact Hub Bucharest, a coworking spaces manager and developer of accelerator programs and events merged with 3house, a new concept of workplace launched in 2018. By this, Impact Hub reaches 3 locations and 6.7
Read Full article »
JLL: Total office space in Bucharest to reach 3 million sqm

The second quarter of 2019 reconfirmed the increased interest for the office market in Romania. Over 115,000 square meters of office space were leased over this period at the national level, a value similar wit
Read Full article »