Opinion, Dan Zaharia: The office buildings become the new factories of Iasi

The office buildings are becoming the new factories of Iasi, the software and outsourcing factories for the entire community in the city.

In order to satisfy the potential demand on the office market, office buildings are already appearing in Iasi, offices emerging from reconversions of residential apartment buildings and hotels (e.g. UBC3 and 4), multistory commercial centers (Moldova Center), auto showrooms (Tester 1), old fabric plants (Tesatura), administrative buildings (e.g. Nicolina Business Center) or, most recently, multiplex cinemas (Palas-UBC6). These reconversions require massive investments. However, their central location makes the return of investment possible in a reasonable time frame of 10 to 12 years. What is needed is the scalability of the office stock, as the current market players are developing exponentially by attracting new international clients.

Presently, there are only three building in Iasi that have a surface per level that exceeds 2.000 square meters (IDEO, Moldova Center and UBC3). Many international companies are requiring surfaces between 800-3000 square meters per level for a better building of the flows, of the departments and of the connecting subdivisions (e.g. conference halls, dining room, relaxation room, etc.). In parallel, the possibility of decreasing the number of levels that a company rents in a building leads to decreasing costs with the administrative staff (reception, security), with the IT infrastructure (server rooms, cables, etc.), but also decreasing transit time between departments/functions. Access control and data security are also factors to consider.

According to a recent study by DTZ, Iasi owns a stock of 142.000 square meters of office buildings. The problem is the granularity of this stock, because there are up to ten office buildings that have surfaces to rent of over 5.000 square meters, the rest having total surfaces of 500-2.000 square meters.

One can already foresee three big development areas of the future modern office buildings:
-CBD (Central Business District): the buildings in the area Sf. Lazar, Str.Palat, Sos.Nationala, Splai Bahlui, where the traffic and parking lots become congested.
-West Zone: the area Pacurari and exit towards the beltway, easy accessible from the new residential neighbourhoods in the metropolitan area of Iasi.
-The Industrial East Zone: contains the platforms Nicolina, Tesatura, Tester, Ispal, Terom and extends up to Tatarasi and is limited by the Technical University and the student campus.

The reduced size of the majority of the office buildings in Iasi stems from the fact that the investments have been realized without a prior market research, from the low funding level from the banking system in crisis in 2008-2011, from the lack of experience of the investors, from accessing European funds that come with certain limitations. We don't have yet that many start-ups that we could host in these buildings. The wave coming towards us is a "giants" one, a wave that starts from 2.000 square meter offices in the first year, but that tends towards 5.000-10.000 square meters for a single company, all in one single building.

What will be needed are technological parks with 3-5 office buildings of minimum 2.000 square meters per level and a surface to rent of minimum 10.000 square meters each, with generous parking spaces, well connected to public transportation and to bicycle lanes, all projected from the beginning to uphold the international standards for green buildings (LEED, BREEAM, etc.).

For this last aspect of green buildings, lobbying to the local and regional administrative level will be necessary, in order to adopt a number of support measures already implemented successfully in other cities (e.g. Cluj-Napoca, Timisoara) with the help of RoGBC (The Romanian Council for Green Buildings), that have a branch in Iasi-RoGBC Moldova-since the beginning of the year.

---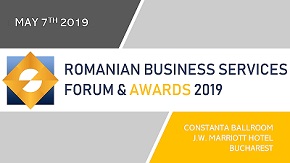 » US: IT outsourcing for healthcare sect...
» Meet the winners of ROMANIAN BUSINESS ...
» CBRE: Office deliveries expected to br...
» Workplace of the Future conference to ...
» Bombardier: from Bucharest subway to t...
» Genpact's COO: Staying ahead of the cu...
» From a Romanian business venture to a ...
» Omnichannel: 4 pillars of a purposeful...
» Elena Calin, CEO UP! Your Service Roma...
» Bosch Service Solutions to grow 20% Ti...

Workplace of the Future conference to take place on November 20th at Bucharest

The Diplomat-Bucharest together with Outsourcing Today organize the 3rd Edition of WORKPLACE OF THE FUTURE, on 20th of November 2019, in Bucharest, at Capital Plaza Hotel.
Read Full article »
Strategic Talent Acquisition at People Empowering Business Forum on October 30 in Bucharest

Latest trends like demographic upheaval, globalization, digital technology, and changing social values and worker expectations, are disrupting business models and radically changing the workplace. These are req
Read Full article »
Informal IT School and UiPath launch an educational program for RPA development to start in October

Informal IT School announced a partnership with UiPath to launch an RPA development educational program of five months, 100 hours of courses, five days a week. The program will run in Cluj-Napoca.
Read Full article »
Impact Hub Bucharest joins 3house to manage three coworking spaces in the city

Impact Hub Bucharest, a coworking spaces manager and developer of accelerator programs and events merged with 3house, a new concept of workplace launched in 2018. By this, Impact Hub reaches 3 locations and 6.7
Read Full article »
JLL: Total office space in Bucharest to reach 3 million sqm

The second quarter of 2019 reconfirmed the increased interest for the office market in Romania. Over 115,000 square meters of office space were leased over this period at the national level, a value similar wit
Read Full article »