BPO hits the ground running

As the business services industry seems to be racing with double-digit growth year on year, BPO players try not get left behind. New entries show up, young companies expand their business in second- and third-tier cities, planning to hire hundreds of people, while veterans shift the focus towards more complex services. Alexandra Lopotaru interviewed BPO leaders to see how far they want to go

The business services industry is Romania′s newest and longest breath of fresh air, where business process outsourcing (BPO), information technology outsourcing (ITO), shared services centres (SSC) and research and development (R&D) rise year on year despite the economical turmoil. The industry started to develop more than a decade ago, when companies begun to rethink their development strategy, focusing more and more on their core business and giving up less-important business lines to third parties. As the process turned out to be time and cost efficient, Romania′s business services sector grew from less than 200 people in 2004 to 60,000 employees last year, where BPO and ITO comprise half of the industry, according to Association of Business Service Leaders (ABSL) data, the most important organization of the sector in Romania. Thus, the industry witnessed an average growth rate of over 20 per cent in the last few years and a further growth of over 30 per cent is expected in the upcoming period.

Cost advantages, labour market potential, especially in terms of university graduates with high language skills, market size and data infrastructure are the most important opportunities Romania offers to foreign investors. According to a ranking made by real-estate consultancy company Jones Lang LaSalle, Romania ranks ninth globally and second in the CEE as a preferred destination for companies operating in the business service industry. However, according to a top-100 outsourcing destinations worldwide report by Tholons, one of the main full-service strategic advisory firms for global outsourcing and investments, Romania ranked 39th globally and fourth in Europe at the end of December 2014.

Nevertheless, the local market saw and still sees a lot of activity in the sector and the BPO market is no exception. The growth of the segment was registered through capacity expansion of existing companies, entry of new investors and through expanding either their customer base or their services portfolio. Automatic Data Processing, one of the largest global outsourcing service firms, started operations at the end of 2014 and plans to hire almost 500 people in its Bucharest-based centre. Genpact, one of the pioneers of the local industry, hired 300 people last year, while Telus International, present on the local market since 2012 by acquiring a majority stake of CallPoint New Europe, plans to hire 400 people by the end of 2017. Wipro Technologies Romania, with more than 20 million Euro in turnover, plans to increase its headcount by 150 people by July this year, while Global Remote Services (GRS) plans to hire 200 people by the end of this year.

The Diplomat - Bucharest talked to major BPO players to find out what other plans they are thinking of, where the Romanian business services industry is heading and what the main challenges are which they need to face.

<h3>Genpact′s Vasilescu stresses data infrastructure and human resources as Romania′s strengths</h3>

Genpact, one of the main BPO players worldwide with global revenues of 2.2 billion USD and more than 67,000 people last year, opened its first local office in Bucharest in 2005, and after two years it extended its business into Cluj-Napoca. According to Daniela Vasilescu, vice president operations at Genpact Romania, the local market started to see accelerated rise in 2013, when the majority of players registered two-digit growth in terms of business. Furthermore, the trend is likely to continue in the years to come given the opportunities Romania offers: data infrastructure and skilled human resources.

"During 2013, Romania got discovered by the business services industry and the market really took off," Vasilescu tells The Diplomat - Bucharest. "From our point of view, the sector potential has not been reached yet. We anticipate that it will continue to grow for the next years as well. Players are taking advantage of Romania's infrastructure development, especially where it concerns data infrastructure and the intelligence and flexibility of the Romanian people. Of course, the development is influenced by both Romania′s general economic context and competition in the region, but, given its potential, we are confident the growth will not stop here."

Vasilescu goes on to say that the business services industry is currently facing two directions, namely the rapid process automation and self-service platforms. The latter is recognized mainly in the finance industry, where banks have already provided their customers self-service platforms to do their own transactions. In terms of rapid process automation, the trend is designed to deliver solutions for unmanned processes that tend to eliminate human error and increase efficiency. "We need to understand to which extend automation can be beneficial and can save precious human resources for more complex and added-value jobs," says Vasilescu. "Genpact is studying such solutions intensively and we are already deploying them in suitable processes, bringing to customers significant added-value. However, there are some industries that are more open to this, such as the capital market, but there are others that are not. So, it takes time and collaboration."

In order to attract more foreign investors, Vasilescu advises Romania to improve the road infrastructure that assures accessibility and connectivity between cities, to improve its state-aid schemes designed to support investments and to have more stability in terms of political environment. "We sometimes have mixed signals from the political environment when someone wants to reopen the labour code, for instance," says Vasilescu. "Such initiative of opening the labour code would instil uncertainty in the market. Even if the final outcome is positive to the industry, as long as it hangs in the air or it is reopened, investors will get a signal that the environment is not stable. Let us have stability."

Genpact Romania delivers services in 20 languages for more than 45 international clients. The local headcount of the company increased last year by almost 14 per cent to reach 2,500 people in Bucharest and Cluj-Napoca and still has room for several hundred jobs. "In 2014, Genpact Romania grew with almost 300 people," says Vasilescu. "We have a very powerful hiring engine and we continuously have open positions. Currently, there 400 open jobs," she concludes.

<h3>Wipro plans to hire 150 people by July this year</h3>

With a current headcount of 800 employees in its two offices - 400 in Bucharest and 400 in Timisoara - outsourcing services provider Wipro Technologies Romania plans to increase the headcount in Bucharest by 50 per cent this year, to reach a total of around 950 people, in order to sustain the company′s development strategy with focus on IT services. The people will be hired by July, says Vivek Bakshi, head of International Operations (Europe) at Wipro Technologies. "Last year, we moved into a larger office located in the north of Bucharest, to support our growth plan, following an investment of up to five million Euro," Bakshi tells The Diplomat - Bucharest. "This year, we are focusing more on IT and the perspectives are looking positive. I am going to increase the Bucharest manpower by at least 50 per cent by the end of July."

Operating in 21 languages, the company provides back-office services like finance and accounting (F&A), law & procurement, logistics & auto management and ITO, the latter being the core business amounting to more than 70 per cent of the revenues. Wipro also provides infrastructure help-desk support, namely business-to-business and business-to-customer. Moreover, the company plans to bring other services on the local market in June this year. "We are introducing HRO [human resources outsourcing] services in June for a large retail company," adds Bakshi. "We already established the team."

Speaking about the newest trends of the industry, Wipro′s Bakshi goes on to say that robotics is currently changing the face of the business services industry. The direction is designed to improve efficiency, to automate and eliminate repetitive errors from processes made by humans. Although Wipro applies the rapid process automation strategy mainly in India, where around 80 per cent of its global headcount in located, the general manager wants to also extend it into Romania in the future.
"We will see a lot of focus on automation from everyone in the coming years," says Bakshi. "We are also focusing a lot on automating processes. We are also looking at what we call ′cobots′ or collaborative robotics, where humans and robots are working together to improve efficiency. Filling a form is an example. If it can be done automatically by software, it becomes faster, more efficient and cheaper. Currently, we haven't had the opportunity to implement such software in Romania, but there is a lot of focus in the coming years."

Last year, Wipro registered similar revenues to 2013′s figure of 96 million RON (21.8 million Euro), but this year the general manager plans to record at least a ten per cent increase. Established on the local market in 2006, the company evolved from one customer to 23 international clients.

<h3>GRS plans to grow by 200 people this year</h3>

Contact centre Global Remote Services (GRS), present on the local market since 2004, plans to hire 200 people by the end of this year in order to reach 700 employees in its three offices from Bucharest (where there are two) and Piatra Neamt, Neamt county, according to Cosmin Raducu-Efrim, the general manager of the company. Out of 200, 70 people would go to the newest centre in Neamt opened last year with an investment of less than 100,000 Euro.

"Currently, we count around 500 employees and we have an ambitious plan to increase the headcount by almost 50 per cent by the end of 2015," Raducu-Efrim tells The Diplomat - Bucharest. "We plan to develop the Neamt centre semi-independently in terms of activities and contracts as the two offices in Bucharest grew over the years. We have around 30 people in Neamt and we want to hire 70 more to support our growth plans. The total investment in our newest office is estimated somewhere between 80,000 and 100,000 Euro. However, so far only 75 per cent of the investment was done because we are still waiting for new contracts."

The headcount growth goes hand in hand with the business growth. GRS posted last year six million Euro revenues, representing a more than 25 per cent increase year on year. This year, the company plans to have 20 per cent growth and to penetrate new markets. If 93 per cent of the business comes from Italy and seven per cent from France, GRS expects to increase the French share up to 20 per cent and to enter on the UK market. "If the economic environment allows us, we will focus more on France and we will penetrate the UK," says the general manager. "The current signals are positive and I think we will manage it. However, this business is not so easy to develop in and anything could happen. But I remain optimistic."

Speaking about the business services industry in general, Raducu-Efrim goes on to say that Romania has witnessed a huge growth in the past few years and the trend will continue. If the new entries on the local market will start to appease a little bit, the expansion of the existing companies will continue to register up to 30 per cent growth, he says. Still, there are several challenges the industry needs to face. "Although Romania remains a top destination for outsourcing, nowadays we see a small decrease in terms of language skills. If three or four years ago we had 11 or 12 candidates for one job, currently the ratio has halved. That is why we focused on third-tier cities also."

GRS's GM goes on to add that another advantages of third-tier cities are the low competitive environment and the cost-efficiency. "In Piatra Neamt there are few services centres and we don't fight over the workforce," he says. "Furthermore, people are more devoted to the company, very reliable, pay attention to details and respect the employer more. I don't say the ones in Bucharest are different, but they tend to be more conceited because the market allows them to be."
GRS delivers services such as inbound (around 50 per cent of revenues), outbound and back office. The centre has around 16 clients and operates in 12 languages.

<h3>Telus expects to hire 400 people by December 2017</h3>

Canadian-based outsourcing company Telus International entered on the local market in 2012 by acquiring a majority stake of CallPoint New Europe, a contact centre opened in 2007. In 2014, the company grew its headcount by 69 per cent, to almost 480 employees, and in the first three months of 2015 Telus hired another 120 people to bring its count up to 600. In the next two years, the company plans to reach 1,000 people, according to Gregoire Vigroux, marketing director Europe at Telus International.

"Our objective was to reach 600 employees by December 2015, but we are already there [early March]," Vigroux tells The Diplomat - Bucharest. "By December 2016, we plan to reach 800 people and by December 2017 - 1,000. This is a conservative plan, but we think we will exceed it. We started the company in 2007 with six or seven employees and we registered constant growth since the beginning. Bucharest is the best place in Europe for multilingual BPO."

According to the Ministry of Finance′s website (www.mfinante.ro), the company posted 13.2 million RON (three million Euro) revenues in 2013, while last year the turnover doubled. "We grew by 100 per cent last year in terms of revenues," says Vigroux. "In January 2014, we were making 365,000 Euro per month and in December 2014 - 727,000 Euro. We are extremely optimistic about our perspectives and we only see growth in the years to come. The bigger we get, the better we attract bigger companies as clients."

In order to support the growth, Telus took the decision to move from its office in Pipera (Bucharest) into a bigger location in AFI Park 3, stretching over 5,300 sqm and five floors. When the interview was conducted in early March, the company was in the transition period. "We are very focused on the well-being of our employees," says Vigroux. "Thus, we made an internal survey, to figure out where they live. Actually, we realised that 45 per cent - almost half of our employees - were living in the sixth district of Bucharest and only one per cent in Pipera. We wanted to make their life more comfortable and AFI Park 3 was the best option."

Telus has a second office located in Craiova that was opened in 2012 and registers 110 employees. Operating in 13 languages, Telus delivers BPO and ITO services for 12 customers mainly active in e-commerce, retail and telecom businesses, of which three are from Romania and the rest from Canada, France, Germany, UK and Italy. "I think that Romania is clearly the new El Dorado of the industry," says Vigroux. "The country really shines in terms of customer service. For the future, we plan to develop more ITO than BPO, because we know that Romanian people have good IT professionals," he concludes.

<h3>Xerox Romania to focus on SMB</h3>

Servicing hundreds of clients all over the country directly and through partners, Xerox Romania's main business focus is on managed print services (MPS). Providing MPS to more than 100 local clients, of which around 70 per cent represent large companies and about 30 per cent SMEs, Xerox Romania witnessed an accelerated growth in the small and medium business (SMB) dominated by Romanian companies, according to Gabriel Pantelimon, the general manager of Xerox Romania. Moreover, the trend is likely to continue in the next years as well. "The largest growth Xerox will be seeing in the future is in the SMEs area," Pantelimon tells The Diplomat - Bucharest. "SMB, defined mostly by local entrepreneurs and Romanian companies, is getting mature. Romanian companies are not reluctant to turn to document management services and Romanian clients adopt technology very quickly."

In 2014, Xerox Romania registered better results compared to previous years, witnessing growth on all business lines, according to Pantelimon. Although not disclosable figures, Xerox saw a one-digit increase in terms of revenues and two-digit growth in terms of hardware. Moreover, the services business rose year on year, currently reaching more than 50 per cent of the revenues. "2014 was a better year not only for Xerox, but for the entire Romanian market," says Pantelimon. "The share of services in the global Xerox business is over 55 per cent and we are aligned to the global strategy. Services are following the hardware trend: if this is growing, then other segments will grow for sure."

Pantelimon goes on to say that Xerox′s development strategy is to shape the business according to the clients, to get closer to them and grow along with their growth. Furthermore, the company is following the business services industry direction towards rapid process automation, cost-efficiency and increased production, by applying more and more software solutions. Thus, the management document services become more efficient. "If six or seven years ago clients called first to stress a problem, nowadays all equipment is integrated within a network and we can see if something is not right or needs to be upgraded even before the customers do," adds Xerox′s Pantelimon. "One might think that jobs will disappear because of robotics, but they do not realize that new opportunities will appear," he concludes.

In order to shift its focus from an office and production equipment supplier to a technology services provider, US-based printer and copier maker Xerox acquired in 2009 ITO and BPO company Affiliated Computer Services (ACS) for 6.4 billion USD. The global strategy has been implemented on the local market two years later, by ACS purchasing Italian BPO company XL World which operated in Iasi and Oradea. Subsequently, the company extended its operation in Bucharest. Currently, Xerox holds almost 2,000 employees in Romania and plans to exceed this number by the end of 2015.

<h3>PS Romania: "The industry needs to see some legal improvements to develop further"</h3>

Romania is one of the most attractive business service destinations in the region, mostly due to its geographical proximity to Western Europe, its wide range of technical and linguistic competencies, as well as a more favourable economic context compared to other Eastern European countries. However, the business services industry needs to see several legal improvements in order to develop even further, according to Ferenc Gabor, the managing director of F&A services company Process Solutions (PS) Romania. The manager analyses them one by one for The Diplomat - Bucharest.

First of all, the labour legislation must be adapted to reality. According to Gabor, BPOs and SSCs have completely different business models compared to communist or post-communist factories 20 to 30 years ago, based on which labour legislation was created, and recent changes in labour legislation are minor. A second critical area is taxation, where employment-related taxes are still very high. "In various sectors, there are widespread practices to circumvent high taxes, such as PFA's and daily allowances for business trips abroad," Gabor tells The Diplomat - Bucharest. "BPOs and SSCs are fair tax payers. As new players are coming and the business services sector matures, salary levels will most likely increase. This can have a negative impact on country attractiveness. The solution would be to gradually reduce employment-related taxes."

Last, but not least, Gabor confesses that the education system needs to be improved at all levels. Although Romania registers high scores for multilingual capabilities, the managing director has noticed a slight decrease in English skills, mostly at grammar levels. If a few years ago the average of an English recruitment test in the final stage was 80 points out of 100, nowadays it dropped to 55-60 points. In this context, he goes on to say that a partnership between the educational system and such companies is vital. According to him, this is the only way schools and universities can find out what skills and competencies employers are looking for. "ABSL [where PS is an associate member] is currently developing a partnership with the Accounting Faculty of ASE to launch a master program dedicated to business services," he says. "The curriculum is relevant, practical and, during the two years, there are nine months of real and meaningful internship within a company."

With 12 million Euro in revenues last year and more than 300 employees across five offices in the CEE, Process Solutions Group delivers finance and accounting services for multi-national companies in most countries across Europe. Present in Romania since 2007 and counting around 35 clients, the company has witnessed a fluctuating development that went mostly hand in hand with the business evolution of its customers. Last year, the company saw a slight increase compared to previous years, reaching 650,000 Euro in turnover, although some clients downsized or closed their businesses in Romania. For this year, the company is expected to post from five to ten per cent growth also.
"The majority of our clients are subsidiaries of international companies operating in Romania; for us, 2014 was similar to 2013 for most of them," says Gabor. "Some of our clients (non SSC nor BPOs) invested further or are planning to acquire existing businesses, but some others were downsizing or closing their businesses in Romania. This seems to be part of a reality that we need to get used to. However, this year we plan to have an optimistic growth of ten per cent or a moderate five per cent increase."

PS Romania offers services such as statutory compliance, management reporting and payroll, and plans to focus more on providing hands-on support to other BPOs and SSCs that need start-up and transitional support. "This is the business model PS Group has successfully tested over the recent years and now is ready to be rolled out at full steam including Romania," concludes Gabor.

<h3>APT: "The industry will grow as long as the education system provides a sufficient pool of candidates"</h3>

During the last few years, Romania has become an attractive market for the outsourcing industry, the country being highly appreciated in terms of language availability, the quality of human resources, the cost of doing business and the cultural adaptability. Last year brought a 20 per cent increase in the Romanian business services sector, both through the capacity expansion of existing companies and the entry of new investors. The services sector will continue to grow as long as labour costs are lower than in Western Europe and the Romanian education system can provide a sufficient pool of candidates to meet market demands, according to Sorina Donisa, CEO APT Group, one of the main HR players on the local market.

"In 2015, we will see the same growth rate, but recruiting candidates, however, will not be as easy as it used to be a few years ago, due to a declining graduate talent pool, a growing number of job offers and opportunities and greater expectations on the part of candidates regarding development opportunities, schedule flexibility and pay," Donisa tells The Diplomat - Bucharest. "Therefore, companies will compete in attracting and retaining candidates through fringe benefits, customized work environments and development programs."

In this context, Donisa adds that the partnership between companies and universities is crucial for both the education system and the service industry. The education system can adjust to market needs, stop producing unemployed graduates and thus ensure growth potential for the business services industry. "The Romanian education system has the great advantage of being free or reasonably affordable, compared to other countries," says APT′s CEO. "Collaboration between private companies and universities has grown from simple projects to large internship projects with European funding, meant to prepare graduates for their future jobs. There is even a Master's program underway now [developed by the Association of Business Service Leaders in Romania, where APT is associate member], born out of these partnerships, designed to train youths for the outsourcing industry."

Speaking about the news trends of the business services sector, Donisa confesses that the area of robotics is the most dramatic one, which has triggered chain reactions, research and debate on several levels: from technological forecasts to business philosophy, from economic competition to social impact, where robot ethics remains a hot topic. "Certainly, these trends will have an impact on the business, but opinions are divided whether this is an opportunity or a threat to the outsourcing sector," says the CEO. "From my point of view, robotics is an opportunity for generating services at lower cost. But the ′real translation′ is, in my opinion, a threat, as it will dramatically reduce business volumes in countries like Romania or Poland, where one of the main advantages is the diversity and quality of language skills."

Donisa goes on to say that the outsourcing industry is now at the point where the pressure to deliver low-cost services is becoming higher and customers are increasingly placing more emphasis on innovation supported by mobility, agility and real-time response capability. According to her, traditional outsourcing means companies centralizing global operations, at lower costs, using project teams trained to work effectively in ad-hoc programs. Once a project is completed, a new set of customers can avail themselves of the services of the outsourced workforce. However, BPO trusts can get even bigger cost savings by using mobile platforms. "The ability to use a mobile device to access customers anywhere in the world and connect them to local resources is a goldmine," she adds. "Can you imagine hundreds of millions of people in developing countries with their mobile devices, integrated into a work distribution network? With real-time task allocation, reallocation, transfer, operation and control? All thanks to gigantic work platforms, mobile applications and perfectly correlated terminals, with substantial cost reductions, and no decrease in work quality. It all might seem slightly utopian, but 2015 may bring the future closer than expected."

Present on the local market since 1995, APT recorded an eight per cent rise in turnover last year, to 21.14 million Euro, counting over 1,600 employees. According to Donisa, the HR outsourcing activities were the ones that brought APT most of the revenues in 2014, while this year the company intends to increase the human resources business lines with a focus on personal development services.

<h3>UCMS: Labour cost growth to put pressure on companies</h3>

The increase of the minimum wage in January 2015, the additional increase scheduled for July 2015 and the plans for a future increase in 2016 put a lot of pressure on the existing salaries, subsequently affecting total labour costs in the business services sector, says Alice Tirsea, managing director of UCMS Group Romania, one of the main important payroll, personnel administration and software solutions on the local market. Thus, in order to stay competitive, companies need to invest in personnel and processes. "Although prices are still very low in Romania compared to other EU countries, the increase of costs - especially labour - puts extra pressure on companies to remain competitive on the market," Tirsea tells The Diplomat - Bucharest. "This requires solid investments in developing skills and optimizing processes, especially in the IT sector."

Tirsea goes on to say that the business services sector registered a moderate, but steady growth in 2014. Moreover, margins continue to be as low as previous years and companies count on volumes to generate their profits growth in absolute value. "In 2015, the trend is very likely to continue, the outsourced services segment is growing and so is the sector of shared service centres," she adds.
UCMS Group Romania registered more than 25 per cent growth in terms of headcount last year to 90 employees and posted a turnover that exceeds 1.7 million Euro at the end of 2014, representing a 15 per cent increase compared to 2013. The same rate of growth is anticipated for 2015. "2014 was a very good year for UCMS Group Romania and we expect 2015 to be even better," says Tirsea. "We noticed an increased demand for payroll and HR outsourcing services from companies of various sizes and from different industries, including regional companies with a direct presence in Romania (expats/local employees). Last year the trend of combining payroll outsourcing with software acquisition for in-house processing of other HR functions continued. There is also a growing interest for payroll audit services which we are planning to extend in 2015."

Apart from the standard range of products and services, UCMS developed in cooperation with its long-time customer Raiffeisen Bank an innovative service on the Romanian market: electronic income statements for employees applying for a bank loan. Through this new service, the employees' income statements can be issued directly by the bank officer if the employer uses the UCMS PAY payroll software and subscribes to this bank service. In the coming months, the company plans to extend this service with other banks and also develop new solutions in the area of payroll and HR services. "We are aiming to support companies by continuing to develop new software functionalities which can help them optimize their processes, in parallel with taking over the transactional HR services," she adds.

Present on the local market since 1996, HR service provider UCMS Group Romania started its business in Cluj-Napoca by developing payroll and staff management software. Subsequently, the company opened another two offices in Bucharest (1998) and Craiova (2012) and shifted its focus towards HR services.

<h3>TMF Group study: the system of taxes and regulations is the main local challenge </h3>

A study by International Data Corporation (IDC), conducted globally in 2013, shows that the main challenges a company takes into account when deciding to enter on a foreign market are finding a suitable location and competitive local suppliers. However, in Romania′s case, the considerations are different, says Emine Constantin, managing director of TMF Group Romania, a company that provides HR, payroll and administrative legal services. According to a study by TMF Group in October 2014, only 18 per cent of respondents identified those challenges, while 31 per cent pointed at finding a qualified labour force, and 18 per cent to adaptation to banking and accounting systems. However, 78 per cent of the respondents stated that the main challenge of the local business environment is the complex system of taxes and regulations.

"2015 began with significant changes in accounting legislation designed to harmonize local regulations with international accounting standards," Constantin tells The Diplomat - Bucharest. "The changes were significant both qualitatively and quantitatively and required a high adaptability and reaction rate. As shown by most of our customers, it is a challenge to assimilate and integrate all these changes within each company without affecting operational efficiency and growth and development capacity."

According to Constantin, these recent legislative changes complete the range of changes in the last 15 years since TMF Group is present in Romania. Thus in this period the tax code has changed - on average - 12 times a year. In terms of fees, CAS underwent ten amendments and VAT - three changes. In this context, around one-third (34 per cent) of those who participated in the TMF Group study said that, in order to deal with legislative changes, they had to increase the number of employees in the finance department, while 11 per cent of companies paid fines for failing to comply to newly-introduced regulations.

"By the way we structure our services, we try to prevent such consequences and to offer to our customers the convenience of focusing solely on operational aspects related exclusively to their business," says Constantin. "Our main concern is to integrate these changes in the business of our customers in a way that does not impact their business and reduces their risks of failure to implement the changes in a timely manner."

In terms of business prospects in Romania, the study also showed that companies are optimistic; 58 per cent of firms surveyed indicated that in 2015 they will record increases in turnover of between one and ten per cent. Many companies have expressed interest to expand in Romania, the preferred areas being north, east and west. "Secondary cities and regions of Romania attract the interest of investors depending on location, infrastructure, local suppliers and adequately prepared labour force in the area," says Constantin. "In Romania, according to the study by TMF Group, except for the south, companies are interested in expanding their businesses in all regions of Romania."
Present on the local market for more than 15 years, TMG Group Romania counts 100 employees. As part of a global service provider with offices in more than 80 countries, TMF Group deals with legal, tax, accounting, HR and payroll.

<h3>Timisoara, hotspot for outsourcing investments</h3>

Although the local business services sector still faces several challenges, Romania keeps attracting new investors. Various studies place the country among the top European destination for all types of global services activities due to the sound knowledge of foreign languages and IT skills, adaptability to other cultures, and proximity to Western Europe. However, another important aspect is that Romania is ready to welcome investors not only in Bucharest, but in second- and third-tier cities also. One of the main secondary targets is Timisoara, where Bosch Service Solutions provides BPO services for companies operating in different sectors, such as Automotive, Travel and Transportation, Information and Communication Technology.

According to Raluca Romanu, the general manager of Bosch Service Solutions, Timisoara's main advantage when it comes to outsourcing destination is the educational system. "The city offers the opportunity to learn foreign languages at a very good level starting from the primary school up to the local universities," Romanu tells The Diplomat - Bucharest. "Moreover, local technical universities take language-proficient students and turn them into highly skilled IT professionals. The local infrastructure in terms of IT architecture, broadband internet, availability of A class office space, and of course connecting flights to major airline hubs play a major role," she adds.

In this context, Romanu goes on to say that partnerships between the education system and the businesses services industry bring great benefits in terms of time, effort and cost. Moreover, she confesses that, from 2011, Bosch is setting aside a total of 50 million Euro to support universities, and research projects in - "for now" - Germany, China, India, and the United States. "We are establishing new university chairs, expanding existing institutions, and networking individual universities in order to pool their expertise and drive forward research," she says. "Universities are educating students with different methods for a vast variety of majors. Using a collaborative structure can define a universal curriculum for various university majors to maximize learning capabilities. The result is a partnership that brings great benefits in terms of time, effort and cost."

Speaking also about the news trends of the industry, Romanu goes on to say that one of the business services directions that was visible in 2014 and will be even more prominent in 2015 is the multi-tower approach, where several functions are brought together to form a shared services model. However, shared service organizations (SSO) bundle already two or even three functions, the most popular being finance and accounting, procurement, human resources and IT. According to her, the aim is to achieve "more than the sum of their parts, by end-to-end processing," ensuring that as many steps of a process as possible are automated and pre-determined. In this way, there is a global management of integrated processes such as "procure to pay", "order to cash" or even "record to report" in accounting.

"The next step is already here: single global shared services organizations operating through global and regional centres, organized not by functions (Finance, Sales), but by services - customer services, supplier services, employee services," says Romanu. "Furthermore, companies are moving up the value chain by bringing value-added services in the shared service frame, such as research and development, business analytics or even creative services such as presentations and marketing initiatives."

2014 was a year of growth for Bosch Service Solutions Timisoara, which reached at the end of the year around 470 employees, providing services in 18 languages for markets within the EU. This internal growth was realized both from development of existing projects and from acquisition of new customers and new comprehensive projects, says Romanu. In 2015, Bosch Service Solutions Timisoara continues to focus on international customer projects, either in the business support environment or focusing on technical support. The company provides BPO services such as technical help-desk & IT consultancy, customer care services, finance & accounting, supply chain management, masterdata, document management, consulting services and web based training.

"We focus on strengthening our position on the market and continue the development of our location in Timisoara," says Romanu. "Our investments are mainly made in equipment, IT infrastructure and professional development for our associates. Further investments depend on business growth," she concludes. Bosch Service Solutions is a business unit of Bosch Security Systems, part of the Bosch Group. The Bosch Group is one of the main global suppliers of technology and services. According to preliminary figures, its roughly 290,000 employees generated sales of 48.9 billion Euro in 2014.

---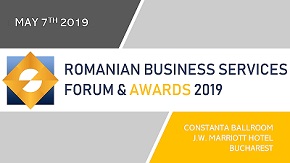 » ROMANIAN OUTSOURCING AWARDS FOR EXCELL...
» Meet the winners of ROMANIAN BUSINESS ...
» Pavel Campan appointed as the new Vice...
» Genpact's COO: Staying ahead of the cu...
» CBRE: Office deliveries expected to br...
» Exclusive OT print issue: Genpact may ...
» N-iX, EPAM, Luxoft, Ciklum, Intetics, ...
» Molson Coors started to grow its busin...
» TELUS International Europe: How fast-g...
» Leoni to open new SSC in Cluj, cut job...

Workplace of the Future conference to take place on November 20th at Bucharest

The Diplomat-Bucharest together with Outsourcing Today organize the 3rd Edition of WORKPLACE OF THE FUTURE, on 20th of November 2019, in Bucharest, at Capital Plaza Hotel.
Read Full article »
Strategic Talent Acquisition at People Empowering Business Forum on October 30 in Bucharest

Latest trends like demographic upheaval, globalization, digital technology, and changing social values and worker expectations, are disrupting business models and radically changing the workplace. These are req
Read Full article »
Informal IT School and UiPath launch an educational program for RPA development to start in October

Informal IT School announced a partnership with UiPath to launch an RPA development educational program of five months, 100 hours of courses, five days a week. The program will run in Cluj-Napoca.
Read Full article »
Impact Hub Bucharest joins 3house to manage three coworking spaces in the city

Impact Hub Bucharest, a coworking spaces manager and developer of accelerator programs and events merged with 3house, a new concept of workplace launched in 2018. By this, Impact Hub reaches 3 locations and 6.7
Read Full article »
JLL: Total office space in Bucharest to reach 3 million sqm

The second quarter of 2019 reconfirmed the increased interest for the office market in Romania. Over 115,000 square meters of office space were leased over this period at the national level, a value similar wit
Read Full article »