TELUS International Romania Community Board offers 100,000 USD grants for the 4th consecutive year
---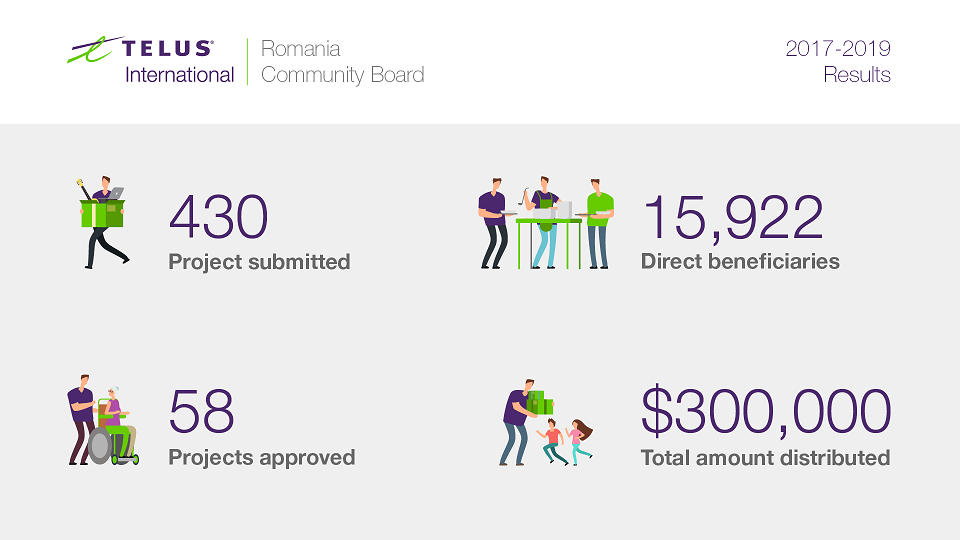 TELUS International Romania Community Board continues to provide, for the 4th  consecutive year, 100,000 USD total funding to non-profit organizations in Romania that are running programs related to healthcare, education or environment. THE NGOs that want to apply for this grants session have to submit their projects by March 27th, 2020, filling in the form available at this link: grantstream.com/TELUS/form/Landing.
The maximum funding offered by the Community Board to each winning project is 5,000 USD (in some special cases, 10,000 USD), and the applicability conditions are the following:
The non-profit organization must be registered in Romania;
The NGO has to submit a specific program that involves children, youth or their families;
The project should be deployed throughout the year 2020.
In 2019, TELUS International Romania Community Board distributed the annual 100,000 USD funding to 19 projects with impact in education or with sustainable solutions for health and environment. HOSPICE Casa Speranței, A.I.P.A., ACDB, Abandoned Children's Foundation PECA, Little People, Maria Beatrice Center, Valentina Romania Association, Zâna Merciluță are among the organizations supported by the Community Board last year.
Launched in September 2016, TELUS International Romania Community Board has provided until now total funding of 300,000 USD to 58 NGOs in several counties in Romania, making a difference for 15,922 beneficiaries – children, youth and their families – through projects related to education or aimed to improve quality of life.
TELUS International globally runs five Community Boards: in Guatemala, El Salvador, Philippines, Bulgaria and Romania, each of them distributing 100,000 USD annually to support projects dedicated to local communities. The company's CSR philosophy – "We give where we live" – has materialized, from 2005 until present, in the donation of 72 million USD, funding 7,000 projects which have involved 2 million beneficiaries. For more information about TELUS International's social responsibility activity, please access community.telus.com.
TELUS International focuses on the value of human connection to design, build and deliver high-tech, high-touch customer experiences powered by next-gen digital solutions. With almost 50,000 team members as well as delivery centers across North and Central America, Europe and Asia, TELUS International empowers customer experience innovation through digital enablement, spirited teamwork, agile thinking, and a caring culture that puts customers first. The company's solutions cover customer experience, digital transformation, content moderation, IT lifecycle, advisory and digital consulting, risk management, and back-office support. Fueling all stages of company growth, TELUS International partners with some of the world's most disruptive brands from fast-growing tech, financial services and fintech, games, travel and hospitality, and healthcare industries. The company serves clients in over 50 languages. TELUS holds a ~63% interest in TELUS International with Baring Private Equity Asia and Competence Call Center management holding the remaining ~33% and ~3%, respectively. Learn more at: telusinternational.com.
---
Trending Now
You may also like