KKR enters exclusive negotiations with GBL for Webhelp Group

KKR, a leading global investment firm, announces it has entered into exclusive negotiations to sell a majority stake in the Webhelp group to Groupe Bruxelles Lambert (GBL). GBL will invest alongside Webhelp's co-founding shareholders, Olivier Duha and Frédéric Jousset, who would retain their role as founding executive directors, and Webhelp's management team.

Founded in 2000, Webhelp is today one of the world's leading providers of customer experience and business process outsourcing (BPO). The company develops innovative solutions combining consulting services, technological solutions and omni-channel processing capabilities with 50,000 employees in more than 35 countries. Since KKR's acquisition in 2015, Webhelp has doubled in size as the result of an organic and external growth strategy that GBL aims to maintain and accelerate, together with the strong collaboration of the co-founders and management.

As a result of this transaction, GBL would acquire a majority stake in Webhelp on the basis of an enterprise value of 2.4 billion Euro. It is expected that the legal documentation will be signed by the beginning of August for completion, after obtaining regulatory authorizations, within the course of Q4 2019.

Johannes Huth, Member and Head of KKR EMEA, and Stanislas de Joussineau, Director at KKR, said: "Our successful collaboration with Olivier and Frederic has turned Webhelp into a true European champion. The support we have provided to Webhelp builds on our track record in helping founder-led businesses realise their growth ambitions, and helping French companies expand internationally. We believe the company is strongly positioned for future growth and we wish Webhelp and GBL every continued success."

Olivier Duha and Frédéric Jousset, co-founders of Webhelp, said: "We thank KKR for its investment over the past four years and we welcome with confidence GBL in order to write together a new growth and investment phase. The management team has chosen to surround itself with a shareholder renowned for its longstanding support to companies with international ambitions such as Webhelp."

KKR is a leading global investment firm that manages multiple alternative asset classes, including private equity, energy, infrastructure, real estate and credit, with strategic partners that manage hedge funds. KKR aims to generate attractive investment returns for its fund investors by following a patient and disciplined investment approach, employing world-class people, and driving growth and value creation with KKR portfolio companies. KKR invests its own capital alongside the capital it manages for fund investors and provides financing solutions and investment opportunities through its capital markets business.

Webhelp is a global business process outsourcer (BPO), specialising in customer experience and payment services in addition to sales and marketing services across voice, social and digital channels. From more than 150 sites in 36 countries with an approximately 50,000-strong team, our focus is on engineering performance improvements and delivering a real and lasting transformation in our clients' operating models to generate financial advantage. We partner with some of the world's most progressive brands including Sky, Shop Direct, Bouygues, Direct Energie, KPN, Vodafone, La Redoute, Michael Kors and Valentino.

Headquartered in Paris, France, the company has grown its revenues by more than 250% in the last 4 years by investing in its people, the environment they work in and developing its analytical and operating capability to deliver a transformational outsourcing proposition that addresses the challenges of an omni-channel world.


---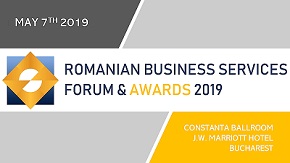 » Raiffeisen Bank Romania outsources onl...
» Oracle results pushed down by a strong...
» World-class HR organizations now spend...
» Apostoleanu, Oracle: Human talent, mos...
» Sergiu Negut, on the stage of People i...
» Microsoft and Oracle to interconnect M...
» The importance of training in developi...
» ANIS: Romanian IT market annual revenu...
» Healthcare IT outsourcing market is ex...
» Bosch Service Solutions to grow 20% Ti...

My HR Lab: Research of suitable candidates and giving feedback to rejected ones, the biggest challenge in HR

During June 2019, My HR Lab company run an online (social media platforms) survey "Challenges of the recruitment process" which enrolled over 100 professionals working in HR and recruitment in Romania.
Read Full article »
The local market needs more added-value and complex projects to be developed by the companies

The statement has been uttered within this year's Romanian Outsourcing and Shared Services Summit by Catalina Dodu, Country Manager at Atos, pointing to the local enablers that could enhance the innovation and
Read Full article »
The office market at a glance: The round for tenants is on

Data provided by CBRE show that the office spaces segment will continue to grow rapidly in 2019, and 15 new projects covering 304.000 sqm will be delivered. According to the real estate consultancy agency, curr
Read Full article »
People Empowering Business Forum 2019 to take place on October, 30 at Bucharest

Latest trends like demographic upheaval, globalization, digital technology, and changing social values and worker expectations, are disrupting business models and radically changing the workplace. These are req
Read Full article »
Addressing the mantra of cyber-security: Confidentiality, integrity and availability

The fast advancement of technology in all the aspects of everyday life, either personal or professional, and the emerging of AI (Artificial Intelligence) and ML (Machine Learning), not to mention cloud technolo
Read Full article »