TELUS International continues to grow in Bucharest

In order to support the extensive hiring planned for TELUS International in Bucharest this year, the company has acquired 1,200 sqm more space, in addition to the 8,800 sqm office space it has in AFI Park.

TELUS International's Make Your Own Success Story recruitment campaign targets people fluent in a variety of languages (English, French, Spanish, Italian, German, Russian, Portuguese, Hebrew, Polish, Danish and Dutch). The company is looking for candidates with a strong command of English and a second language to offer support by phone, email, chat and social media to clients from the travel & hospitality, e-commerce, games, telecom, fintech and insurance industries.

"We believe Romania is the new outsourcing valley of Europe. With 125,000 employees working in this industry and growing, its reputation as an attractive outsourcing destination is on the rise. We want to capitalize on the impressive assets Romania offers by continuing to grow our business in 2019, attracting the best multilingual talents that the labor market can provide," says Grégoire Vigroux, Co-founder and Vice-President Business Development, TELUS International.

TELUS International moved its offices to AFI Park 3 in 2015 and expanded to AFI 4 & 5 in 2017. Located in the 6th district of Bucharest, next to one of the largest malls in Romania, the site is convenient for team members to enjoy a wide variety of restaurants, shops, and entertainment during their breaks or after work. Besides its generous office space in Bucharest, the company also has a site in Craiova and employs 1,500 team members in both cities.

"Our inspiring and convenient offices, and well as our caring culture, attractive benefits package and the amazing learning and development opportunities we provide to our team members are some of the main factors that differentiate us among other employers on the market," adds Grégoire Vigroux.

Moreover, TELUS International is a leading company with the most prominent CSR programs in the industry, annually recognized for its constant efforts to contribute to the communities' wellbeing. Following the company's philosophy "We give where we live", its team members volunteer to better the communities in which they live, work and serve, by building homes, refurbishing daycare centers or building entire schools from the ground up.

TELUS International focuses on the value of human connection to design, build and deliver high-tech, high-touch customer experiences powered by next-gen digital solutions. With over 35,000 team members and delivery centers across North and Central America, Europe and Asia, TELUS International empowers customer experience innovation through digital enablement, spirited teamwork, agile thinking, and a caring culture that puts customers first. The company's solutions cover customer experience, digital transformation, IT lifecycle, advisory and digital consulting, risk management, and back-office support. Fueling any stage of company growth, TELUS International partners with some of the world's most disruptive brands from fast-growing tech, financial services and fintech, games, travel and hospitality, and healthcare industries. The company serves clients in over 40 languages. TELUS holds a 65% interest in TELUS International with Baring Private Equity Asia holding the remaining 35%. Learn more at: telusinternational.com

---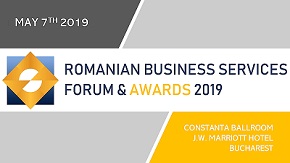 » Raiffeisen Bank Romania outsources onl...
» World-class HR organizations now spend...
» Oracle results pushed down by a strong...
» Apostoleanu, Oracle: Human talent, mos...
» TELUS International: Chatbots - The pr...
» Sergiu Negut, on the stage of People i...
» Microsoft and Oracle to interconnect M...
» The importance of training in developi...
» ANIS: Romanian IT market annual revenu...
» Healthcare IT outsourcing market is ex...

My HR Lab: Research of suitable candidates and giving feedback to rejected ones, the biggest challenge in HR

During June 2019, My HR Lab company run an online (social media platforms) survey "Challenges of the recruitment process" which enrolled over 100 professionals working in HR and recruitment in Romania.
Read Full article »
The local market needs more added-value and complex projects to be developed by the companies

The statement has been uttered within this year's Romanian Outsourcing and Shared Services Summit by Catalina Dodu, Country Manager at Atos, pointing to the local enablers that could enhance the innovation and
Read Full article »
The office market at a glance: The round for tenants is on

Data provided by CBRE show that the office spaces segment will continue to grow rapidly in 2019, and 15 new projects covering 304.000 sqm will be delivered. According to the real estate consultancy agency, curr
Read Full article »
People Empowering Business Forum 2019 to take place on October, 30 at Bucharest

Latest trends like demographic upheaval, globalization, digital technology, and changing social values and worker expectations, are disrupting business models and radically changing the workplace. These are req
Read Full article »
Addressing the mantra of cyber-security: Confidentiality, integrity and availability

The fast advancement of technology in all the aspects of everyday life, either personal or professional, and the emerging of AI (Artificial Intelligence) and ML (Machine Learning), not to mention cloud technolo
Read Full article »