The local market needs more added-value and complex projects to be developed by the companies

The statement has been uttered within this year's Romanian Outsourcing and Shared Services Summit by Catalina Dodu, Country Manager at Atos, pointing to the local enablers that could enhance the innovation and talent capabilities in Romania.

"I think of how we convinced clients to bring more creative and value-adding projects into Romania and to have services delivered from Romania. It is really important how we manage to convince the customers to trust us and our talent capabilities in delivering services that have a wider component of creativity and innovation and not just executional tasks. The customers need real time solutions to their problems and when we manage to deliver the right answer and solutions, it means that we excel at being creative and that involves more skills that just delivering a service and executing a task," said Catalina Dodu.

The manager underlined the necessity of getting out of the comfort zone and embracing the necessary projects that address the local market as they come, because if the companies in Romania won't do it, there are other countries in the region eager to take these projects. "What is holding us back as local industry is the resilience in taking on more complex jobs and getting out of the comfort zone. We need to embark in hard-working projects and to be persistent. This perception is utmost and we need to avoid the very low-skilled tasks if we want to evolve and earn the perception of a country delivering added-value services," Dodu added.

Catalina Dodu runs the operations of Atos Romania since March 2014, with an experience of over 15 years in IT management. Previous to being appointed Country Manager, Catalina managed the System Integration division of Atos, and before that, she was Director of Product Management at Bitdefender- the world-known security solutions developer. She holds a degree in Economics from the Faculty of Cybernetics, Statistics, and Economic Informatics of the Academy of Economic Studies in Bucharest, as well as a Master in IT Project Management. In July 2007 she also graduated the Romanian-Canadian MBA program.

---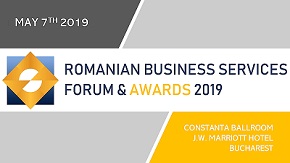 » Raiffeisen Bank Romania outsources onl...
» Oracle results pushed down by a strong...
» World-class HR organizations now spend...
» Microsoft and Oracle to interconnect M...
» Apostoleanu, Oracle: Human talent, mos...
» ANIS: Romanian IT market annual revenu...
» Healthcare IT outsourcing market is ex...
» Bosch Service Solutions to grow 20% Ti...
» Omnichannel: 4 pillars of a purposeful...
» The digitalization of the customer rel...

My HR Lab: Research of suitable candidates and giving feedback to rejected ones, the biggest challenge in HR

During June 2019, My HR Lab company run an online (social media platforms) survey "Challenges of the recruitment process" which enrolled over 100 professionals working in HR and recruitment in Romania.
Read Full article »
The local market needs more added-value and complex projects to be developed by the companies

The statement has been uttered within this year's Romanian Outsourcing and Shared Services Summit by Catalina Dodu, Country Manager at Atos, pointing to the local enablers that could enhance the innovation and
Read Full article »
The office market at a glance: The round for tenants is on

Data provided by CBRE show that the office spaces segment will continue to grow rapidly in 2019, and 15 new projects covering 304.000 sqm will be delivered. According to the real estate consultancy agency, curr
Read Full article »
People Empowering Business Forum 2019 to take place on October, 30 at Bucharest

Latest trends like demographic upheaval, globalization, digital technology, and changing social values and worker expectations, are disrupting business models and radically changing the workplace. These are req
Read Full article »
Addressing the mantra of cyber-security: Confidentiality, integrity and availability

The fast advancement of technology in all the aspects of everyday life, either personal or professional, and the emerging of AI (Artificial Intelligence) and ML (Machine Learning), not to mention cloud technolo
Read Full article »