PwC Report: In ten years, digital transformation will impact 600,000 jobs in Romania

Over the next ten years, the digital transformation generated by new technologies will affect 600,000 jobs in Romania, according to the PwC's Workforce Disruption Index, presented on July 2, 2019 at Workforce for the Future. Upskilling for Era 4.0 event, organized by PwC.

According to the report, 325,000 new jobs will be created over the next decade, while another 275,000 workers will need to improve their digital skills, as automation and the introduction of artificial intelligence will gradually eliminate repetitive activities.

"The report presents for the first time the potential impact of new technologies on jobs in Romania. It is a very useful analysis for those concerned about how digital transformation will reconfigure business models, certain industries and even the economy of the country. The most important observation is that the improvement of employees' digital skills becomes vital. At the same time the partnerships with government institutions need to be encouraged in order to look for areas of common interest such as infrastructure, education or health where investments may stimulate adoption of new technologies. In the absence of investments, new jobs can not be created in key sectors. Moreover, in the case of economies vulnerable to automation and changing business models, some jobs are at a higher risk. Therefore, the preoccupation for education, including of governs', can alleviate pressure on the labour force having skills that will be less demanded on the labour market in the future, "says Ionut Sas, Partner of PwC Romania.

The main conclusions of the report for Romania:
• 600,000 jobs will be impacted by the new technologies in Romania. To maintain or create an innovation and digitization strategy has to be introduced.
• Innovation and digitization will contribute to streamlining processes, but they also require the implementation of strategies to improve the digital skills of workers.
• The 600,000 jobs could contribute to an increase of local Gross Domestic Product (GDP) up to $ 66 billion by 2029.
• In manufacturing, agriculture and utilities, jobs are most likely to be replaced as these sectors do not currently use technology and automation. These sectors will need to improve the digital skills of employees.
• New technologies will generate new jobs, especially in the areas of health, education or financial services.

In this context, the PwC report is a starting point for organizations that want to gain a competitive edge and to look at the perspectives for their industry as well as to learn how to respond to the transformation. For example, companies that depend on low labor costs, such as manufacturing, can begin to reorganize internally, adapt their processes, and invest in developing digital skills of their employees to meet long-term goals ", explains Oana Munteanu, Senior PwC's Workforce Disruption Index aims to provide an insight into the workforce's perspectives in the context of digital transformation, analysing 163 countries, 18 industries and 22 occupational categories.


---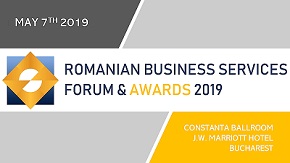 » Raiffeisen Bank Romania outsources onl...
» Oracle results pushed down by a strong...
» World-class HR organizations now spend...
» Microsoft and Oracle to interconnect M...
» Apostoleanu, Oracle: Human talent, mos...
» The importance of training in developi...
» ANIS: Romanian IT market annual revenu...
» Healthcare IT outsourcing market is ex...
» Bosch Service Solutions to grow 20% Ti...
» Omnichannel: 4 pillars of a purposeful...

My HR Lab: Research of suitable candidates and giving feedback to rejected ones, the biggest challenge in HR

During June 2019, My HR Lab company run an online (social media platforms) survey "Challenges of the recruitment process" which enrolled over 100 professionals working in HR and recruitment in Romania.
Read Full article »
The local market needs more added-value and complex projects to be developed by the companies

The statement has been uttered within this year's Romanian Outsourcing and Shared Services Summit by Catalina Dodu, Country Manager at Atos, pointing to the local enablers that could enhance the innovation and
Read Full article »
The office market at a glance: The round for tenants is on

Data provided by CBRE show that the office spaces segment will continue to grow rapidly in 2019, and 15 new projects covering 304.000 sqm will be delivered. According to the real estate consultancy agency, curr
Read Full article »
People Empowering Business Forum 2019 to take place on October, 30 at Bucharest

Latest trends like demographic upheaval, globalization, digital technology, and changing social values and worker expectations, are disrupting business models and radically changing the workplace. These are req
Read Full article »
Addressing the mantra of cyber-security: Confidentiality, integrity and availability

The fast advancement of technology in all the aspects of everyday life, either personal or professional, and the emerging of AI (Artificial Intelligence) and ML (Machine Learning), not to mention cloud technolo
Read Full article »