Polish IT group R22 to inject one mln Euro in Romanian e-commerce startup Blugento

Polish IT group R22 said its indirect subsidiary H88 signed a deal to inject 1 million Euro into Romanian e-commerce startup Blugento.

The investment deal will be carried out in two phases, R22 said on Monday in a statement filed with the Warsaw Stock Exchange. In the first phase, H88 will acquire 185,610 shares in Blugento, constituting 20% of the share capital.

In the second phase, as part of a share capital increase, H88 will acquire a further 147,977 shares in Blugento. After the share capital increase, H88 will hold 333,587 shares, representing 31% of the share capital of Blugento.

The investment agreement envisages subsequent rounds of capital injection and purchase of shares in the following 12 months, after which R22 will end up owning 51% of Blugento shares.
R22 Group is a holding of technological companies pursuing business activities in e-commerce. The group focuses on scalable services offered on the basis of a subscription model and Software as a Service (SaaS). Companies controlled by the R22 Group employ more than 150 specialists working at a dozen of centres throughout Poland.

Companies comprising the R22 Group offer hosting services (H88), omnichannel communication services automating electronic communication with the customers (Vercom Group) and telecommunication services (Oxylion Group).

In October, the group said it is borrowing 2.1 million euro from the Foreign Expansion Fund, managed by PFR TFI to finance investments in Romania.

Last year, R22 acquired Romanian companies Web Class IT for 1.34 million euro, Net Design SRL for 2.83 million euro and Gazduire Web for 1.1 million euro, all through H88 Hosting SRL.
Founded in 2015 in Romania's Cluj-Napoca, Blugento offers construction and maintenance of online stores based on the Magento platform.


---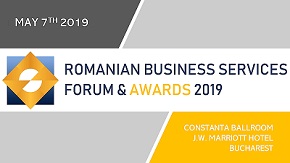 » Raiffeisen Bank Romania outsources onl...
» World-class HR organizations now spend...
» Oracle results pushed down by a strong...
» Sergiu Negut, on the stage of People i...
» Apostoleanu, Oracle: Human talent, mos...
» Bosch Service Solutions to grow 20% Ti...
» DTZ: Office demand outside Bucharest t...
» Wipro launches automotive center of ex...
» TELUS International: Chatbots - The pr...
» Microsoft and Oracle to interconnect M...

My HR Lab: Research of suitable candidates and giving feedback to rejected ones, the biggest challenge in HR

During June 2019, My HR Lab company run an online (social media platforms) survey "Challenges of the recruitment process" which enrolled over 100 professionals working in HR and recruitment in Romania.
Read Full article »
The local market needs more added-value and complex projects to be developed by the companies

The statement has been uttered within this year's Romanian Outsourcing and Shared Services Summit by Catalina Dodu, Country Manager at Atos, pointing to the local enablers that could enhance the innovation and
Read Full article »
The office market at a glance: The round for tenants is on

Data provided by CBRE show that the office spaces segment will continue to grow rapidly in 2019, and 15 new projects covering 304.000 sqm will be delivered. According to the real estate consultancy agency, curr
Read Full article »
People Empowering Business Forum 2019 to take place on October, 30 at Bucharest

Latest trends like demographic upheaval, globalization, digital technology, and changing social values and worker expectations, are disrupting business models and radically changing the workplace. These are req
Read Full article »
Addressing the mantra of cyber-security: Confidentiality, integrity and availability

The fast advancement of technology in all the aspects of everyday life, either personal or professional, and the emerging of AI (Artificial Intelligence) and ML (Machine Learning), not to mention cloud technolo
Read Full article »