Deloitte: 80% of businesses see blockchain as a strategic priority

Deloitte's annual Global Blockchain Survey was recently released and shows some exciting trends for the blockchain industry.

The survey polled over 1,300 senior executives in a dozen countries from U.S companies with at least $500 million in annual revenue and from non-U.S companies with at least $100 million in annual revenue. The executives are quite knowledgeable when it comes to blockchain technology with 56% of the survey participates working in information technology, 10% in finance, and the rest within other distinct industries.

The most interesting theme throughout the survey is not from the blockchains enthusiasts–many of them have remained very optimistic– but from the less confident individuals who now appear to have a much more positive perception of the potential impact of blockchain.

You can read the entirety of Deloitte's Global Blockchain Survey for 2019, or check out some of the most notable findings below:
· 53% of companies have placed blockchain as one of their top five priorities, a 10% increase from last year.
· 86% expect blockchain technology to be broadly scalable and achieve mainstream adoption.
· Executives reported that the greatest barrier for their firm to invest more money into blockchain technology is "replacing or adapting legacy systems."
· 20% of executives are working on using blockchain for tokenized equities or other assets.
· The primary criteria for joining a consortium blockchain network is to find companies with objectives that align with our companies. The benefits that enterprises expect from joining a consortium network are 1) cost savings 2) accelerated learning and 3) sharing risk.
· 47% of executives expect to see a verifiable ROI from blockchain in less than three years.
· 87% of organizations are expected to invest at least half a million dollars in blockchain technology with 41% expected to invest over $5 million dollars.
· 86% of executives believe blockchain will enable new business functionalities and revenues streams their specific industries.
· 56% of respondents think that blockchain will disrupt their organization or project's industry.
· The most significant advantage of blockchain technology is 1) New business models 2) Greater security/lower risk and 3) Greater speed compared to existing systems
· 96% of executives view blockchain solutions as similarly secure or more secure than conventional IT solutions.
· 40% of firms are planning on joining or leading a consortium in the next year.
· The IT Department (57%) or Top management (30%) are leading the blockchain decision making.

Furthermore, Deloitte's research states that, "as this emerging field expands, more executives are expecting blockchain to bring numerous benefits to their businesses. Compared to last year, the overall perception of blockchain technology has become more positive, likely from increased use cases, more proof of concepts, and internal testing from large enterprises. More interestingly, most enterprises are expecting to join consortium networks to reduce costs, mitigate risk, and accelerate learning. Many enterprises are still evaluating their options when it comes to implementing permissioned or public networks for their business needs." Overall, the majority of respondents view blockchain as a transformative technology that will disrupt many industries. Only time will tell, but at least we know where these people are putting their money, according to the study.



---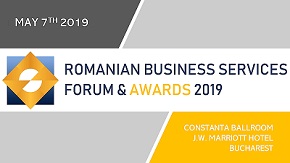 » SMEs, micro-enterprises can access fun...
» Shifting the workplace perspective tow...
» Opinion: Why Canada, Asia and Australi...
» Olivier Hecq, Head of SSC IT, SGEBS:" ...
» TELUS International continues partners...
» ABSL presents the 3rd edition of Iasi ...
» IT and BPS to ensure most of the Roman...
» Connections signs partnership with UiP...
» More than 500 business leaders at the ...
» Business in the service of a higher pu...

Workplace of the Future conference to take place on November 20th at Bucharest

The Diplomat-Bucharest together with Outsourcing Today organize the 3rd Edition of WORKPLACE OF THE FUTURE, on 20th of November 2019, in Bucharest, at Capital Plaza Hotel.
Read Full article »
Strategic Talent Acquisition at People Empowering Business Forum on October 30 in Bucharest

Latest trends like demographic upheaval, globalization, digital technology, and changing social values and worker expectations, are disrupting business models and radically changing the workplace. These are req
Read Full article »
Informal IT School and UiPath launch an educational program for RPA development to start in October

Informal IT School announced a partnership with UiPath to launch an RPA development educational program of five months, 100 hours of courses, five days a week. The program will run in Cluj-Napoca.
Read Full article »
Impact Hub Bucharest joins 3house to manage three coworking spaces in the city

Impact Hub Bucharest, a coworking spaces manager and developer of accelerator programs and events merged with 3house, a new concept of workplace launched in 2018. By this, Impact Hub reaches 3 locations and 6.7
Read Full article »
JLL: Total office space in Bucharest to reach 3 million sqm

The second quarter of 2019 reconfirmed the increased interest for the office market in Romania. Over 115,000 square meters of office space were leased over this period at the national level, a value similar wit
Read Full article »