People Empowering Business Forum 2019 to take place on October, 30 at Bucharest

Latest trends like demographic upheaval, globalization, digital technology, and changing social values and worker expectations, are disrupting business models and radically changing the workplace. These are requiring both workers and businesses to adapt and change the way they work.

The annual event dedicated to the human resources, now at its fifth edition, brings together cross industries HR leaders to collaboratively map solutions to the challenges of building sustainable and agile learning organizations on October 30, at Raddison Blu Hotel in Bucharest.

The discussions will be focused on the most successful operating models, as well as characteristics of the talent and leadership the companies need, how data can be leveraged to provide relevant insights, and the technology worth investing in.
The Forum benefits from the support of Diamond partner Wipro, Gold partners Colliers International, Noerr, Acca-Think Ahead, Partner Vastint, and the supporting associations ABSL, ANIS, Cluj IT, HRS and Wave.

The event's moderator is Colin C. Lovering, Vice Chairman - British Romanian Chamber of Commerce, Senior Vice-President - Avison Young Real Estate

Event Agenda
• 08:30 – 09:30 Registration & Coffee
• 09:30 – 10:30 FIRST SESSION: Employee Engagement Trends For 2019
Due to various innovations in new technologies, expansion of global markets and changing candidate expectations, the Global Talent Acquisition landscape is in a constant state of change. We'll take forward agile business transformation and what it means for HR and, beyond that, for the human employee, the organization they work in, the leadership there, and society overall.

TOPICS
• Employee experience moves center stage
• Wellbeing and mental health in a digital workplace – reducing digital stress for a more productive workforce
• Strategies to develop talent in the organization
• Professional development

• 10:30– 10:45 Refreshment break

• 10:45 – 12:15 SECOND SESSION: Strategic Talent Acquisition
In the current era of record-low unemployment and high job seeker option value, only the most capable talent teams will successfully attract top candidates.
2019 will continue the trend of companies leveraging branding as a culture-building and recruiting tool. Companies have to build creative marketing and social media campaigns that focus on company values. By doing so, organizations attract talent that matches their culture through self-selection—prospective applicants' interactions with a brand help them determine whether they're a good fit for the company, and vice versa.
From data analytics for successful recruiting and maximizing your digital footprint to content strategy and data-driven recruiting practices, learn how to improve your social strategy with best practices and data-driven solutions.

TOPICS
• HR professionals in the automation and digital age – building trust, credibility and being human
• Building a corporate culture of diversity, equality and engaging employee experience
• Recruitment marketing strategies: Humanizing Candidate Experience
• Maximizing the digital footprint. The corporate digital Brand
• Employer branding and company culture – ways to boost referrals

• 12:15 – 12:30 Refreshment break

• 12:30 – 14:00 THIRD SESSION: HR Technology
Technology can help recruiters streamline every part of the hiring process—including sourcing candidates, interviewing applicants, onboarding new hires and much more. But, given the vast amount of recruiting tools and technologies on the market, deciding which technology to purchase can be a challenge.

TOPICS
• Exploring the Future Workplace – the applications of AI in office environments and how it changes the way we work
• Finding the Right Technology Fit – how to effectively navigate the HR technology landscape
• Recruitment software
• Blockchain in recruiting
• People Analytics and Future of Work
• Future of corporate learning: tech to upskill and reskill for 21st Century

More on the registration details and event agenda, here: http://people-empowering-business.thediplomat.ro

---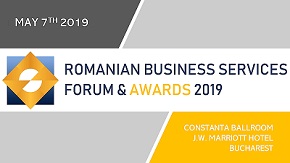 » Raiffeisen Bank Romania outsources onl...
» Oracle results pushed down by a strong...
» World-class HR organizations now spend...
» Apostoleanu, Oracle: Human talent, mos...
» Sergiu Negut, on the stage of People i...
» Microsoft and Oracle to interconnect M...
» The importance of training in developi...
» ANIS: Romanian IT market annual revenu...
» Healthcare IT outsourcing market is ex...
» Bosch Service Solutions to grow 20% Ti...

My HR Lab: Research of suitable candidates and giving feedback to rejected ones, the biggest challenge in HR

During June 2019, My HR Lab company run an online (social media platforms) survey "Challenges of the recruitment process" which enrolled over 100 professionals working in HR and recruitment in Romania.
Read Full article »
The local market needs more added-value and complex projects to be developed by the companies

The statement has been uttered within this year's Romanian Outsourcing and Shared Services Summit by Catalina Dodu, Country Manager at Atos, pointing to the local enablers that could enhance the innovation and
Read Full article »
The office market at a glance: The round for tenants is on

Data provided by CBRE show that the office spaces segment will continue to grow rapidly in 2019, and 15 new projects covering 304.000 sqm will be delivered. According to the real estate consultancy agency, curr
Read Full article »
People Empowering Business Forum 2019 to take place on October, 30 at Bucharest

Latest trends like demographic upheaval, globalization, digital technology, and changing social values and worker expectations, are disrupting business models and radically changing the workplace. These are req
Read Full article »
Addressing the mantra of cyber-security: Confidentiality, integrity and availability

The fast advancement of technology in all the aspects of everyday life, either personal or professional, and the emerging of AI (Artificial Intelligence) and ML (Machine Learning), not to mention cloud technolo
Read Full article »