Business in the service of a higher purpose

Business with a purpose emerged as a trend to develop into a strategic ongoing development within companies and projects for many years in Romania, but the trend gets stronger each year.

The next generation of business services will be truly strategically valued and recognized parts of the business, no longer relegated to "transactional, back-office" functions in far-flung locations, but a critical part of business-wide decision-making that impacts both the top and the bottom line. In this equation, the social projects started to earn their fair share.

At Stefanini, The Romanian office of Brazilian company Stefanini, specializing in providing outsourced IT services and solutions, focusing on social projects is business as usual. As Eliza Irimia, President Stefanini Institute Romania and Financial Director Stefanini EMEA told Outsourcing Today, getting involved in social projects is in the DNA of the company and employers as well. "First of all, I would like to say that we are very lucky to have so many colleagues that are socially responsible and highly involved in the community. They are not only very responsive to our proposals, but they also come up with initiatives every time they feel that help is needed, and the solidarity within the company is at a very high level," Eliza Irimia mentions.

In 2018, Stefanini EMEA contributed to 11 community projects, 9 in Romania and 2 in Poland. In 2018, Stefanini employees in Bucharest, Sibiu and Targu Mures have run marathons for social causes, have planted trees and have raised funds or donated fully equipped schoolbags for children in underprivileged situations to be able to continue their studies unaffected.

How to decide what social project is "worthy"?

Sometimes, this is the subject of a business-oriented discussion within companies, because, social or not, resources are to be involved, money, people, time. At Stefanini, the strategy is to think strategically. "We think of the future and we want to go to the root of the problems we are tackling, rather than trying to alleviate the symptoms. Therefore, we are highly motivated to help people help themselves and build a future for themselves, so that is why our focus is so much on education and environment protection," the Stefanini's manager says and adds: "It is in this line of thinking that we started Stefanini Institute Romania this year, an initiative meant to address the educational needs of children and adolescents who have been institutionalized or come from underprivileged environments. We will focus our efforts on teaching them hard skills, such as IT or foreign languages, as well as soft skills, so vital in today's workplace environment, in order to help them start a career or move on with their education, thus giving them a better chance in life. We couldn't do this without the help of our wonderful colleagues who registered as volunteers and we want to grow this project and expand it from Bucharest to other cities we are active in, such as Sibiu and Targu Mures."






---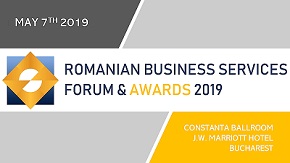 » Raiffeisen Bank Romania outsources onl...
» Oracle results pushed down by a strong...
» World-class HR organizations now spend...
» Apostoleanu, Oracle: Human talent, mos...
» Sergiu Negut, on the stage of People i...
» Microsoft and Oracle to interconnect M...
» The importance of training in developi...
» ANIS: Romanian IT market annual revenu...
» Healthcare IT outsourcing market is ex...
» Bosch Service Solutions to grow 20% Ti...

My HR Lab: Research of suitable candidates and giving feedback to rejected ones, the biggest challenge in HR

During June 2019, My HR Lab company run an online (social media platforms) survey "Challenges of the recruitment process" which enrolled over 100 professionals working in HR and recruitment in Romania.
Read Full article »
The local market needs more added-value and complex projects to be developed by the companies

The statement has been uttered within this year's Romanian Outsourcing and Shared Services Summit by Catalina Dodu, Country Manager at Atos, pointing to the local enablers that could enhance the innovation and
Read Full article »
The office market at a glance: The round for tenants is on

Data provided by CBRE show that the office spaces segment will continue to grow rapidly in 2019, and 15 new projects covering 304.000 sqm will be delivered. According to the real estate consultancy agency, curr
Read Full article »
People Empowering Business Forum 2019 to take place on October, 30 at Bucharest

Latest trends like demographic upheaval, globalization, digital technology, and changing social values and worker expectations, are disrupting business models and radically changing the workplace. These are req
Read Full article »
Addressing the mantra of cyber-security: Confidentiality, integrity and availability

The fast advancement of technology in all the aspects of everyday life, either personal or professional, and the emerging of AI (Artificial Intelligence) and ML (Machine Learning), not to mention cloud technolo
Read Full article »