Undelucram.ro study reveals the top of companies offering the best salaries in their industry

As expected, the companies operating in IT & C, banks and consultancy provide the best salaries, bonuses and personal development opportunities, show an online ranking conducted by online portal undelucram.ro.

The rankings were based on an index from the average of the marks given to employers by users (employees, former employees, candidates) and the number of ratings left by the beginning of June 2019 by users registered on the Undelucram.ro platform in an official release of the platform that claims to be the largest active community for Romanian employees.

As shown in the study, companies that pay high salaries are multinationals in IT - Microsoft, Adobe and UiPath - banks such as ING or Banca Transilvania, consultancy firms in the so-called Big 4 group, major retail chains and major Internet and telephony providers furniture.

The full report is found can be found on undelucram.ro, providing over 25.000 company assessments on work environment, salaries and benefits updated by users:


Find below several highlights of the rankings.

Banking and Financial services:
ING Romania
BCR - Banca Comerciala Romana SA
Banca Transilvania
Raiffeisen Bank
BRD - Groupe Societe Generale

Business shared services companies:
TELUS International Europe
HP Inc.
Wipro Technologies
Accenture Romania
Stefanini Romania
Genpact Romania

Consultancy:
KPMG Romania
Deloitte Romania
EY Romania
Automatic Data Processing - ADP Romania
PwC Romania

IT
Microsoft Romania
Adobe Romania
Nobel
Avira Romania
UiPath

Production
Philip Morris Romania
Honeywell Romania
JTI Romania
Continental Automotive Group Romania
Emerson

Retail
Lidl Romania
Kaufland Romania
Penny Market - Rewe Romania
Carrefour Romania
Mega Image

Telecom
Orange Romania
Vodafone Romania
Ericsson Romania
Huawei Romania
RCS&RDS


---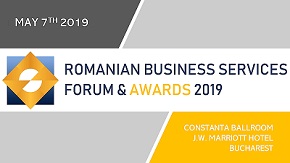 » Evolving from consumers of resources t...
» ROMANIAN OUTSOURCING AWARDS FOR EXCELL...
» Preparing for the new future
» Pepper Escu, the first humanoid robot ...
» Volvo Cars and Uber present production...
» Berg Software Romania: Reasons to outs...
» Marian V. Popa: Meet the speakers at R...
» Deloitte 2019 Global Human Capital Tre...
» How giving back pays dividends for com...
» George Didoiu: Meet the moderator of R...

Digital Transformation Conference to take place on June 19 at Bucharest

The Diplomat – Bucharest organizes Digital Transformation Conference to be held on 14 of June in Bucharest, at Hilton Hotel - Regina Maria Hall, starting 8:30 AM.
Read Full article »
L&D Conference by The Diplomat Bucharest took place on June 4th at Bucharest

The Diplomat-Bucharest organizes the Third Edition of its Learning & Development CONFERENCE on 4 June, 2019 at InterContinental Hotel Bucharest starting 09:00 am.
Read Full article »
Meet the winners of ROMANIAN BUSINESS SERVICES AWARDS, 2019 edition

ROMANIAN BUSINESS SERVICES FORUM & AWARDS 2019, in its fifth year, brrought on May 7, in Bucharest, a new concept event with engaging keynote sessions by industry leaders, interactive panel discussions, network
Read Full article »
Few hours away from to the long awaited CEO Leaders Debate, a premiere of Romanian Business Services Forum and Awards
We are a few hours away to the long awaited CEO Leaders Debate, a premiere of Romanian Business Services Forum and Awards on May 7.
Read Full article »
Colin C. Lovering: Meet the speakers at Romanian Business Services Forum & Awards 2019, on May 7

Colin C. Lovering has been living and working in Romania since 2009 when he arrived to offer consultancy and advice to organisations looking for growth and profitability and founded Achieve International.
Read Full article »