Microsoft and Oracle to interconnect Microsoft Azure and Oracle Cloud

Microsoft Corp. and Oracle Corp. on Wednesday announced a cloud interoperability partnership enabling customers to migrate and run mission-critical enterprise workloads across Microsoft Azure and Oracle Cloud, a press release reads.

Enterprises can now seamlessly connect Azure services, like Analytics and AI, to Oracle Cloud services, like Autonomous Database. By enabling customers to run one part of a workload within Azure and another part of the same workload within the Oracle Cloud, the partnership delivers a highly optimized, best-of-both-clouds experience. Taken together, Azure and Oracle Cloud offer customers a one-stop shop for all the cloud services and applications they need to run their entire business.

Connecting Azure and Oracle Cloud through network and identity interoperability makes lift-and-improve migrations seamless. This partnership delivers direct, fast and highly reliable network connectivity between two clouds, while continuing to provide first-class customer service and support that enterprises have come to expect from the two companies. In addition to providing interoperability for customers running Oracle software on Oracle Cloud and Microsoft software on Azure, it enables new and innovative scenarios like running Oracle E-Business Suite or Oracle JD Edwards on Azure against an Oracle Autonomous Database running on Exadata infrastructure in the Oracle Cloud.

"As the cloud of choice for the enterprise, with over 95% of the Fortune 500 using Azure, we have always been first and foremost focused on helping our customers thrive on their digital transformation journeys," said Scott Guthrie, executive vice president of Microsoft's Cloud and AI division. "With Oracle's enterprise expertise, this alliance is a natural choice for us as we help our joint customers accelerate the migration of enterprise applications and databases to the public cloud."
"The Oracle Cloud offers a complete suite of integrated applications for sales, service, marketing, human resources, finance, supply chain and manufacturing, plus highly automated and secure Generation 2 infrastructure featuring the Oracle Autonomous Database," said Don Johnson, executive vice president, Oracle Cloud Infrastructure (OCI). "Oracle and Microsoft have served enterprise customer needs for decades. With this partnership, our joint customers can migrate their entire set of existing applications to the cloud without having to re-architect anything, preserving the large investments they have already made."

As a result of this expanded partnership, the companies are today making available a new set of capabilities:
• Connect Azure and Oracle Cloud seamlessly, allowing customers to extend their on-premises datacenters to both clouds. This direct interconnect is available starting today in Ashburn (North America) and Azure US East, with plans to expand additional regions in the future.
• Unified identity and access management, via a unified single sign-on experience and automated user provisioning, to manage resources across Azure and Oracle Cloud. Also available in early preview today, Oracle applications can use Azure Active Directory as the identity provider and for conditional access.
• Supported deployment of custom applications and packaged Oracle applications (JD Edwards EnterpriseOne, E-Business Suite, PeopleSoft, Oracle Retail, Hyperion) on Azure with Oracle databases (RAC, Exadata, Autonomous Database) deployed in Oracle Cloud. The same Oracle applications will also be certified to run on Azure with Oracle databases in Oracle Cloud.
• A collaborative support model to help IT organizations deploy these new capabilities while enabling them to leverage existing customer support relationships and processes.
• Oracle Database will continue to be certified to run in Azure on various operating systems, including Windows Server and Oracle Linux.

"The alliance between Microsoft and Oracle is welcome news as we accelerate Albertsons' digital transformation and leverage the full value of the public cloud," said Anuj Dhanda, executive vice president and chief information officer at Albertsons Companies. "This will allow us to create cross-cloud solutions that optimize many of our current investments while maximizing the agility, scalability and efficiency of the public cloud."

"As we look to bring our omnichannel experience closer together and transform the technology platform that powers the Gap Inc. brands, the collaboration between Oracle and Microsoft will make it easier for us to scale and deliver capabilities across channels," said Sally Gilligan, chief information officer at Gap. "The interoperability between Azure and Oracle Cloud allows us to deploy Oracle or custom-built applications on Azure and Oracle databases on Oracle Cloud."

"At Halliburton, we have a long history of running both Oracle and Microsoft technologies for our most critical applications. Our deep experience with these two strategic vendors has yielded consistently stable and performant application deployments," said Ken Braud, senior vice president and CIO at Halliburton. "This alliance gives us the flexibility and ongoing support to continue leveraging our standard architectures, while allowing us to focus on generating business outcomes that maximize returns for our shareholders."


---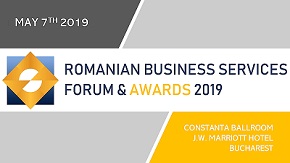 » Evolving from consumers of resources t...
» ROMANIAN OUTSOURCING AWARDS FOR EXCELL...
» Preparing for the new future
» Pepper Escu, the first humanoid robot ...
» Volvo Cars and Uber present production...
» Berg Software Romania: Reasons to outs...
» Marian V. Popa: Meet the speakers at R...
» Deloitte 2019 Global Human Capital Tre...
» How giving back pays dividends for com...
» George Didoiu: Meet the moderator of R...

Digital Transformation Conference to take place on June 19 at Bucharest

The Diplomat – Bucharest organizes Digital Transformation Conference to be held on 14 of June in Bucharest, at Hilton Hotel - Regina Maria Hall, starting 8:30 AM.
Read Full article »
L&D Conference by The Diplomat Bucharest took place on June 4th at Bucharest

The Diplomat-Bucharest organizes the Third Edition of its Learning & Development CONFERENCE on 4 June, 2019 at InterContinental Hotel Bucharest starting 09:00 am.
Read Full article »
Meet the winners of ROMANIAN BUSINESS SERVICES AWARDS, 2019 edition

ROMANIAN BUSINESS SERVICES FORUM & AWARDS 2019, in its fifth year, brrought on May 7, in Bucharest, a new concept event with engaging keynote sessions by industry leaders, interactive panel discussions, network
Read Full article »
Few hours away from to the long awaited CEO Leaders Debate, a premiere of Romanian Business Services Forum and Awards
We are a few hours away to the long awaited CEO Leaders Debate, a premiere of Romanian Business Services Forum and Awards on May 7.
Read Full article »
Colin C. Lovering: Meet the speakers at Romanian Business Services Forum & Awards 2019, on May 7

Colin C. Lovering has been living and working in Romania since 2009 when he arrived to offer consultancy and advice to organisations looking for growth and profitability and founded Achieve International.
Read Full article »