Online marketing calls for specialists

The Romanians who work in the domain of optimization of the sites for search engines (Search Engine Optimisation, SEO) have salaries between 500 and 1000 euro, but the heads of the SEO departments of the big western companies can earn, in exchange, five times more, according to a press release of a company in the sector.

According to data on the market, Romania has a big deficit of SEO specialists. Although the domain is no longer a new one, the number of those who work in SEO is not one to cover the needs, and the number of specialists is even more reduced, even though it is a domain which could offer consistent financial benefits.

The main causes of this deficit is that of a wrong perception as regards the activity as such, the way in which SEO has changed over the last years and the lack of training courses, so that those interested could learn the most important aspects of SEO.

"The lack of thorough training courses for online marketing in the specialty faculties is one of the causes of the deficit in specialists. Another cause is that, up to three years ago, the SEO activity was simpler and did not need general marketing knowledge. At present, a SEO specialist must be a good marketing specialist, in communication as well, with a good business vision. At the same time, there is the perception that programming knowledge is also important, but SEO does not mean programming. Today, SEO is online marketing, branding, notions much larger and more complex'," Ovidiu Joita said.

At the level of the market, there are few specialised agencies in SEO if we relate to the potential number of clients. We are talking about agencies which bring results to the clients in their portfolio, as there are many people who are not prepared and who benefit from the lack of knowledge of the entrepreneurs and ask for money for services which they cannot offer or they offer them at a low quality, without any beneficial results for the clients' the founder of iAgency and JediSEO School says.



---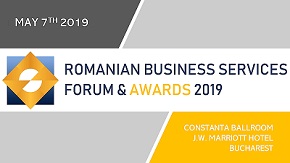 » Evolving from consumers of resources t...
» Preparing for the new future
» ROMANIAN OUTSOURCING AWARDS FOR EXCELL...
» Pepper Escu, the first humanoid robot ...
» Volvo Cars and Uber present production...
» Berg Software Romania: Reasons to outs...
» Marian V. Popa: Meet the speakers at R...
» Deloitte 2019 Global Human Capital Tre...
» Andrei Voica: Meet the speakers at Rom...
» How giving back pays dividends for com...

Digital Transformation Conference to take place on June 19 at Bucharest

The Diplomat – Bucharest organizes Digital Transformation Conference to be held on 14 of June in Bucharest, at Hilton Hotel - Regina Maria Hall, starting 8:30 AM.
Read Full article »
L&D Conference by The Diplomat Bucharest took place on June 4th at Bucharest

The Diplomat-Bucharest organizes the Third Edition of its Learning & Development CONFERENCE on 4 June, 2019 at InterContinental Hotel Bucharest starting 09:00 am.
Read Full article »
Meet the winners of ROMANIAN BUSINESS SERVICES AWARDS, 2019 edition

ROMANIAN BUSINESS SERVICES FORUM & AWARDS 2019, in its fifth year, brrought on May 7, in Bucharest, a new concept event with engaging keynote sessions by industry leaders, interactive panel discussions, network
Read Full article »
Few hours away from to the long awaited CEO Leaders Debate, a premiere of Romanian Business Services Forum and Awards
We are a few hours away to the long awaited CEO Leaders Debate, a premiere of Romanian Business Services Forum and Awards on May 7.
Read Full article »
Colin C. Lovering: Meet the speakers at Romanian Business Services Forum & Awards 2019, on May 7

Colin C. Lovering has been living and working in Romania since 2009 when he arrived to offer consultancy and advice to organisations looking for growth and profitability and founded Achieve International.
Read Full article »