Adobe to add 100 more people in Romania to the already 600 staff professionals

Adobe Romania announced it touched the 600 employees' milestone in Romania and it is looking to expand its local team with 100 more professionals experienced in technical and software engineering.

According to Cris Radu, Sr. Director of Engineering and Site Leader Adobe Romania, the company expanded its local team constantly in the past years. "The products we work on have global impact, which brings technical challenges that the best people on the market are looking for in their projects, but also the responsibility to millions of clients who use them," said Cris Radu, Sr. Director of Engineering and Site Leader Adobe Romania.

Adobe Systems Romania is the largest Research and Development center the company has in the Europe, Middle East and Africa region and specializes products and services in the Digital Marketing Area, such as Adobe Experience Manager, Adobe Primetime, Adobe Audience Manager. Also, the company operates in Digital Media (magazines and video content Adobe Inc., formerly Adobe Systems Incorporated, incorporated on May 9, 1997, is a software company. The Company offers a line of products and services used by professionals, marketers, knowledge workers, application developers, enterprises and consumers for creating, managing, delivering, measuring, optimizing and engaging with compelling content and experiences across multiple operating systems, devices and media.

The Company operates through three segments: Digital Media, Digital Experience and Publishing. The Company markets and licenses its products and services directly to enterprise customers through its sales force and to end users through application stores and its own Website at www.adobe.com. It offers various products through a software-as-a-service (SaaS) model or a managed services model (both of which are referred to as a hosted or cloud-based model), as well as through term subscription and pay-per-use models.

---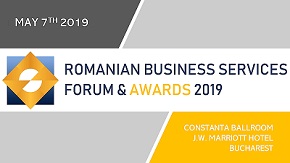 » Evolving from consumers of resources t...
» ROMANIAN OUTSOURCING AWARDS FOR EXCELL...
» Preparing for the new future
» Pepper Escu, the first humanoid robot ...
» Volvo Cars and Uber present production...
» Berg Software Romania: Reasons to outs...
» Marian V. Popa: Meet the speakers at R...
» Deloitte 2019 Global Human Capital Tre...
» George Didoiu: Meet the moderator of R...
» Andrei Voica: Meet the speakers at Rom...

Digital Transformation Conference to take place on June 19 at Bucharest

The Diplomat – Bucharest organizes Digital Transformation Conference to be held on 14 of June in Bucharest, at Hilton Hotel - Regina Maria Hall, starting 8:30 AM.
Read Full article »
L&D Conference by The Diplomat Bucharest took place on June 4th at Bucharest

The Diplomat-Bucharest organizes the Third Edition of its Learning & Development CONFERENCE on 4 June, 2019 at InterContinental Hotel Bucharest starting 09:00 am.
Read Full article »
Meet the winners of ROMANIAN BUSINESS SERVICES AWARDS, 2019 edition

ROMANIAN BUSINESS SERVICES FORUM & AWARDS 2019, in its fifth year, brrought on May 7, in Bucharest, a new concept event with engaging keynote sessions by industry leaders, interactive panel discussions, network
Read Full article »
Few hours away from to the long awaited CEO Leaders Debate, a premiere of Romanian Business Services Forum and Awards
We are a few hours away to the long awaited CEO Leaders Debate, a premiere of Romanian Business Services Forum and Awards on May 7.
Read Full article »
Colin C. Lovering: Meet the speakers at Romanian Business Services Forum & Awards 2019, on May 7

Colin C. Lovering has been living and working in Romania since 2009 when he arrived to offer consultancy and advice to organisations looking for growth and profitability and founded Achieve International.
Read Full article »