Healthcare BPO global market will reach nearly 450 million US dollars in revenues by 2023

Global Healthcare BPO Market is projected to experience 12.3 per cent CAGR from 2017 to 2023 (forecast period), asserts Market Research Future (MRFR) in its latest report.

Healthcare business process outsourcing (BPO) solution providers simplify processes and enhance productivity in hospitals. The market valuation is predicted to touch 449,623.8 US dollars mby 2023 by reducing human errors found in billing and patient health records.

The healthcare industry faces challenges due to advanced technologies, patient expectations, and rollout of new policies. The industry aims to alleviate its problems by outsourcing it to countries with skilled manpower and knowledge. The healthcare BPO market aims to streamline its processes using a mix of technology and personnel.

Well-known names in the healthcare BPO market include Cognizant, IBM, Accenture, HCL, Quintiles, Sykes, and Infosys. The market is characterized by acquisitions, contract renewals, changing policies in Europe and North America, and adoption of new digital technologies. In 2019, Conduent Inc announced the acquisition of Health Solutions Plus, a major developer of healthcare payor administration solutions. This move can be monumental for the company and assist in cementing its position in the healthcare BPO industry.

Major Drivers

MT Services - Medical transcription (MT) services are one of the biggest drivers of the healthcare BPO market with voice notes being recorded and translated into various languages. The digitization of data by skilled personnel saves time of doctors while examining patients. In addition, the patient information and medical history assist in rapid diagnosis.

Automation - Adoption of robotic process automation, big data, and artificial intelligence will set the benchmark for humans and bots coexisting to assist in collection of patient data. For instance, HGS handles the enrollment process of patients looking for insurance. The company uses bots for autofilling information in the right fields and saving time.

Industry News

Cloud BPO – Cloud BPO or Business-Process-as-a-Service (BPaaS) is a business model used by BPOs to scale their processes without fear of incurring high capital expenditure costs. For instance, Infosys is the reputed partner of Aetna Inc., a pharmaceutical major in the U.S. It provided knowledge training to its personnel for handling queries of patients effectively thereby saving costs for the company. Additionally, it developed a management information system (MIS) for compiling a database of patients and their respective health-related data for easy access in case of claims. Furthermore, the integration of deep learning and machine learning for automating repetitive tasks is likely to be a positive step for players for handling the voluminous amount of patient data.

Omni-channel Experience – Insurance companies have heeded to the needs of their customers by embracing the services of BPOs for delivering quality experiences. Large cost of combating chronic diseases coupled with the focus on electronic storage of data is likely to work favorably for the healthcare BPO market. It can cater to patient needs by providing support through voice, chat, SMS, and social media channels.

Nearshoring – The trend has come up as a better alternative to offshoring which has been under heavy scrutiny and taxed heavily due to changing political scenarios. Europe is an attractive destination with countries such as Bulgaria, Romania, and the Czech Republic relaxing labor laws and possessing an impressive workforce for providing services to customers.


---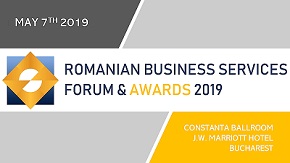 » Digital Transformation Conference to t...
» ASE's HR Master – helping students i...
» Meet the winners of ROMANIAN BUSINESS ...
» Capgemini to open new office at Suceav...
» Marian V. Popa: Meet the speakers at R...
» Randstad Employer Branding 2019: Salar...
» Zitec launches its 1 million Euro Mirr...
» Deloitte Romania opens application for...
» Oracle Romania inaugurates the Iasi of...
» Endava specialists put 3-month work in...

Digital Transformation Conference to take place on June 19 at Bucharest

The Diplomat – Bucharest organizes Digital Transformation Conference to be held on 14 of June in Bucharest, at Hilton Hotel - Regina Maria Hall, starting 8:30 AM.
Read Full article »
L&D Conference by The Diplomat Bucharest to take place on June 4th at Bucharest

The Diplomat-Bucharest organizes the Third Edition of its Learning & Development CONFERENCE on 4 June, 2019 at InterContinental Hotel Bucharest starting 09:00 am.
Read Full article »
Meet the winners of ROMANIAN BUSINESS SERVICES AWARDS, 2019 edition

ROMANIAN BUSINESS SERVICES FORUM & AWARDS 2019, in its fifth year, brrought on May 7, in Bucharest, a new concept event with engaging keynote sessions by industry leaders, interactive panel discussions, network
Read Full article »
Few hours away from to the long awaited CEO Leaders Debate, a premiere of Romanian Business Services Forum and Awards
We are a few hours away to the long awaited CEO Leaders Debate, a premiere of Romanian Business Services Forum and Awards on May 7.
Read Full article »
Colin C. Lovering: Meet the speakers at Romanian Business Services Forum & Awards 2019, on May 7

Colin C. Lovering has been living and working in Romania since 2009 when he arrived to offer consultancy and advice to organisations looking for growth and profitability and founded Achieve International.
Read Full article »