Marian V. Popa: Meet the speakers at Romanian Business Services Forum 2019 CEO LEADERS DEBATE, on May 7

Marian (Mike) Popa started his career in 1973 with the Romanian Chamber of Commerce, working for 10 years in Publicom – Foreign Trade Advertising Company. In 1983 he became General Manager of Rank Xerox Ltd – Romania and Moldova and grew the company from 0.5 Million US dollars to 38 Million US dollars and from 2 to 1000 employees.

1996 he took over the general management for Romania and Republic of Moldova of ICL Limited. Grew the company from 0.7 Million to 28 Million GBP and from 14 to 200 people). In 2004 he joint Endava as Executive Manager for CEE and went from (almost) greenfield and 40 employees to 700 people, 4 CEE branches and 36 mil GBP turnover. In 2014: he was appointed Director/ Head of DB Global Technology Centre in Bucharest. 900 people and 64 mil euro is the result from start after start in 4 years.

ROMANIAN BUSINESS SERVICES FORUM & AWARDS 2019, in its fifth year, brings on May 7, in Bucharest, a new concept event with engaging keynote sessions by industry leaders, interactive panel discussions, networking opportunities and Gala Awards.
This edition is an arena where key players in the field can discuss the current challenges and opportunities that the business services providers deal with, but also recognizes, rewards and celebrates the success of the most prominent companies acting in the Outsourcing – BPO, ITO and SSC industry in Romania.

The awards categories are aimed at recognizing the exceptional results of both the companies and organizations and the professionals who contributed to the development of projects and business climate in the services business in Romania in 2018.

The 12 members-jury analyzed the 66 on-line submitted nominations and selected the finalists for this year's Awards edition.
The winners will be announced at the gala dinner held on the afternoon of May 7, 2019 that will gather important representatives from the Romanian government, senior figures from Romania's business and civil society and the Outsourcing sector community at top level.

Book your seat to meet all finalists and the winners of 2019 on 7 May, at JW Marriott Hotel - Constanta Ballroom, in Bucharest.

Regular participation fee: 249€ + VAT
Batch of four tickets: 840€ + VAT
Corporate table(8 seats, logo on table card and website): 1790 € + VAT


---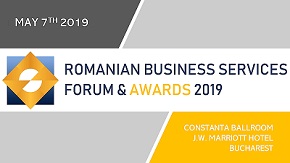 » Raiffeisen Bank Romania outsources onl...
» Horváth & Partners launches Steering ...
» JLL: Total office space in Bucharest t...
» Colliers International takes over the ...
» SSC in Romania. Who takes the lion's s...
» Oracle results pushed down by a strong...
» Survey: Romanians switch to a lower-pa...
» Genpact, Luxoft and Oracle, top lessee...
» Romanian employers report the stronges...
» Eucom: Nine out of ten corporate Roman...

My HR Lab: Research of suitable candidates and giving feedback to rejected ones, the biggest challenge in HR

During June 2019, My HR Lab company run an online (social media platforms) survey "Challenges of the recruitment process" which enrolled over 100 professionals working in HR and recruitment in Romania.
Read Full article »
The local market needs more added-value and complex projects to be developed by the companies

The statement has been uttered within this year's Romanian Outsourcing and Shared Services Summit by Catalina Dodu, Country Manager at Atos, pointing to the local enablers that could enhance the innovation and
Read Full article »
The office market at a glance: The round for tenants is on

Data provided by CBRE show that the office spaces segment will continue to grow rapidly in 2019, and 15 new projects covering 304.000 sqm will be delivered. According to the real estate consultancy agency, curr
Read Full article »
People Empowering Business Forum 2019 to take place on October, 30 at Bucharest

Latest trends like demographic upheaval, globalization, digital technology, and changing social values and worker expectations, are disrupting business models and radically changing the workplace. These are req
Read Full article »
Addressing the mantra of cyber-security: Confidentiality, integrity and availability

The fast advancement of technology in all the aspects of everyday life, either personal or professional, and the emerging of AI (Artificial Intelligence) and ML (Machine Learning), not to mention cloud technolo
Read Full article »