Oracle: Shifting toward a whole-enterprise cloud

Cloud technology and its adoption have been transformative for nearly every business, industry, and product. From running applications that are always-on and available, to limitless infrastructure scalability, today's enterprise technology norm is defined by these cloud capabilities.

According to the newly issued study of Oracle, now, enterprises are outpacing consumers in their adoption of emerging technologies—including artificial intelligence (AI), blockchain, digital assistants, containers, serverless, and the Internet of Things (IoT).

"Even if Romania might rank behind the Western European countries in terms of cloud usage, adoption rates vary widely depending on the business sectors, and there are already many companies in Romania who understand the need and benefits of cloud technology as well as other emerging technologies. IT, telecommunications and finance are always open to new technologies and companies such as online retail and digital services already use the latest innovations "Cloud technology gives them access to innovation independent of their country or location," said Sorin Mindruţescu, Country Leader for Oracle Romania, at Oracle Cloud Day

They're no longer experimenting with these new technologies in a sandbox; they're applying them in meaningful ways across their operations, driving new business, creating new value, and building more sophisticated applications than ever before. By 2025, we expect to see both cloud providers and the enterprises they serve move toward a next-generation cloud model where they have access to these new technologies, better security, improved price performance, and deep automation capabilities.
In "Oracle's Top 10 Cloud Predictions 2019," we explore what the enterprise IT world will look like by 2025 as the adoption of cloud rises. Together, these predictions demonstrate the need for a complete enterprise cloud approach in the years to come, and provide a futurefacing view of how businesses will need to plan their move to a cloud-native IT environment.

The Oracle study named several predictions until 2025:

Second-generation cloud providers will offer 100% data-center replacement
80% of all enterprise (and mission-critical) workloads will move to the cloud
All applications will incorporate AI—further distancing themselves from legacy applications. Also, AI (and emerging technologies) will double our productivity.
85% of all interactions will be automated
The developer community will expand 10× and productivity will increase by 400%
More than 50% of data will be managed autonomously
90% of enterprises will use a single identity platform that bridges premises and the cloud
The number of security events will increase 100x, and automation will become the most reliable way of preventing, detecting, and mitigating threats
70 per cent of IT functions will be completely automated

---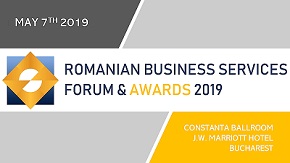 » Digital Transformation Conference to t...
» ASE's HR Master – helping students i...
» Meet the winners of ROMANIAN BUSINESS ...
» Marian V. Popa: Meet the speakers at R...
» Randstad Employer Branding 2019: Salar...
» Zitec launches its 1 million Euro Mirr...
» Deloitte Romania opens application for...
» Capgemini to open new office at Suceav...
» Romulus Caralicea: Meet the speakers a...
» Oracle Romania inaugurates the Iasi of...

Digital Transformation Conference to take place on June 19 at Bucharest

The Diplomat – Bucharest organizes Digital Transformation Conference to be held on 14 of June in Bucharest, at Hilton Hotel - Regina Maria Hall, starting 8:30 AM.
Read Full article »
L&D Conference by The Diplomat Bucharest to take place on June 4th at Bucharest

The Diplomat-Bucharest organizes the Third Edition of its Learning & Development CONFERENCE on 4 June, 2019 at InterContinental Hotel Bucharest starting 09:00 am.
Read Full article »
Meet the winners of ROMANIAN BUSINESS SERVICES AWARDS, 2019 edition

ROMANIAN BUSINESS SERVICES FORUM & AWARDS 2019, in its fifth year, brrought on May 7, in Bucharest, a new concept event with engaging keynote sessions by industry leaders, interactive panel discussions, network
Read Full article »
Few hours away from to the long awaited CEO Leaders Debate, a premiere of Romanian Business Services Forum and Awards
We are a few hours away to the long awaited CEO Leaders Debate, a premiere of Romanian Business Services Forum and Awards on May 7.
Read Full article »
Colin C. Lovering: Meet the speakers at Romanian Business Services Forum & Awards 2019, on May 7

Colin C. Lovering has been living and working in Romania since 2009 when he arrived to offer consultancy and advice to organisations looking for growth and profitability and founded Achieve International.
Read Full article »