CBRE takes charge of the operations of NEPI Rockcastle's office portfolio in Bucharest

CBRE, the world and local market leader in real estate consultancy, was mandated with the property management of NEPI Rockcastle's office portfolio in Bucharest, consisting of three emblematical buildings: Floreasca Business Park, The Lakeview, and Aviatorilor 8 (former Victoriei Office).

The total surface of these projects is 70,580 sq m GLA. Thus, CBRE's local property management portfolio reached 770,000 sq m, of which 410,000 sq m are in office, and 360,000 sq m in retail properties. This deal is a premiere, as this is the first time when NEPI Rockcastle, the largest private real-estate owners and developers on the local market, outsources its property management services. The South African investment fund, NEPI Rockcastle, mostly known as the largest owner of shopping centres in Romania and CEE, also holds an impressive office buildings portfolio, located in Bucharest, Cluj-Napoca, and Timișoara.

The three properties that will be managed by CBRE are landmark office projects on Bucharest's real estate market: Floreasca Business Park has 36,470 sq m and is located on Calea Floreasca, The Lakeview has a total GLA of 25,907 sq m and is located on Barbu Văcărescu Boulevard, and Aviatorilor 8 has 8,203 sq m GLA and has a key location in Piața Victoriei right next to the Romanian Government Building. NEPI Rockcastle's office portfolio has an impressive list of tenants, from General Electric and Huawei to Wipro, Fitbit, L'Oreal, Sandoz, Holcim, Goodyear, DHL and PwC.

CBRE recently moved their offices to Aviatorilor 8, one of the most modern buildings situated in the capital's CBD (Piața Victoriei, Piața Charles de Gaulle area).

"CBRE and NEPI Rockcastle already have a strong and strategic partnership that started back in 2015, when we were apointed as the leasing agent for City Business Centre, in Timișoara. The fact that NEPI Rockcastle trusted us, and decided to outsource for the first time its office property management to CBRE, is a proof of the very good cooperation between our companies and the commitment of our team to provide the highest standard of service to three excellent buildings. The three office properties in Bucharest under this deal are indeed landmark properties, with strong tenant mixes, and we believe that with the right property management tools they will increase their value in the marketplace", stated Luiza Moraru, MRICS, Head of Asset Services Division for Central and Eastern Europe, CBRE. "Moreover, this deal consolidates our position as the leading property management company in Romania. Our local team put a great effort into achieving this level of expertise and benefited from the help of our worldwide teams. Through our property management services we go beyond the mere functional property services, as we aim to make every building that we manage stand out, and become unique in its marketplace. The signing of this partnership is the culminating point of an excellent period for our Asset Services Department. In 2018, we were focused on strengthening our value-adding and differentiating services: hospitality and customer experience for retail, community management for office and specialty leasing. One of the biggest successes in 2018 registered by the local Asset Services Department was that it outgrew itself by 100%. We are eager to further proof the unparalleled quality of our property management know-how by managing NEPI Rockcastle's office portfolio in the best possible way", added Mrs. Moraru.

"The foundation of a solid business relationship comes from knowing your partner, and the quality that it has to offer. CBRE is a leading global real estate consultant, and we had the opportunity to seeing how they work on many segments. We chose them for outsourcing the property management of our office portfolio in Bucharest because we have complete confidence that they will perfectly conduct the operational and property management activities, thereby adding to their value", added Marius Barbu, Asset Director NEPI Rockcastle.

NEPI Rockcastle is the premier owner and operator of shopping centres in Central and Eastern Europe (CEE), with presence in nine countries and an investment portfolio of over €5.9 billion.
The Group benefits from a highly-skilled internal management team which combines asset management, development, investment, leasing and financial expertise. Geographically diverse management skills allow NEPI Rockcastle to pursue CEE property opportunities more efficiently, benefiting from a strategic advantage in the acquisition, development and management of properties.

NEPI Rockcastle owns and operates 51 retail properties (excluding joint ventures) which attracted 307 million visits in 2018. With Group-level management of tenant relationships and a focus on cross-country collaboration, the Group is the leading strategic partner for major retailers targeting CEE countries.

The local property management department of CBRE was founded at the end of 2013, under the leadership of Mrs. Luiza Moraru. Now, the department has 109 people, who manage a total portfolio of 770,000 sq m, in 27 retail and office properties, with a stunning 1,700 tenants. Along NEPI Rockcastle, other clients of the property management department are S Immo, IMMOFINANZ, CPI, CA Immo, Green Gate and Vastint. In terms of actual properties, the department portfolio includes: Sun Plaza Bucharest, the four VIVO! centres situated in Baia Mare, Cluj-Napoca, Constanța and Pitești, Felicia Shopping Center in Iași, Family Center retail park in Botoșani, Timpuri Noi Square Bucharest, Green Gate, Campus 6 etc. Additionally, to the Romanian team, CBRE is also relying on the large and highly professional teams throughout the CEE region that number almost 700 consultants led by Mrs. Moraru. Currently, in the Central and Eastern Europe region, CBRE manages a total area of 5.910.000 sq m, out of which 2.200.000 sq m are office buildings.


---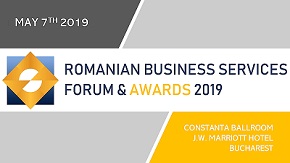 » Digital Transformation Conference to t...
» ASE's HR Master – helping students i...
» Marian V. Popa: Meet the speakers at R...
» Meet the winners of ROMANIAN BUSINESS ...
» Capgemini to open new office at Suceav...
» Romulus Caralicea: Meet the speakers a...
» Randstad Employer Branding 2019: Salar...
» Zitec launches its 1 million Euro Mirr...
» Deloitte Romania opens application for...
» Oracle Romania inaugurates the Iasi of...

Digital Transformation Conference to take place on June 19 at Bucharest

The Diplomat – Bucharest organizes Digital Transformation Conference to be held on 14 of June in Bucharest, at Hilton Hotel - Regina Maria Hall, starting 8:30 AM.
Read Full article »
L&D Conference by The Diplomat Bucharest to take place on June 4th at Bucharest

The Diplomat-Bucharest organizes the Third Edition of its Learning & Development CONFERENCE on 4 June, 2019 at InterContinental Hotel Bucharest starting 09:00 am.
Read Full article »
Meet the winners of ROMANIAN BUSINESS SERVICES AWARDS, 2019 edition

ROMANIAN BUSINESS SERVICES FORUM & AWARDS 2019, in its fifth year, brrought on May 7, in Bucharest, a new concept event with engaging keynote sessions by industry leaders, interactive panel discussions, network
Read Full article »
Few hours away from to the long awaited CEO Leaders Debate, a premiere of Romanian Business Services Forum and Awards
We are a few hours away to the long awaited CEO Leaders Debate, a premiere of Romanian Business Services Forum and Awards on May 7.
Read Full article »
Colin C. Lovering: Meet the speakers at Romanian Business Services Forum & Awards 2019, on May 7

Colin C. Lovering has been living and working in Romania since 2009 when he arrived to offer consultancy and advice to organisations looking for growth and profitability and founded Achieve International.
Read Full article »