ABSL GALA AWARDS celebrated its winners last evening at Bucharest

As the voice of the business services, ABSL has created the ABSL Awards with the purpose of recognizing the most innovative, impactful and valuable projects and initiatives of the business services industry over the course of the previous year.2019 is the 4th year for ABSL in delivering the Awards designation process and ceremony.

This year, the competition included 6 business categories and a special award for the Colleague of the Year, besides categories such as Business Excellence, Business Innovation, Customer Experience, Corporate Social Responsibility, Talent Development & Education and Vibrant Workplace.

The winners for each category were:

Hewlett – Packard Enterprise (Business Leader in Business Excelence)
"HPE generates approx 6B US dolars orders every quarter in hardware solutions, 30% of these are submitted manually and 70% electronically.
The Global Order Processing team is responsible for managing hardware orders by validating the information required for booking, ensuring all blocking codes that could stop production are removed and placing them in the system. The Order Processing "No Touch" program was launched to ensure less time is spent between placing an order and starting production, improve the ease of doing business for partners and customers, and optimize operational & organizational efficiency."

Hewlett Packard Enterprise also won the Vibrant Workplace Award: The company's representative said: "A positive workplace culture is connected to a vibrant environment and here at HPE we are committed to offer our employees the platforms to explore their curiosity, energy and enthusiasm through the variety of our Employee Engagement Platforms. Social responsibility, supporting people with disabilities and their inclusion, learning and development opportunities for the employees are the main platforms."

Paid Analytix (Business Leader in Business Innovation)
"Various studies have shown that medium to large sized companies may lose up to 1% of their payments due to various operational errors and in worst case scenario even fraud. Conventional tools and controls do not cover the risk sufficiently. Our solution is an online Artificial intelligence powered platform that will pinpoint the true errors with a much higher degree of accuracy then conventional tools and help the customer control these leakages. This platform can be used in a detective approach by looking at past transactions or it can be used in a preventive sense to avoid such type of errors from happening."

Stefanini Romania (Business Leader in Customer Experience)

"In 2018 the main target was to transform a challenging status quo in an amazing experience with Stefanini. ITO Innovation Project - aimed at increasing the efficiency and effectiveness of the ITO Service Desk processes. The idea is to use technology not just to replicate an existing service in a digital form, but to use technology to transform that service into something significantly better."

Telus International and Wipro Techonologies SRL (Business Leader in CSR)
The special Jury Award for Consistency in Excellent CSR for TELUS International Romania and the 1st place for Wipro Technologies at CSR category.
About TELUS CSR project: During the 6th annual TELUS Days of Giving in Romania which took place on June 22, 2018, 250 TELUS International team members volunteered with their hearts and hands, in partnership with Habitat for Humanity, to build the Buftea Community Center. The Center will provide after-school activities, workshops, hot meals and psychological counseling for 50 children daily and educational activities for more than 150 disadvantaged children every year.
About Wipro CSR project: Wipro Cares is a not-for-profit trust that engages with our proximate communities on various initiatives. We have selected to focus and make a change on the the issues of education for the underprivileged, primary healthcare, children with disability and environment.
Last year we have focused extensively our financial resources ad well as volunteering acts towards 2 communities which are close to our hearts.
1. Teach for Romania - School Sohatu - adopted community in Calarasi county.
2. Educational Center Saint Faustina - supporting education for the long term hospitalized children from Marie Curie.

SCC Services Romania (Business Leader in Talent Development & Education) won the category for or the project FLAME (Fundamentals in Leadership and Management Education): With a true belief that people leave managers, not organizations, we have initiated in 2016 the FLAME program, which aims to identify and train current leaders and future leaders within the organization and to provide the individuals with the necessary knowledge and abilities to manage operational teams."

Tiberiu Anca – Colt Technology Services (Colleague of the Year Award)

"Tiberiu is the person that takes care of our wellbeing at the office, making sure we always have the right tools and equipment, in order to perform our work. He is very dedicated, always ready to help and welcoming us with a smile on his face, regardless of how many things he has to do that day. Tibi's name is always the first one to pop up when asking colleagues about the person they appreciate most", said the members of the Colt team at the Awards ceremony.


ABSL Awards Gala inspires the business services community to continuously strive for excellence and by this, to strengthen the sector's position as the powerhouse of the Romanian economy.




 


---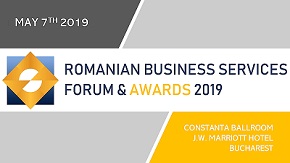 » Huawei opens a centre on cyber securit...
» ROMANIAN OUTSOURCING AWARDS FOR EXCELL...
» Romania ranks above EU average in gend...
» Bucharest, in the top of cities in Eur...
» Meet the experts who will decide the w...
» Berg Software Romania: Reasons to outs...
» KPMG launches an application enabling ...
» Bogdan Pelinescu, president of ABSL: A...
» ABSL GALA AWARDS celebrated its winner...
» George Rotariu, CEO Bitcoin Romania: B...

Catalina Dodu - Meet the speakers at Romanian Business Services Forum 2019 CEO LEADERS DEBATE, on May 7

Catalina Dodu runs the operations of Atos Romania since March 2014, with an experience of over 15 years in IT management. Previous to being appointed Country Manager, Catalina managed the System Integration div
Read Full article »
Philippe Beucher: Meet the speakers at Romanian Business Services Forum 2019 CEO LEADERS DEBATE, on May 7

Philippe Beucher is the Managing Director of Accenture Operations – Danubia Region, leading the Operations entity for Romania, Czech Republic, Slovakia and Hungary starting from February 2019. For the past 1
Read Full article »
Meet the speakers at Romanian Business Services Forum 2019 CEO LEADERS DEBATE, on May 7th - Matthieu Pasquier

Matthieu Pasquier is CEO of Societe Generale European Business Services since August 2018 bringing more than 27 years experience in Societe Generale group. During 2014-2018, Matthieu was Head of SG GSC Chennai
Read Full article »
Sorin Mindrutescu among the speakers at Romanian Business Services Forum 2019 CEO LEADERS DEBATE, on May 7th

Sorin Mindrutescu is the Country Leader for Oracle Romania, as of February 2003. In this role, he is responsible for local sales and project delivery. In Romania, Oracle has two major business directions: the l
Read Full article »
Meet the speakers at Romanian Business Services Forum 2019 CEO LEADERS DEBATE, on May 7th - Vivek Bakshi

Vivek Bakshi is the General Manager of Wipro Technologies. He has spent 12 years heading the International Locations / Delivery Centers Europe from the Bucharest office.
Read Full article »