PropTech Romania organizes a hackathon in Bucharest, dedicated to real estate industry

Proptech Romania, the first Romanian innovation platform dedicated to the real estate market announced it is organizing the first European Real Estate Hackathon, in Bucharest, on the 12-13 April, an event that aims to nurture innovation by driving value through meaningful interactions and challenge-based property related technology solutions.

The purpose of the Hackathon is to bring together real estate players and digital transformation drivers (startups and established tech companies) to solve real life, real estate challenges.

According to the company news feed, the winner will be short listed on PropTech Demo Day Bucharest - June 2019. They will have a booth at Future Proptech London - May 2019. Qualified for International Chapter at Mipim PropTech Hackathon Paris - July 2019. Fast track acceleration by PropTech Romania - 2019

The event will have as a main theme the digital transformation within some of the important segments of the real estate industry, such as commercial, office, industrial and residential ones, while also integrating the concept of smart-cities.

The purpose of the hackathon is to bring together real estate companies along with the companies or technology-profiled startups whose main purpose is to find innovative solutions for the real estate industry and generate new business models.

"The real estate industry can no longer evolve without the integration of technology, and this trend can be noticed in almost any field, not just in real estate. At the international level, the real estate digitization, conceived in a wider sense under the term proptech, has become an industry itself, attracting massive investments yearly. Developing a local platform to generate interaction between technology and real estate players in a more dynamic and evolving real estate market is not only an opportunity, but also a necessity. PropTech Romania aims to become an integrator of innovative solutions, as well as a link between the real estate and the technology market", said Ciprian Pașca, one of the four founders of PropTech Romania.

Silviana Petre Badea, CEO JLL România, added: "JLL has committed to become the leader in digital transformation of real estate services in order to create sustainable benefits, for our customers as well as for the end-users. In order to sustain our progress towards this goal, JLL launched the JLL Spark Investment Fund two years ago, this being an initiative that enables us to innovate the proptech concept (i.e. technology connected to real estate) which will complete our current services and be part of our competitive advantages."

A series of thematic debates will take place within the event in which the representatives of major local and international companies in the tech and real estate field are expected to participate. At the same time, during the two days of hackathon, several teams of local developers of proptech solutions are going to compete in order to bring in innovative projects on several real estate market topics.
The competition will include 6 main categories, namely real estate brokerage, intelligent office buildings, facility management, residential, retail and community segments.

The real estate players are very much interested in finding out solutions which could generate the development and implementation of certain digital real estate platforms and applications for the management of landlords and tenants, for checking and booking temporary spaces in commercial centers, integrated solutions for digitizing intelligent office buildings, recruiting and retention of operational staff in facility management and intelligence as well as solutions for parking management of mixed residential projects and offices.

The best three projects are going to be awarded with prizes of 5,000, 2,500 and 1,000 Euro respectively, and 500 Euro will go to the winners of each category. The first three winning startups will be given the opportunity to participate with their own presentation stand in the Future Proptech conference, which will be held in London between 13 and 15t May 2019.

The competition is supported by JLL Romania, Ceetrus, Nepi Rockcastle, Orange, Portland Trust, Speedwell, Simacek, Mercer Marsh Benefits, Imobiliare.ro and Kone. More than five local and regional investment funds as well as private investors are going to be part of the event.

The Real Estate Hackathon is going to be the first event out of several events and actions developed by Proptech Romania. Having the support of strategic partners such as MIPIM Europe, Europe Proptech House, UK Proptech, Global PropTech Online, Swiss Proptech, Holland ConTech & Proptech, Future Proptech and Proptech Russia, PropTech Romania aims to accelerate the integration process between the technology and the real estate market.



---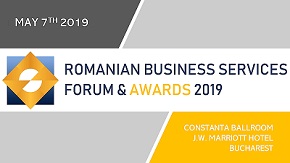 » Evolving from consumers of resources t...
» Preparing for the new future
» ROMANIAN OUTSOURCING AWARDS FOR EXCELL...
» Pepper Escu, the first humanoid robot ...
» Volvo Cars and Uber present production...
» Berg Software Romania: Reasons to outs...
» Marian V. Popa: Meet the speakers at R...
» Deloitte 2019 Global Human Capital Tre...
» Andrei Voica: Meet the speakers at Rom...
» How giving back pays dividends for com...

Digital Transformation Conference to take place on June 19 at Bucharest

The Diplomat – Bucharest organizes Digital Transformation Conference to be held on 14 of June in Bucharest, at Hilton Hotel - Regina Maria Hall, starting 8:30 AM.
Read Full article »
L&D Conference by The Diplomat Bucharest took place on June 4th at Bucharest

The Diplomat-Bucharest organizes the Third Edition of its Learning & Development CONFERENCE on 4 June, 2019 at InterContinental Hotel Bucharest starting 09:00 am.
Read Full article »
Meet the winners of ROMANIAN BUSINESS SERVICES AWARDS, 2019 edition

ROMANIAN BUSINESS SERVICES FORUM & AWARDS 2019, in its fifth year, brrought on May 7, in Bucharest, a new concept event with engaging keynote sessions by industry leaders, interactive panel discussions, network
Read Full article »
Few hours away from to the long awaited CEO Leaders Debate, a premiere of Romanian Business Services Forum and Awards
We are a few hours away to the long awaited CEO Leaders Debate, a premiere of Romanian Business Services Forum and Awards on May 7.
Read Full article »
Colin C. Lovering: Meet the speakers at Romanian Business Services Forum & Awards 2019, on May 7

Colin C. Lovering has been living and working in Romania since 2009 when he arrived to offer consultancy and advice to organisations looking for growth and profitability and founded Achieve International.
Read Full article »