AROBS Transilvania Software acquires HR software provider UCMS Group Romania

AROBS Transilvania Software, a specialized provider of outsourced business solutions based in Romania, is to acquire human resources management business, UCMS Romania from TMF Group, on DATE, subject to regulatory approval.

The acquisition is an important stage in AROBS Transilvania Software's growth strategy, adding UCMS Romania's two recognized HR products to its offering – True HR and dpPayroll. One key aim for the company is further developing the customer experience for users of the products, in addition to enhancing response times during the implementation process and improving applications through state-of-the-art technologies.

AROBS Transilvania Software has been growing through acquisitions since 2013 aiding in strengthening and diversifying the industries it operates in, including automotive, travel and hospitality, life sciences and enterprise applications.

Voicu Oprean, Founder and CEO of AROBS Transilvania Software said: "We are delighted to be adding two recognized HR products to our offering, adding expertise, cementing growth and providing even better services and products for our clients. We look forward to continuing to strengthen our market position and product lines for international and domestic markets."

Daniel Proychev, Managing Director, South East Europe at TMF Group said:

"We are pleased to agree this transaction with ARBOS Transilvania Software, and believe they are well placed in the market to further develop and enhance UCMS Romania's product line. We will work closely with AROBS Transilvania Software to support a seamless transition for our clients and employees."

Completion of the transaction is subject to regulatory approval in Romania.

In over 20 years since its establishment, AROBS Transilvania Software has developed its own product line for domestic and international markets (Optimall SFA, TrackGPS, Optimall WMS, Optimall Logistic, etc.), and become highly specialised in delivering outsourced solutions to industries including Automotive Engineering, Travel Software, Hospitality Solutions, Life Sciences, Home Automation Systems, IoT, Cloud application development – Enterprises.

At present, over 800 employees and collaborators work at the AROBS offices in Romania – in Cluj-Napoca, Tîrgu Mureș, Baia Mare, Arad, Suceava, Iași, and Bucharest. In addition, the company has several international subsidiaries in Germany, Hungary, the Republic of Moldova, Indonesia and CoSo by AROBS in the Netherlands and Belgium.

TMF Group helps its clients operate internationally and 'belong' wherever they are in the world. We do this by making sure they are properly set up to do business in any country and compliant with local and international regulations. Our work includes helping companies of all sizes with business services such as HR and payroll, accounting and tax, corporate secretarial, global governance and administration and fiduciary services for capital markets, private clients, private equity and real estate investments. We have more than 7,000 in-country experts in over 90 jurisdictions worldwide.


---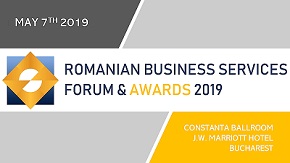 » Digital Transformation Conference to t...
» ASE's HR Master – helping students i...
» Meet the winners of ROMANIAN BUSINESS ...
» Capgemini to open new office at Suceav...
» Marian V. Popa: Meet the speakers at R...
» Randstad Employer Branding 2019: Salar...
» Zitec launches its 1 million Euro Mirr...
» Deloitte Romania opens application for...
» Oracle Romania inaugurates the Iasi of...
» Endava specialists put 3-month work in...

Digital Transformation Conference to take place on June 19 at Bucharest

The Diplomat – Bucharest organizes Digital Transformation Conference to be held on 14 of June in Bucharest, at Hilton Hotel - Regina Maria Hall, starting 8:30 AM.
Read Full article »
L&D Conference by The Diplomat Bucharest to take place on June 4th at Bucharest

The Diplomat-Bucharest organizes the Third Edition of its Learning & Development CONFERENCE on 4 June, 2019 at InterContinental Hotel Bucharest starting 09:00 am.
Read Full article »
Meet the winners of ROMANIAN BUSINESS SERVICES AWARDS, 2019 edition

ROMANIAN BUSINESS SERVICES FORUM & AWARDS 2019, in its fifth year, brrought on May 7, in Bucharest, a new concept event with engaging keynote sessions by industry leaders, interactive panel discussions, network
Read Full article »
Few hours away from to the long awaited CEO Leaders Debate, a premiere of Romanian Business Services Forum and Awards
We are a few hours away to the long awaited CEO Leaders Debate, a premiere of Romanian Business Services Forum and Awards on May 7.
Read Full article »
Colin C. Lovering: Meet the speakers at Romanian Business Services Forum & Awards 2019, on May 7

Colin C. Lovering has been living and working in Romania since 2009 when he arrived to offer consultancy and advice to organisations looking for growth and profitability and founded Achieve International.
Read Full article »