Entrepreneurship rush: Six out of ten Romanians want to have own business, youth stand for 77 pct

Six out of 10 Romanians, namely 63 percent want to have their own business, the percentage being significantly higher among men (72 percent), 18-23 year old youth (77 percent) and adults aged between 24 and 38 (75 percent), according to a study carried out by a market research company.



The data were collected in January this year and are representative at urban level.
Also, for 8 out of 10 Romanians, being independent means not being financially dependent on someone else, and for 77 percent independence is associated with the ability to do the things they want, to fulfill their passions.

"Most people aged between 55 and 65 (88 percent) link independence to the possibility of doing what they want and fulfill their passions, while for the 18 to 23-year-old youth this percentage reaches 56 percent. Succeeding on your own is another feature that defines what independence means for 57 percent of Romanians. The percentage of those who consider that they succeed on their own is the equivalent of independence is higher among women (63 percent, versus 37 percent among men), as well as among young people aged 18-23 (62 percent) and young adults (aged 24-38)," shows the iSense Modern Consumer Trends Tracker study, conducted annually by the market research company iSense Solutions.

Approximately 3 out of 10 respondents say that independence means being freelancers and able to work when they want, and the percentage reaches 40 percent for people aged 39-54.

Although most of the Romanian employees work entirely at the company's headquarters (66 percent), some of them have the opportunity to work regularly at home (15 percent) and 19 percent regularly work at home or from other places than the company's headquarters.

The study shows that the benefits that people working from home (occasionally or constantly) identify are the fact that they have the freedom to make their own schedule as they wish (61 percent), that they can concentrate better (55 percent), have more leisure time (53 percent), feeling relaxed and rested (51 percent) and being more productive (35 percent), and working at home requires the use of the latest technology tools (24 percent).

"There is an important range of advantages perceived by Romanians in urban areas for working from home, and companies can take this into account and provide such benefits to their employees wherever possible. Moreover, it is very interesting that for young people aged between 18 and 23, the percentage of those who have the opportunity to work from home periodically is significantly higher than the general one (37 percent as compared to 15 percent), which shows that employers already meet the need for flexibility of young people. In the future, we expect more and more companies to meet the need for flexibility of their employees, to offer them the possibility to work from home or to become entrepreneurs (an aspect that could meet the Romanians' need to be entrepreneurs)," says Andrei Canda, Managing Partner iSense Solutions.

The data are collected in January 2019, and the survey is conducted online on 1,011 respondents and is representative of the urban environment in Romania with an error rate of +/- 3,1 percent at a confidence level of 95 percent.






---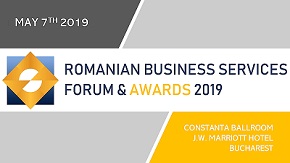 » Huawei opens a centre on cyber securit...
» ROMANIAN OUTSOURCING AWARDS FOR EXCELL...
» Romania ranks above EU average in gend...
» Bucharest, in the top of cities in Eur...
» Meet the experts who will decide the w...
» Berg Software Romania: Reasons to outs...
» KPMG launches an application enabling ...
» Bogdan Pelinescu, president of ABSL: A...
» ABSL GALA AWARDS celebrated its winner...
» George Rotariu, CEO Bitcoin Romania: B...

Catalina Dodu - Meet the speakers at Romanian Business Services Forum 2019 CEO LEADERS DEBATE, on May 7

Catalina Dodu runs the operations of Atos Romania since March 2014, with an experience of over 15 years in IT management. Previous to being appointed Country Manager, Catalina managed the System Integration div
Read Full article »
Philippe Beucher: Meet the speakers at Romanian Business Services Forum 2019 CEO LEADERS DEBATE, on May 7

Philippe Beucher is the Managing Director of Accenture Operations – Danubia Region, leading the Operations entity for Romania, Czech Republic, Slovakia and Hungary starting from February 2019. For the past 1
Read Full article »
Meet the speakers at Romanian Business Services Forum 2019 CEO LEADERS DEBATE, on May 7th - Matthieu Pasquier

Matthieu Pasquier is CEO of Societe Generale European Business Services since August 2018 bringing more than 27 years experience in Societe Generale group. During 2014-2018, Matthieu was Head of SG GSC Chennai
Read Full article »
Sorin Mindrutescu among the speakers at Romanian Business Services Forum 2019 CEO LEADERS DEBATE, on May 7th

Sorin Mindrutescu is the Country Leader for Oracle Romania, as of February 2003. In this role, he is responsible for local sales and project delivery. In Romania, Oracle has two major business directions: the l
Read Full article »
Meet the speakers at Romanian Business Services Forum 2019 CEO LEADERS DEBATE, on May 7th - Vivek Bakshi

Vivek Bakshi is the General Manager of Wipro Technologies. He has spent 12 years heading the International Locations / Delivery Centers Europe from the Bucharest office.
Read Full article »