Digital solutions provider Globant opens development centre in Cluj-Napoca

Digital services company Globant recently announced it had opened a development centre in the Romanian northwestern city of Cluj-Napoca.

The new centre will enable the company to extend its digital and cognitive expertise to an international portfolio of clients, it said in a press release.

Globant is already present in Cluj through Small Footprint, which it acquired in August 2018. The acquisition of Small Footprint's US operations and subsidiary in Romania for $10,560 (9,400 euro) has enabled Globant to intensify expansion in Eastern Europe and improve its onsite capacity in the US, according to its half-year report for 2018.

"Our passion is to build the best team in the world, and in that pursuit we look for the best talent regardless of where they are located. Romania has many amazing professionals, so we are confident that this opening will be key to Globant's expansion worldwide", said Martín Migoya, Globant CEO and co-founder. "With a major role in achieving digital and cognitive transformation, we will continue to build an outstanding team to support our customers in their transformation journeys."
To serve a diverse range of companies and technological challenges, Globant has structured itself into 20 separate, but interconnected, development studios focused on mega-trends in tech, including AI, Big Data, Internet of Things, Cybersecurity, Mobile, Cloud, UX, Digital Content and more. Globant is listed on the New York Stock Exchange as GLOB.

Established in 2003, Globant has 40 development centers in 32 cities across 14 countries and over 9,000 employees working for companies such as FOX, Google, Linkedin, BBVA, EA and Coca Cola. Globant's core business is the digital and cognitive transformation of the most innovative and technologically advanced brands in the world active in the consumer, media, technology, finance and entertainment industries.

Globant is an IT and Software Development company operating in Argentina, Colombia, Uruguay, the United Kingdom, Brazil, the United States, Peru, India, Mexico, Chile, Spain, Romania and Belarus. It was formed in 2003 by Martín Migoya, Guibert Englebienne, Martín Umaran and Néstor Nocetti. It is headquartered in Buenos Aires and principally serves clients in the United States and United Kingdom.


---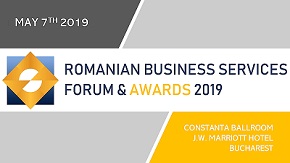 » Raiffeisen Bank Romania outsources onl...
» Oracle results pushed down by a strong...
» World-class HR organizations now spend...
» Apostoleanu, Oracle: Human talent, mos...
» Sergiu Negut, on the stage of People i...
» Microsoft and Oracle to interconnect M...
» The importance of training in developi...
» ANIS: Romanian IT market annual revenu...
» Healthcare IT outsourcing market is ex...
» Bosch Service Solutions to grow 20% Ti...

My HR Lab: Research of suitable candidates and giving feedback to rejected ones, the biggest challenge in HR

During June 2019, My HR Lab company run an online (social media platforms) survey "Challenges of the recruitment process" which enrolled over 100 professionals working in HR and recruitment in Romania.
Read Full article »
The local market needs more added-value and complex projects to be developed by the companies

The statement has been uttered within this year's Romanian Outsourcing and Shared Services Summit by Catalina Dodu, Country Manager at Atos, pointing to the local enablers that could enhance the innovation and
Read Full article »
The office market at a glance: The round for tenants is on

Data provided by CBRE show that the office spaces segment will continue to grow rapidly in 2019, and 15 new projects covering 304.000 sqm will be delivered. According to the real estate consultancy agency, curr
Read Full article »
People Empowering Business Forum 2019 to take place on October, 30 at Bucharest

Latest trends like demographic upheaval, globalization, digital technology, and changing social values and worker expectations, are disrupting business models and radically changing the workplace. These are req
Read Full article »
Addressing the mantra of cyber-security: Confidentiality, integrity and availability

The fast advancement of technology in all the aspects of everyday life, either personal or professional, and the emerging of AI (Artificial Intelligence) and ML (Machine Learning), not to mention cloud technolo
Read Full article »