New funding round could bring UiPath to 7 billion US dollars worth market value

RPA unicorn UiPath is about to become one of the highest-value companies in AI after is will be raising more than 400 million US dollars in Series D funding from venture capital investors, sources on the market say.

According to Techcrunch, "UiPath, founded in 2005, has raised 409 million US dollars to date, meaning the new round of capital will double the total capital invested in the startup, as well as its valuation. The latest funding round is being led by a public institutional investor."

UiPath develops automated software workflows meant to facilitate the tedious, everyday tasks within business operations. RPA is probably a misnomer. It's not necessarily a robot in the way we think of it today. It's more like a highly sophisticated macro recorder or workflow automation tool, letting a computer handle a series of highly repeatable activities in a common workflow, like accounts payable.
UiPath is the most widely adopted Enterprise RPA platform, enabling the rapid design and deployment of software robots or "digital workers." The company was named a leader in The Forrester Wave™: Robotic Process Automation, Q2 2018, achieving the highest score in the "Current Offering" category and the highest possible score in "Market Presence."

The company plans to use the additional funding to support its accelerated product development ambitions, deepen its ecosystem of partnerships to deliver complementary AI-enabled solutions, broaden the role of RPA in enterprise process automation initiatives, and invest in M&A opportunities. Democratizing RPA remains a top priority with free academy training programs, the Community Edition to enable free RPA access, and Community Forum to connect developers, customers and partners alike to accelerate the adoption of digital-era skills. UiPath expects to end 2018 with more than 1,700 employees, a three-fold increase in 12 months, with operations in 30 offices across 16 countries.

The company has raised over $400 million from tier one investors including Accel, CapitalG, Earlybird's Digital East Fund, Kleiner Perkins Caufield Byers, Credo Ventures, Seedcamp and the most recent,Sequoia.


---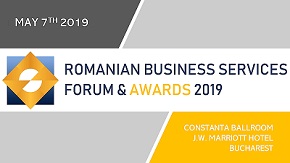 » Raiffeisen Bank Romania outsources onl...
» World-class HR organizations now spend...
» Oracle results pushed down by a strong...
» Apostoleanu, Oracle: Human talent, mos...
» TELUS International: Chatbots - The pr...
» Sergiu Negut, on the stage of People i...
» Microsoft and Oracle to interconnect M...
» The importance of training in developi...
» ANIS: Romanian IT market annual revenu...
» Healthcare IT outsourcing market is ex...

My HR Lab: Research of suitable candidates and giving feedback to rejected ones, the biggest challenge in HR

During June 2019, My HR Lab company run an online (social media platforms) survey "Challenges of the recruitment process" which enrolled over 100 professionals working in HR and recruitment in Romania.
Read Full article »
The local market needs more added-value and complex projects to be developed by the companies

The statement has been uttered within this year's Romanian Outsourcing and Shared Services Summit by Catalina Dodu, Country Manager at Atos, pointing to the local enablers that could enhance the innovation and
Read Full article »
The office market at a glance: The round for tenants is on

Data provided by CBRE show that the office spaces segment will continue to grow rapidly in 2019, and 15 new projects covering 304.000 sqm will be delivered. According to the real estate consultancy agency, curr
Read Full article »
People Empowering Business Forum 2019 to take place on October, 30 at Bucharest

Latest trends like demographic upheaval, globalization, digital technology, and changing social values and worker expectations, are disrupting business models and radically changing the workplace. These are req
Read Full article »
Addressing the mantra of cyber-security: Confidentiality, integrity and availability

The fast advancement of technology in all the aspects of everyday life, either personal or professional, and the emerging of AI (Artificial Intelligence) and ML (Machine Learning), not to mention cloud technolo
Read Full article »