Study: Labour force deficit reduces productivity: seven out of ten employers are affected

About seven out of ten employees say they had smaller profits and business figures, because of the labour force deficit and the shortage of specialists, data of the latest opinion poll made by BestJobs recruiting site.

The impossibility of finding and recruiting the best employee in due time does not only lead to rising pressure on the other employees, but also to losing important contracts with certain clients, productivity stagnation or reduction, restricting company activity.

44 per cent of employers who answered the poll showed that sufficient or adequate labour force shortage affected company annual profit by up to 10 per cent, 15 per cent said the impact was even higher, up to 20 per cent, while 8 per cent even exceeded that threshold. At the same time, two out of five employers claim that the business figure dropped by 10 per cent, while 17.8 per cent say the drop was up to 20 per cent, while 8 per cent said over 30 per cent.

About a third of respondents said they had not been affected in that way.


Employees in the fields of: manufacturing, sales, IT, engineering, logistics, financial-accounting and customer service are the most difficult to find. Experience level the hardest to recruit is mid-level (52.5 per cent of respondents), entry level (27.7 per cent), senior level (19.8 per cent). Most employers succeed to recruit the right employee in two months after the announcement of the position. In certain situations, finding the right candidate for a certain position can last between 2 and 3 months, said 13 per cent of respondents, while 10 per cent showed it could last 3-6 months.

More than half of employers (53.5 per cent) say the main cause why they cannot occupy available positions in due time is the fact that potential employees, especially the young ones, have very high expectations compared to their abilities or specializations. About a third say there are not enough specialized human resources in the market while 11 per cent cannot cope with competitors who offer more generous salary and extra salary benefits.

Employee deficit at market level consider that the main cause is the lack of interest of inactive labour force to get trained. 25.7 per cent think the main reason is low salaries offered by employers. Other causes are the migration of specialists (24 per cent) and the closing down of vocational schools (12 per cent).

Eight out of ten employers had up to 10 vacant positions at the time of the opinion poll, in half of cases they needed 1-5 employees for each position. Most available positions were in the sales, production, engineering, administrative, financial-accounting, IT and logistics departments.

The opinion poll was made over February 15-March 15, in a sample of 382 small, medium and large companies in Romania.

---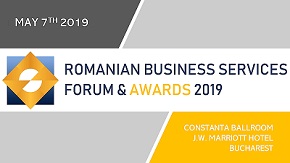 » Raiffeisen Bank Romania outsources onl...
» Oracle results pushed down by a strong...
» World-class HR organizations now spend...
» Microsoft and Oracle to interconnect M...
» Apostoleanu, Oracle: Human talent, mos...
» The importance of training in developi...
» ANIS: Romanian IT market annual revenu...
» Healthcare IT outsourcing market is ex...
» Bosch Service Solutions to grow 20% Ti...
» Omnichannel: 4 pillars of a purposeful...

My HR Lab: Research of suitable candidates and giving feedback to rejected ones, the biggest challenge in HR

During June 2019, My HR Lab company run an online (social media platforms) survey "Challenges of the recruitment process" which enrolled over 100 professionals working in HR and recruitment in Romania.
Read Full article »
The local market needs more added-value and complex projects to be developed by the companies

The statement has been uttered within this year's Romanian Outsourcing and Shared Services Summit by Catalina Dodu, Country Manager at Atos, pointing to the local enablers that could enhance the innovation and
Read Full article »
The office market at a glance: The round for tenants is on

Data provided by CBRE show that the office spaces segment will continue to grow rapidly in 2019, and 15 new projects covering 304.000 sqm will be delivered. According to the real estate consultancy agency, curr
Read Full article »
People Empowering Business Forum 2019 to take place on October, 30 at Bucharest

Latest trends like demographic upheaval, globalization, digital technology, and changing social values and worker expectations, are disrupting business models and radically changing the workplace. These are req
Read Full article »
Addressing the mantra of cyber-security: Confidentiality, integrity and availability

The fast advancement of technology in all the aspects of everyday life, either personal or professional, and the emerging of AI (Artificial Intelligence) and ML (Machine Learning), not to mention cloud technolo
Read Full article »