Arvato CRM Solutions rebranded under the name Majorel

Bertelsmann and Saham's customer experience business, "Majorel" has been recently launched, according to a press release of the company.

Rebranding of former Arvato CRM Solutions, Phone Group, Ecco Outsourcing and Pioneers Outsourcing into Majorel; global presence in 28 countries, leading market positions in Europe, Africa and the Middle East; several hundred million Euros to be invested in digital capabilities and expansion in key growth markets

Thomas Mackenbrock, Chief Executive Officer of newly created customer experience services group 'Majorel', formally launched the new brand today with an ambitious statement of intent on its global growth strategy. Majorel, which has more than 48,000 employees in 28 countries worldwide, is a leading player in Europe, Middle East and Africa and has a strong presence in Asia and the Americas. Early this year the company was formed by combining the worldwide customer service businesses of Bertelsmann, the international media, services, and education company, and Morocco's Saham Group.

The business is aiming for a leading position in the customer experience industry in every major market around the world by investing heavily in its regional network and digital customer engagement capabilities. It plans to invest several hundred million Euros over the course of the coming years in geographical expansion and in digital capabilities and solutions including analytics, artificial intelligence (AI) and automation.

The formation of Majorel came about in response to seismic changes that are happening in the customer experience industry, driven by the rapidly evolving digital landscape. Research carried out on behalf of the company shows that within the next years, up to a quarter of existing contact center interactions could be handled by automated technologies, with this figure potentially rising to almost half by 2027.

This rise will be mirrored by a massive overall increase in customer interactions. Many of those will be handled completely automatically or in self-service, but also an increasing number by 'tech-enabled' humans. Experts estimate that that number of tech-enabled human interactions could almost double by 2027, creating many jobs as customer experience services move towards a human-AI hybrid model.
Thomas Mackenbrock, CEO of Majorel, said: "We will see rapid growth and change in the customer experience industry over the course of the next decade. To meet the challenges and opportunities this brings, you need to find the perfect combination of people, technology and global reach.

At Majorel, we are ready to invest in our future and take advantage of these opportunities. The investments we're making in our people, in data, in technology, and in our regional network, will allow us to continue to deliver the transformation and reliability our clients need in our constantly changing world. As a result, we firmly believe we will be able to thrive in this exciting market; further strengthening our prominent position in EMEA, expanding our presence in emerging and growth markets, and continuing to expand our trusted partnerships with the world's most respected brands."

The new global leadership team of the company consists of:
Chief Executive Officer – Thomas Mackenbrock
Chief Operating Officer – Dominique Decaestecker
Chief Customer Officer – Marc Noortman
Chief Financial & Shared Services Officer – Otmane Serraj

The role of Chief Digital and Transformation Officer is also being created, with an appointment due to be announced imminently.


---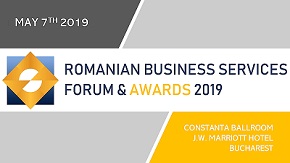 » Huawei opens a centre on cyber securit...
» ROMANIAN OUTSOURCING AWARDS FOR EXCELL...
» Romania ranks above EU average in gend...
» Bucharest, in the top of cities in Eur...
» Meet the experts who will decide the w...
» Berg Software Romania: Reasons to outs...
» KPMG launches an application enabling ...
» Bogdan Pelinescu, president of ABSL: A...
» ABSL GALA AWARDS celebrated its winner...
» George Rotariu, CEO Bitcoin Romania: B...

Catalina Dodu - Meet the speakers at Romanian Business Services Forum 2019 CEO LEADERS DEBATE, on May 7

Catalina Dodu runs the operations of Atos Romania since March 2014, with an experience of over 15 years in IT management. Previous to being appointed Country Manager, Catalina managed the System Integration div
Read Full article »
Philippe Beucher: Meet the speakers at Romanian Business Services Forum 2019 CEO LEADERS DEBATE, on May 7

Philippe Beucher is the Managing Director of Accenture Operations – Danubia Region, leading the Operations entity for Romania, Czech Republic, Slovakia and Hungary starting from February 2019. For the past 1
Read Full article »
Meet the speakers at Romanian Business Services Forum 2019 CEO LEADERS DEBATE, on May 7th - Matthieu Pasquier

Matthieu Pasquier is CEO of Societe Generale European Business Services since August 2018 bringing more than 27 years experience in Societe Generale group. During 2014-2018, Matthieu was Head of SG GSC Chennai
Read Full article »
Sorin Mindrutescu among the speakers at Romanian Business Services Forum 2019 CEO LEADERS DEBATE, on May 7th

Sorin Mindrutescu is the Country Leader for Oracle Romania, as of February 2003. In this role, he is responsible for local sales and project delivery. In Romania, Oracle has two major business directions: the l
Read Full article »
Meet the speakers at Romanian Business Services Forum 2019 CEO LEADERS DEBATE, on May 7th - Vivek Bakshi

Vivek Bakshi is the General Manager of Wipro Technologies. He has spent 12 years heading the International Locations / Delivery Centers Europe from the Bucharest office.
Read Full article »