Banca Transilvania launches BT Open Banking platform dedicated to fintech companies

Fintech companies and start-ups in IT can test the new BT Open Banking platform (BT Api Store), launched by Banca Transilvania, for online integration with banking services such as: display of online balances, transaction history and initiating transactions via external platforms to Banca Transilvania.

According to a release of the bank, BT Open Banking is based on the European PSD2 directive. This is a mandatory European directive for the banks in Romania, towards the important development of banking services.

The development implies the introduction of an internal market for payments at the level of the European Union, the facilitation of the access of new and new industries to the banking market, the creation of the platform for SEPA payments and the protection of consumer rights to make payments.

"Open banking is the new way to make banking. We now have the ability to integrate into the BT ecosystem and other actors, such as fintech, which will provide a superior digital experience for customers, and new ideas can be implemented much faster Fintech helps us to keep pace with the new challenges and requirements, with the new technologies, but also with the competition coming from other domains," says Mariana Chindris, digital transformation coordinator, Banca Transilvania.
The test phase runs until September 2019, after which the final version of the platform is launched. The bank will add other services in the coming months.

BT Open Banking platform has been fully developed by the IT and Digital team at Transilvania Bank, in collaboration with IBM solution provider and IT Smart Systems. Banca Transilvania has long been working with financial IT startups (fintech) to bring customers a range of financial solutions closer together to better manage money and support entrepreneurs:
• BT cooperates with Personetics, the market leader in cognitive banking applications, to offer BT customers a superior digital experience by incorporating artificial intelligence into its services. The cognitive banking application offered by Personetics will be integrated with the bank's new internet banking and mobile banking, which will be launched in the first half of this year.
• BT became a shareholder of Timesafe, the developer pago, the only application in Romania that can be used to pay for energy bills with the card from one account.
• Transilvania Bank Partnership with Ebriza, BT is the main investor in a financing round of 300,000 euros launched by BT. Ebriza digitizes business management and completely transforms what is now a cash register, sales and management software: they will be monitored online, non-stop, on any device, real-time business activity, shares and sales are viewed.
• Co-operation with Blugento, a company that specializes in offering eCommerce solutions, so that entrepreneurs can open their own online store in a maximum of 3 days, based on a monthly subscription.
• BT partnership with Smart Bill, the leader in the online billing and management solutions market that offers solutions for all companies for issuing, delivering, collecting invoices, communications, proposals, receipts, inventory management, etc.

---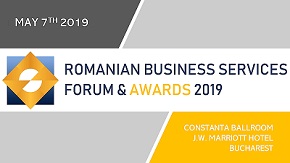 » Huawei opens a centre on cyber securit...
» ROMANIAN OUTSOURCING AWARDS FOR EXCELL...
» Romania ranks above EU average in gend...
» Bucharest, in the top of cities in Eur...
» Berg Software Romania: Reasons to outs...
» Meet the experts who will decide the w...
» KPMG launches an application enabling ...
» Bogdan Pelinescu, president of ABSL: A...
» ABSL GALA AWARDS celebrated its winner...
» George Rotariu, CEO Bitcoin Romania: B...

Catalina Dodu - Meet the speakers at Romanian Business Services Forum 2019 CEO LEADERS DEBATE, on May 7

Catalina Dodu runs the operations of Atos Romania since March 2014, with an experience of over 15 years in IT management. Previous to being appointed Country Manager, Catalina managed the System Integration div
Read Full article »
Philippe Beucher: Meet the speakers at Romanian Business Services Forum 2019 CEO LEADERS DEBATE, on May 7

Philippe Beucher is the Managing Director of Accenture Operations – Danubia Region, leading the Operations entity for Romania, Czech Republic, Slovakia and Hungary starting from February 2019. For the past 1
Read Full article »
Meet the speakers at Romanian Business Services Forum 2019 CEO LEADERS DEBATE, on May 7th - Matthieu Pasquier

Matthieu Pasquier is CEO of Societe Generale European Business Services since August 2018 bringing more than 27 years experience in Societe Generale group. During 2014-2018, Matthieu was Head of SG GSC Chennai
Read Full article »
Sorin Mindrutescu among the speakers at Romanian Business Services Forum 2019 CEO LEADERS DEBATE, on May 7th

Sorin Mindrutescu is the Country Leader for Oracle Romania, as of February 2003. In this role, he is responsible for local sales and project delivery. In Romania, Oracle has two major business directions: the l
Read Full article »
Meet the speakers at Romanian Business Services Forum 2019 CEO LEADERS DEBATE, on May 7th - Vivek Bakshi

Vivek Bakshi is the General Manager of Wipro Technologies. He has spent 12 years heading the International Locations / Delivery Centers Europe from the Bucharest office.
Read Full article »