Techcelerator and Google Developers Launchpad sign a partnership for growing startups in Romania

Techcelerator, the acceleration program in Bucharest and Cluj and one of the relevant catalysts of the local tech ecosystem's growth and development, announced a partnership signed with Google Developers Launchpad to support Romania's growing startup industry.

Techcelerator financially supports Romanian technology startups through its strategic partner, GapMinder Venture Partners BV, co-financed through the Competitiveness Operational Program.

Google Developers Launchpad is a branch of Google that operates a global acceleration program that helps startups grow. Google is a thought leader when it comes to building and scaling products and businesses using the most advanced technologies.

The "Techcelerator Powered by Google Developers Launchpad" initiative will connect Techcelerator to an elite group of the world's top accelerators, allowing it to share information and leverage resources. Techcelerator will also access Google's global network, insights from the company's Silicon Valley-based startup programs, and twenty years' worth of Google research and best practice insights on building businesses, products, and teams at massive scale.

These resources will help Techcelerator's startup portfolio - which already includes some of the fastest-growing companies in the region - scale its businesses exponentially. The benefits apply to all upcoming batches of Techcelerator and also to the startups from other two concluded rounds of acceleration.

Kevin O'Toole, Head of International Growth for Launchpad, had this to say about the partnership: "We are thrilled to work with Techcelerator to promote entrepreneurialism across Romania. The "Powered by Google Developers Launchpad" program is about empowering startup communities around the world, and helping them leverage each other for insights and resource sharing. Google Developers Launchpad doesn't take an equity stake in accelerator portfolio startups, but instead focuses on developing companies and their ecosystems over the long term."

In his turn, Cristian Dascălu, GapMinder Venture Partners BV, Partner and liaison between Techcelerator and local startups ecosystem, added " We, at Techcelerator, aim to become a key player in supporting the Romanian and CEE Startup ecosystem to make its mark at the global level by growing high-quality relevant products. The partnership with Google Developers Launchpad will give us a huge boost in conquering international markets and will minimize the visibility and business connectivity gap of our prodigy tech startups".

Through its collaboration with Google Developers Launchpad, Techcelerator and implicitly Romania will join a growing network of top, independent accelerators across Latin America, Africa, Europe, and Asia which currently reaches worldwide 14 such entities. Moreover, the startups to be accepted by Techcelerator for the third batch will have access to bootcamps and intensive business coaching sessions, mentoring, start-up industry specific know-how, and marketing services offered in partnership with Google.

---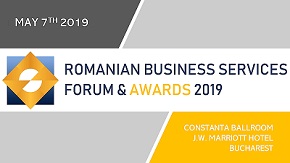 » Huawei opens a centre on cyber securit...
» ROMANIAN OUTSOURCING AWARDS FOR EXCELL...
» Romania ranks above EU average in gend...
» Bucharest, in the top of cities in Eur...
» Berg Software Romania: Reasons to outs...
» Meet the experts who will decide the w...
» KPMG launches an application enabling ...
» Bogdan Pelinescu, president of ABSL: A...
» ABSL GALA AWARDS celebrated its winner...
» George Rotariu, CEO Bitcoin Romania: B...

Catalina Dodu - Meet the speakers at Romanian Business Services Forum 2019 CEO LEADERS DEBATE, on May 7

Catalina Dodu runs the operations of Atos Romania since March 2014, with an experience of over 15 years in IT management. Previous to being appointed Country Manager, Catalina managed the System Integration div
Read Full article »
Philippe Beucher: Meet the speakers at Romanian Business Services Forum 2019 CEO LEADERS DEBATE, on May 7

Philippe Beucher is the Managing Director of Accenture Operations – Danubia Region, leading the Operations entity for Romania, Czech Republic, Slovakia and Hungary starting from February 2019. For the past 1
Read Full article »
Meet the speakers at Romanian Business Services Forum 2019 CEO LEADERS DEBATE, on May 7th - Matthieu Pasquier

Matthieu Pasquier is CEO of Societe Generale European Business Services since August 2018 bringing more than 27 years experience in Societe Generale group. During 2014-2018, Matthieu was Head of SG GSC Chennai
Read Full article »
Sorin Mindrutescu among the speakers at Romanian Business Services Forum 2019 CEO LEADERS DEBATE, on May 7th

Sorin Mindrutescu is the Country Leader for Oracle Romania, as of February 2003. In this role, he is responsible for local sales and project delivery. In Romania, Oracle has two major business directions: the l
Read Full article »
Meet the speakers at Romanian Business Services Forum 2019 CEO LEADERS DEBATE, on May 7th - Vivek Bakshi

Vivek Bakshi is the General Manager of Wipro Technologies. He has spent 12 years heading the International Locations / Delivery Centers Europe from the Bucharest office.
Read Full article »