Romanian Startup Barometer by EY Romania: Half of entrepreneurs says fiscal and regulatory environment deteriorated in 2018

Mentality and fear of failure rank first in the top barrier for those who want to start and develop a business in Romania, according to the Romanian Startup Barometer by EY Romania, Impact Hub Bucharest and Startarium.

Poor education, fiscal uncertainty, and the current political situation are ranked second, with 12 percent of entrepreneurs questioned in the survey.

Some 52 per cent of Romanian entrepreneurs feel that the domestic fiscal and regulatory environment has deteriorated in the course of 2018, the results of a new study showed on Tuesday.
In their view, the main three measures that the government could take in order to improve the fiscal environment would be to reduce labour taxation, combat bureaucracy and maintain stability and predictability, according to the 'Startup Barometer' study compiled by EY Romania, Impact Hub Bucharest and Startarium.

Only 20 per cent of entrepreneurs feel that the fiscal environment has improved. The study also showed 50 per cent of start-up entrepreneurs are planning to expand their businesses on new markets. Most of them, 51 per cent, eye other European markets, while 17 per cent plan to take their businesses to the US.

Fear of failure is among the main obstacles for those who want to start and develop a business in Romania, according to 20 per cent of polled entrepreneurs. Poor education, fiscal unpredictability and the current political situation are also mentioned as obstacles by most entrepreneurs.
Also, some 74 per cent of respondents believe that entrepreneurship is not supported by Romanian society.

"Romania has a fantastic chance to develop an essential competitive advantage, that of innovation, especially in technology. And the expectations are great for the new generation, but also for the government, to support this extremely positive trend, " EY Romania business support department partner Cristian Carstoiu said. Concerning business development, entrepreneurs feel the main obstacles they face are the lack of capital for investment (45 per cent), a limited promotion budget (38 per cent) and the need for new customers whom they do not know how to address (34 per cent).

According to the study, the average monthly personal income of an entrepreneur has dropped to 917 euro (1,033 US dollars) this year, compared to slightly over 1,000 euro in the last study compiled in 2017. Also, the percentage of those whose monthly earnings are lower than 500 euro is up 15 percentage points compared to 2017.

Most entrepreneurs (79 per cent) still use their own funds to finance their businesses. European funds are a second major source of funding for 11 per cent of entrepreneurs, while 16 per cent relied on funds provided by the Romanian state under the programs specific to SMEs.
The third edition of the Start-up Barometer in Romania analyzed responses of 284 entrepreneurs with businesses located mostly in the urban area, active in IT&C, retail, business services, media and advertising, food industry, education. Interviews were performed between January 15 - February 17 2019.

EY is a professional consultancy services provider with 260,000 employees in over 700 offices in 150 countries.

In Romania, EY is present since 1992 and provides integrated audit, tax assistance, transaction assistance and business assistance services to multinational companies and local. EY has offices in Bucharest, Cluj-Napoca, Timisoara and Iasi, and employs over 800.

Impact Hub Bucharest supports entrepreneurial development of initiatives that have a positive impact on society. Present in Bucharest in 2012, the organization is part of the global Impact Hub network with physical presence in over 100 locations across 5 continents.

Startarium is a platform for start-up entrepreneurs launched in 2016 which provides access to all resources needed to launch and grow a successful business.

---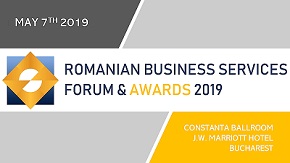 » Molson Coors started to grow its busin...
» TELUS International Europe: Three ways...
» Deloitte's Tech Trends 2019 report: B...
» Capgemini: Investing in people is the ...
» The Outsourcing industry announces its...
» KPMG study: Big data needs a big re-th...
» Romania ranks above EU average in gend...
» Committed to growth
» ROMANIAN OUTSOURCING AWARDS FOR EXCELL...
» Engagement and inclusion through direc...

The voting procedure for the BRAND OF THE YEAR 2019 IN ROMANIAN BUSINESS SERVICES is open!

This is the fifth edition of the event and the second year to select the public's favorite brand in the business services BPO, ITO and SSC in Romania.
Read Full article »
Romania ranks above EU average in gender employment gap

In Romania, the employment rate measures the number of people who have a job as a percentage of the working age population. This page provides - Romania Employment Rate- actual values, historical data, forecast
Read Full article »
Steven Hunt, SAP SuccessFactors: Tectonic movements in the world of work

The world of work will be shaped by five tectonic movements – or global megatrends – over the next few years. As you may guess from the geological analogy, the effects could be dramatic.
Read Full article »
EY: European companies are divesting to future-proof growth

According to the EY Global Corporate Divestment Study, 84 per cent of European companies surveyed intending to divest within the next two years (the majority planning to do so in the coming 12 months), executiv
Read Full article »
Knowledge-sharing presentation on latest trends the industry deals, in the program of Romanian Business Services Forum and Awards

Part of the upcoming joint half-day event, Romanian Business Services Forum and Awards to be held at JW Marriott Hotel on May 7th, the discussion agenda comprises a complex Knowledge-sharing presentation on lat
Read Full article »