Steven Hunt, SAP SuccessFactors: Tectonic movements in the world of work

The world of work will be shaped by five tectonic movements – or global megatrends – over the next few years. As you may guess from the geological analogy, the effects could be dramatic.

The world of work has been affected by forces in the past that, like the Earth's tectonic plates, exert their effects deep beneath the surface, which are beginning to show in what is sometimes a dramatic fashion, according to a recent opinion uttered by Dr. Steven Hunt, Senior Vice President Human Capital Management Research, SAP SuccessFactors.

According to Hunt, such "tectonic movements" include the movement – led by unions – launched in the 1920s and 30s to expand workers' rights, the struggle for women's rights in the 1960s and 70s, the surge of knowledge-based work in the following two decades and the emergence of a connected, global labor market in the first decade of the new millennium.

Processes like this are still underway: the labor market is shaped by five basic tectonic movements. We are only beginning to feel the effects of these movements, but HR professionals of the present and the future will need to have a clear understanding of what's going on "deep beneath the surface".
The first of these is a commotion in the corporate world: companies need to become more agile and flexible. In order to adapt to an accelerated world, companies need to create a corporate environment and culture that encourages and promotes innovation, builds on sensible, shared values and assure their employees that they care about them and support them, and where employees get immediate feedback and can enjoy a positive work experience as employees.

The second is the significance – greater now than ever – of learning. Just as technology can now perform repetitive tasks, employers turn their attention to those who wish to learn new abilities and employees, too, will seek out workplaces where they have the option to learn. It is hardly surprising that the second most common reason for quitting (with personal issues coming in first) is the lack of any possibility to develop. Managers' job description is also changing: beyond being operative leaders, more and more of them are tasked with refining – in the broadest sense of the term – workers.
The third world-shaping trend is hiring external employees.

According to surveys, by 2025, more than half of the global workload will be performed by people on fixed-term contracts. This also poses a challenge to executives. They must decide which jobs should be done in-house and what should be assigned to external workers, they have to find the right candidates, they have to meet complex, multi-country labor law regulations – and all the while, they have to maintain the integrity of corporate culture in an ever more diverse environment.

The fourth tectonic movement is a shift towards full transparency. Thanks to social media gaining ground, payrolls and employee ratings are becoming transparent. Managers must explain why one person is paid more while another is paid less. Remuneration is becoming more flexible: on top of a fixed salary – which is paid "for who you are" – one-time items (e.g. bonuses) are gaining importance, handed out "for what you've done". Companies' brands are increasingly defined by what their employees share about the company.

The fifth force is driving the world of work towards full inclusiveness. Gender equality causes companies to be judged more favorably, but more than this, according to a Catalyst survey, having more women on the board of directors can lead to a nearly 50 per cent increase in the earnings ratio. Of course, inclusiveness extends to more than just gender equality – we need only think of the fact that many countries have fewer people entering the labor market than exiting it, which is generating a significant labor shortage and exerting great pressure on companies to find ways of solving this challenge.

These five forces that are at work deep beneath the surface have already started causing a series of new challenges to surface today. The good news is that thanks to the digital revolution, we possess the tools that need to be brought to bear in order to handle these challenges, whether these be community building activities, designing trainings, picking your candidates on the global labor market or introducing flexible compensation systems. The world of work also needs intelligent companies, global selection will only favor these.


---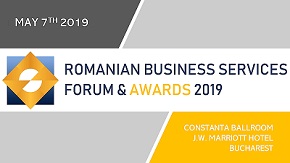 » Molson Coors started to grow its busin...
» TELUS International Europe: Three ways...
» Deloitte's Tech Trends 2019 report: B...
» Capgemini: Investing in people is the ...
» Committed to growth
» The Outsourcing industry announces its...
» Romania ranks above EU average in gend...
» ROMANIAN OUTSOURCING AWARDS FOR EXCELL...
» Engagement and inclusion through direc...
» KPMG study: Big data needs a big re-th...

The voting procedure for the BRAND OF THE YEAR 2019 IN ROMANIAN BUSINESS SERVICES is open!

This is the fifth edition of the event and the second year to select the public's favorite brand in the business services BPO, ITO and SSC in Romania.
Read Full article »
Romania ranks above EU average in gender employment gap

In Romania, the employment rate measures the number of people who have a job as a percentage of the working age population. This page provides - Romania Employment Rate- actual values, historical data, forecast
Read Full article »
Steven Hunt, SAP SuccessFactors: Tectonic movements in the world of work

The world of work will be shaped by five tectonic movements – or global megatrends – over the next few years. As you may guess from the geological analogy, the effects could be dramatic.
Read Full article »
EY: European companies are divesting to future-proof growth

According to the EY Global Corporate Divestment Study, 84 per cent of European companies surveyed intending to divest within the next two years (the majority planning to do so in the coming 12 months), executiv
Read Full article »
Knowledge-sharing presentation on latest trends the industry deals, in the program of Romanian Business Services Forum and Awards

Part of the upcoming joint half-day event, Romanian Business Services Forum and Awards to be held at JW Marriott Hotel on May 7th, the discussion agenda comprises a complex Knowledge-sharing presentation on lat
Read Full article »