Huawei opens a centre on cyber security transparency in Bruxelles

Huawei announced it opened their Cyber Security Transparency Centre in Brussels, with over 200 representatives from regulators, telecom carriers, enterprises, and the media attending the event. Representatives from the European Union, the GSMA, and the World Economic Forum spoke at the opening ceremony.

Trust in cyber security is a major challenge that the world faces in the digital era. Ken Hu, Huawei's Deputy Chairman said, "Trust needs to be based on facts, facts must be verifiable, and verification must be based on common standards. We believe that this is an effective model to build trust for the digital era."

Call on collaboration

New developments in All Cloud, intelligence, and software-defined everything are posing unprecedented challenges to the cyber security of ICT infrastructure. The lack of consensus on cyber security, technical standards, verification systems, and legislative support further exacerbates these challenges. Safeguarding cyber security is considered to be a responsibility held by all industry players and society as a whole. Growing security risks are significant threats to future digital society.
To address these challenges, Huawei has opened a Cyber Security Transparency Centre in Brussels, aiming to offer government agencies, technical experts, industry associations, and standards organizations a platform, where they can communicate and collaborate to balance out security and development in the digital era.

Based in Europe, the Cyber Security Transparency Centre has three major functions.
First, the Centre will showcase Huawei's end-to-end cyber security practices, from strategies and supply chain to R&D and products and solutions. This will allow visitors to experience cyber security with Huawei's products and solutions, in areas including 5G, IoT, and cloud.
Second, the Centre will facilitate communication between Huawei and key stakeholders on cyber security strategies and end-to-end cyber security and privacy protection practices. Huawei will work with industry partners to explore and promote the development of security standards and verification mechanisms, to facilitate technological innovation in cyber security across the industry.
Third, the Centre will provide a product security testing and verification platform and related services to Huawei customers.

The opening of the Cyber Security Transparency Centre in Brussels demonstrates Huawei's stronger cyber security commitment to governments, customers, and other partners in Europe, and will provide better support to facilitate collaboration.

Standards and verification: An effective model to build trust

Safeguarding cyber security is considered to be a shared goal of all stakeholders, including equipment providers, telecom carriers, and regulators. Huawei has placed cyber security and user privacy protection on the very top of their agenda. Huawei's approach to cyber security is "Security or Nothing". Huawei's cyber security transparency centres are open to customers and independent third-party testing organizations. They are invited to perform fair, objective, and independent security tests and verifications according to industry-recognized cyber security standards and best practices. These centres are equipped with dedicated testing environments, to provide customers and third parties with Huawei products, software, technical documents, testing tools, and necessary technical support.

Hu said, "We fully understand cyber security concerns that people have in this digital world. I believe that good solutions to solve the issue start from mutual understanding, which is the purpose we set up the transparency centre here today. We welcome all regulators, standards organizations, and customers to fully use this platform to collaborate more closely on security standards, verification mechanisms, and security technology innovation. Together, we can improve security across the entire value chain and help build trust through verification."

He continued, "A prosperous Digital Europe requires an open and future-oriented cyber security environment. Europe has released the General Data Protection Regulation (GDPR), which is an open, transparent, and globally leading data and privacy protection standard. We believe that European regulators are on track to lead the international community in terms of cyber security standards and regulatory mechanisms. We commit to working more closely with all stakeholders in Europe, including regulators, carriers, and standards organizations, to build a system of trust based on facts and verification."

Peter Kouroumbashev, Member of the European Parliament said, "With its new mandate, ENISA will be empowered with new technical capabilities. This is an excellent opportunity to work on a cybersecurity certification scheme for 5G that could be applicable worldwide. Moreover, in order to avoid fragmentation across the Union, we need to have privacy by design, not privacy by country for ICT products and services in Europe."



---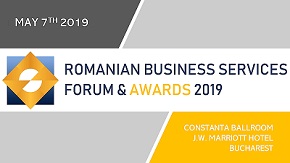 » Molson Coors started to grow its busin...
» TELUS International Europe: Three ways...
» Deloitte's Tech Trends 2019 report: B...
» Capgemini: Investing in people is the ...
» The Outsourcing industry announces its...
» KPMG study: Big data needs a big re-th...
» Romania ranks above EU average in gend...
» Committed to growth
» ROMANIAN OUTSOURCING AWARDS FOR EXCELL...
» Engagement and inclusion through direc...

The voting procedure for the BRAND OF THE YEAR 2019 IN ROMANIAN BUSINESS SERVICES is open!

This is the fifth edition of the event and the second year to select the public's favorite brand in the business services BPO, ITO and SSC in Romania.
Read Full article »
Romania ranks above EU average in gender employment gap

In Romania, the employment rate measures the number of people who have a job as a percentage of the working age population. This page provides - Romania Employment Rate- actual values, historical data, forecast
Read Full article »
Steven Hunt, SAP SuccessFactors: Tectonic movements in the world of work

The world of work will be shaped by five tectonic movements – or global megatrends – over the next few years. As you may guess from the geological analogy, the effects could be dramatic.
Read Full article »
EY: European companies are divesting to future-proof growth

According to the EY Global Corporate Divestment Study, 84 per cent of European companies surveyed intending to divest within the next two years (the majority planning to do so in the coming 12 months), executiv
Read Full article »
Knowledge-sharing presentation on latest trends the industry deals, in the program of Romanian Business Services Forum and Awards

Part of the upcoming joint half-day event, Romanian Business Services Forum and Awards to be held at JW Marriott Hotel on May 7th, the discussion agenda comprises a complex Knowledge-sharing presentation on lat
Read Full article »