CGS was named to the 2019 Best of the Global Outsourcing 100 by the International Association of Outsourcing Professionals

CGS, a global provider of business applications, enterprise learning and outsourcing services, with operations also in Romania, was named to the 2019 Best of the Global Outsourcing 100 by the International Association of Outsourcing Professionals (IAOP), the global, standard-setting association and advocate for outsourcing professionals and the organizations they support.

Having been named to the list for three-consecutive years, in 2019, IAOP selected CGS for inclusion in its "Best of The Global Outsourcing 100," a culmination and celebration of the very best of the best from the last ten years.

The Best of Global Outsourcing 100 (GO100) recognizes the world's best outsourcing service providers. Results were based upon an evaluation of the scoring results over the entirety of The Global Outsourcing 100 program. Since the start of the program, The GO100 list has been based on applications received, and judging is based on a rigorous scoring methodology that includes an independent review by an independent panel of IAOP customer members with extensive experience in selecting outsourcing service providers and advisors for their organizations.

"Companies, today, are facing a competitive and continuously changing business landscape; for that reason, the Global Outsourcing 100 and World's Best Advisors lists are what organizations in our industry aspire to as these awards are a testament to those companies that have raised the bar," said IAOP CEO, Debi Hamill. "I am proud to acknowledge the role of these leading organizations on IAOP's 2019 Best of The Global Outsourcing 100 for continually being recognized on these prestigious lists."
CGS offers its customers innovative, scalable and flexible global outsourcing solutions, including omnichannel contact center support. This includes traditional business process outsourcing, technical support, customer care, outbound tele sales, channel enablement and finance and accounting back office support. The Technology Outsourcing team helps clients solve business challenges such as supporting mobile workforces, proactively maintaining technology and reducing risk of downtime by providing the technology backbone that allows businesses to have the flexibility and agility they need to compete and grow.

"It is a tribute to our entire global team and to the customers we support, that CGS has been recognized among the very best, in delivering quality outsourcing services, in the IAOP tenth anniversary list," said Michael D. Mills, Senior Vice President, Call Center, CGS. "We have continued to expand and evolve our global contact center business in aligning our solutions, tools and processes with our customer business and financial goals and objectives. CGS is focused on new emerging technologies in automation and optimization that is helping us to enhance both the quality of services and overall customer experience. CGS is committed to creating a premium customer experience through our services and continuing to enhance our long-term successful partnerships with our customers, by providing them a measurable return on their investment."


---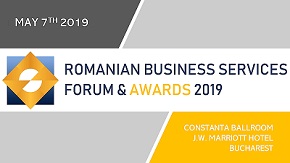 » Raiffeisen Bank Romania outsources onl...
» Horváth & Partners launches Steering ...
» JLL: Total office space in Bucharest t...
» Colliers International takes over the ...
» SSC in Romania. Who takes the lion's s...
» Oracle results pushed down by a strong...
» Survey: Romanians switch to a lower-pa...
» Genpact, Luxoft and Oracle, top lessee...
» Romanian employers report the stronges...
» Eucom: Nine out of ten corporate Roman...

My HR Lab: Research of suitable candidates and giving feedback to rejected ones, the biggest challenge in HR

During June 2019, My HR Lab company run an online (social media platforms) survey "Challenges of the recruitment process" which enrolled over 100 professionals working in HR and recruitment in Romania.
Read Full article »
The local market needs more added-value and complex projects to be developed by the companies

The statement has been uttered within this year's Romanian Outsourcing and Shared Services Summit by Catalina Dodu, Country Manager at Atos, pointing to the local enablers that could enhance the innovation and
Read Full article »
The office market at a glance: The round for tenants is on

Data provided by CBRE show that the office spaces segment will continue to grow rapidly in 2019, and 15 new projects covering 304.000 sqm will be delivered. According to the real estate consultancy agency, curr
Read Full article »
People Empowering Business Forum 2019 to take place on October, 30 at Bucharest

Latest trends like demographic upheaval, globalization, digital technology, and changing social values and worker expectations, are disrupting business models and radically changing the workplace. These are req
Read Full article »
Addressing the mantra of cyber-security: Confidentiality, integrity and availability

The fast advancement of technology in all the aspects of everyday life, either personal or professional, and the emerging of AI (Artificial Intelligence) and ML (Machine Learning), not to mention cloud technolo
Read Full article »