Countries in CEE region, including Romania seen as tech talent goldmine

According to a Software Development report jointly published by AVentures Capital, Aventis Capital and Capital Times and quoted by emerging-europe.com, the CEE countries hold a tech talent goldmine.

The report, "Software Development in Ukraine, Poland, Belarus and Romania" claims that growth of the global IT services sector is highly dependent on talent, and that at present there is a gap between the required and available pool of developers. However, the four countries analyzed in the report are all in a position to fill that gap on a global level. While Ukraine, Belarus, Poland, and Romania present a fraction of the Chinese or Indian software development market, they make up an enormously competitive hot spot, exporting 13 billion US dollars worth of services in 2018.

The report looked at over 700 companies operating across the four countries. The IT service and software research and development (R&D) market in these countries is growing 4-5 times faster than the global average (20-25 per cent annually compared to the global average of five per cent) with the US and EU being the main markets, and is home to over 560,000 IT professionals, with over 200 universities and over 60,000 IT specialists graduating each year.

With lower operating costs compared to other countries in Western Europe, this makes the sector a hot spot in mergers and acquisition (M&A) activity: indeed, the region saw over 70 M&A transactions between 2015 and 2018.

"Execution and innovation of successful software development projects are rooted in people's talent, and finding great talent still remains one of the industry's biggest challenges. Working with remote teams and building strong cultures across the globe empowers software development companies to be efficient. The CEE region is fertile in terms of highly-qualified tech professionals. The outsourcing market displays steady growth, and will continue to provide global companies with specialists and boost the development of the global tech ecosystem," explained Yevgen Sysoyev, managing partner of AVentures.

Romania: Turnover in the software and IT services sector in Romania has been growing at a rate of 13.4 per cent since 2014 and is expected to increase to 15.3 per cent according to the report. The rapid development of the sector is driven mainly by foreign investment. There are around 185,000 specialists employed in the ICT sector in Romania. While salaries have increased on average by 11.5 per cent, they are still over 50 per cent lower than those in Germany.

"Romanian IT specialists proficient in foreign languages have further supported the entry of global players into the country, where English is spoken fluently by most people and French is known by one in four IT graduates. This has led to a massive influx of foreign companies setting up their BPOs in Romania (organically or through acquisitions) and hampered the growth of domestic players due to strong competition for talented engineers," added Majewski.

The region will see continued growth due to the changing global economic climate.

"The IT services market in the region benefits from the long-term upward trend of increasing economic interdependence, readiness of developed countries to move jobs offshore and the ever growing need for digital transformation while the tech talent in CEE is world class," concluded Sysoyev.
Poland: The report sees Poland as an R&D hub for global companies operating in various industries, with software development having the largest share in the ICT market, accounting for 35 per cent of its total value. According to the report, IT services sales are set to continue their strong growth and are projected to reach 14 billion euros in 2022. Polish software development companies offer a wide range of IT services from software development itself to additional activities such as IT operations and Digital Marketing. Though salaries of IT specialists in Poland show strong year-to-year growth, they are still around 46 per cent lower compared to Germany.

Belarus: According to the report the IT ecosystem in Belarus is a dynamic combination of R&D centres, product companies, and investors. Currently, 60.5 per cent of IT professionals are engaged in software development outsourcing services. "Along with other high-tech countries, Belarus is becoming a software development service provider with a well-established history of serving international and foreign client companies. The country shows significant potential, which will develop even further in the coming years," said Ilya Soloducho, director at Capital Times Investment Company (Minsk).


---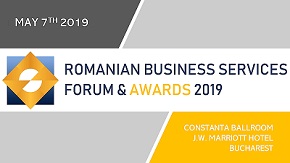 » Molson Coors started to grow its busin...
» TELUS International Europe: Three ways...
» Deloitte's Tech Trends 2019 report: B...
» Capgemini: Investing in people is the ...
» The Outsourcing industry announces its...
» KPMG study: Big data needs a big re-th...
» Romania ranks above EU average in gend...
» Committed to growth
» ROMANIAN OUTSOURCING AWARDS FOR EXCELL...
» Engagement and inclusion through direc...

The voting procedure for the BRAND OF THE YEAR 2019 IN ROMANIAN BUSINESS SERVICES is open!

This is the fifth edition of the event and the second year to select the public's favorite brand in the business services BPO, ITO and SSC in Romania.
Read Full article »
Romania ranks above EU average in gender employment gap

In Romania, the employment rate measures the number of people who have a job as a percentage of the working age population. This page provides - Romania Employment Rate- actual values, historical data, forecast
Read Full article »
Steven Hunt, SAP SuccessFactors: Tectonic movements in the world of work

The world of work will be shaped by five tectonic movements – or global megatrends – over the next few years. As you may guess from the geological analogy, the effects could be dramatic.
Read Full article »
EY: European companies are divesting to future-proof growth

According to the EY Global Corporate Divestment Study, 84 per cent of European companies surveyed intending to divest within the next two years (the majority planning to do so in the coming 12 months), executiv
Read Full article »
Knowledge-sharing presentation on latest trends the industry deals, in the program of Romanian Business Services Forum and Awards

Part of the upcoming joint half-day event, Romanian Business Services Forum and Awards to be held at JW Marriott Hotel on May 7th, the discussion agenda comprises a complex Knowledge-sharing presentation on lat
Read Full article »