Romanian BPO services Optima growth business with 35 per cent in 2018, plans expansion in 2019

Optima, the Romanian majority-owned outsourcing company, achieved a turnover of 22 million lei in 2018, 35 per cent more than in the previous year, the company said in a press release.

According to Daniel Mereuta, GM of Optima, "every year we continue to grow at a rapid pace, and that is because we are constantly adapting to the market context, whether we are talking about customers or the human resources involved. We have achieved a milestone, registered a premiere, we passed the turnover threshold of 20 million lei, which was also one of our objectives for 2018. Practically, we started to reap the fruits of our expansion strategy, based on expanding operations for existing clients and adding new projects especially for the financial industry. We will continue to develop in 2019 and we are already working on expanding our operations in both Iasi and Brasov. We are preparing for a new growth cycle, even if this year's macroeconomic one is more difficult to convey."

The company launched a free training program opened to anyone who wants to deepen or learn something new, especially in the sales and marketing area. "We believe it is our job to proactively prepare our future colleagues and put our shoulder to narrow the gap between what our employers want and the range of skills available in the market. It is also a way of getting more involved in the community and offer the young people in the community a part of what we have learned and accumulated in our entire work, from its start," Daniel Mereuta adds.
 


---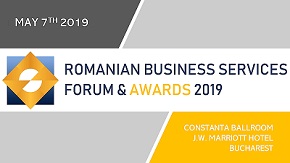 » Raiffeisen Bank Romania outsources onl...
» Oracle results pushed down by a strong...
» World-class HR organizations now spend...
» Apostoleanu, Oracle: Human talent, mos...
» Microsoft and Oracle to interconnect M...
» The importance of training in developi...
» ANIS: Romanian IT market annual revenu...
» Healthcare IT outsourcing market is ex...
» Bosch Service Solutions to grow 20% Ti...
» Omnichannel: 4 pillars of a purposeful...

My HR Lab: Research of suitable candidates and giving feedback to rejected ones, the biggest challenge in HR

During June 2019, My HR Lab company run an online (social media platforms) survey "Challenges of the recruitment process" which enrolled over 100 professionals working in HR and recruitment in Romania.
Read Full article »
The local market needs more added-value and complex projects to be developed by the companies

The statement has been uttered within this year's Romanian Outsourcing and Shared Services Summit by Catalina Dodu, Country Manager at Atos, pointing to the local enablers that could enhance the innovation and
Read Full article »
The office market at a glance: The round for tenants is on

Data provided by CBRE show that the office spaces segment will continue to grow rapidly in 2019, and 15 new projects covering 304.000 sqm will be delivered. According to the real estate consultancy agency, curr
Read Full article »
People Empowering Business Forum 2019 to take place on October, 30 at Bucharest

Latest trends like demographic upheaval, globalization, digital technology, and changing social values and worker expectations, are disrupting business models and radically changing the workplace. These are req
Read Full article »
Addressing the mantra of cyber-security: Confidentiality, integrity and availability

The fast advancement of technology in all the aspects of everyday life, either personal or professional, and the emerging of AI (Artificial Intelligence) and ML (Machine Learning), not to mention cloud technolo
Read Full article »