Knowledge-sharing presentation on latest trends the industry deals, in the program of Romanian Business Services Forum and Awards

Part of the upcoming joint half-day event, Romanian Business Services Forum and Awards to be held at JW Marriott Hotel on May 7th, the discussion agenda comprises a complex Knowledge-sharing presentation on latest trends the industry deals.

The event benefits from the support of Diamond partner Wipro, Gold partner Colliers, Vastint, besides partners Telus International, SCC, aside the supporting institutions and associations ABSL, ANIS, ClujIT and Wave. The fifth year of celebrating the exceptional performance and outstanding achievements of the most prominent companies acting in the Outsourcing – BPO, ITO and SSC industry in Romania.

This year's ceremony will be held at JW Marriott Hotel on May 7th, Constanta Ballroom in a joint half-day event, ROMANIAN BUSINESS SERVICES FORUM & AWARDS with engaging keynote sessions by industry leaders, interactive panel discussions, networking opportunities and Gala Awards dinner.

Read everything about this event on the official web page:http://business-services-forum-awards.thediplomat.ro/

Find below all the topics to be tackled during the discussion panel between 3 pm – 4.40 pm.

Topics to be tackled within the event:

• Embracing digital. The emerging technologies, including Cloud computing, AI, Machine Learning applications (like Automated Virtual Assistants), RPA and IoT devices, involves continued spending on research and development. Moreover, training of unskilled workers or taking in new skilled workers increases operational costs, in turn affecting margins and keeping profits under pressure.
• Focus on Data Security. It takes an enormous investment of time, talent, and money to keep corporate and client records safe in a cyber environment that is constantly under attack.
• HR Digital Transformation. Identifying and Addressing the Changing Skills Deficit Within Business Services. A clear vision of tomorrow, backed by appropriate investments today, is the path to achieve growth targets.
• Smart Workplace. The slot dedicated to this subject will feature changes in the workplace disrupted by new technology and demographics and how companies need to keep up with them in an effort to improve ROI, employee retention, and employee wellness.
• Customer centric thinking. While companies are more and more focusing on providing predictable, standard processes, backed by innovative technology, which continually improves their customers experience, business services providers position as strategic partners that have the management, communication, tools, technologies, reporting and staff that meets or exceeds their customers' expectations.

---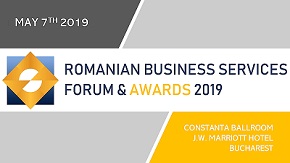 » Molson Coors started to grow its busin...
» TELUS International Europe: Three ways...
» Deloitte's Tech Trends 2019 report: B...
» Capgemini: Investing in people is the ...
» The Outsourcing industry announces its...
» Romania ranks above EU average in gend...
» Committed to growth
» ROMANIAN OUTSOURCING AWARDS FOR EXCELL...
» Engagement and inclusion through direc...
» KPMG study: Big data needs a big re-th...

The voting procedure for the BRAND OF THE YEAR 2019 IN ROMANIAN BUSINESS SERVICES is open!

This is the fifth edition of the event and the second year to select the public's favorite brand in the business services BPO, ITO and SSC in Romania.
Read Full article »
Romania ranks above EU average in gender employment gap

In Romania, the employment rate measures the number of people who have a job as a percentage of the working age population. This page provides - Romania Employment Rate- actual values, historical data, forecast
Read Full article »
Steven Hunt, SAP SuccessFactors: Tectonic movements in the world of work

The world of work will be shaped by five tectonic movements – or global megatrends – over the next few years. As you may guess from the geological analogy, the effects could be dramatic.
Read Full article »
EY: European companies are divesting to future-proof growth

According to the EY Global Corporate Divestment Study, 84 per cent of European companies surveyed intending to divest within the next two years (the majority planning to do so in the coming 12 months), executiv
Read Full article »
Knowledge-sharing presentation on latest trends the industry deals, in the program of Romanian Business Services Forum and Awards

Part of the upcoming joint half-day event, Romanian Business Services Forum and Awards to be held at JW Marriott Hotel on May 7th, the discussion agenda comprises a complex Knowledge-sharing presentation on lat
Read Full article »