Tremend joins Mellanox in powering the majority of Top 500 supercomputers

Tremend - one of the fastest growing software companies in Romania - has signed an agreement with Mellanox Technologies, a leading supplier of end-to-end connectivity solutions for servers and storage, with headquarters in California and Israel.

Within this agreement, Tremend will provide chip design and verification services, being one of the few providers in Romania that have the technical capacity to deliver in this highly specialized area. Tremend engineers will work side by side with Mellanox experts to build the next generation of the networking processors and switches that power the majority of Top 500 supercomputers and 90% of the Cloud HyperScale companies.

Bogdan Nitulescu, CTO and Partner, Tremend, said: "It's a partnership that strengthens our business with the semiconductor industry and connects us to an avant-garde segment of software and hardware services. We believe in the growth potential on the local market, capitalizing on our main strengths - highly educated human resources, a talented team and very good cultural compatibility with our partners."

Tremend will open up to 50 positions within its team in the next two years, offering the opportunity for computer science, mathematics or electronics graduates to specialize in the cutting edge field of chip design and verification for the fastest and most advanced networking products on the market.
Ido Bukspan, VP of Chip Design, Mellanox Technologies said – "We have a great momentum in developing our cutting edge devices and our strategy is designed to keep it going strong. We're talking here about state-of-the-art, best in the world devices in this specific category. Starting a collaboration with Tremend is further proof to our operational efficiency and we're confident that we found in Tremend an excellent partner and a talent pool able to drive growth through innovation in our market-leading products."

The highly skilled engineers already joining the team have strong backgrounds in electronics and computer science, combining software and programming skills with the knowledge of hardware and digital circuits. The core skills needed will be in the domains of high-performance networking, VLSI design and verification, technologies used in the backbone of the Internet and cloud infrastructure.



---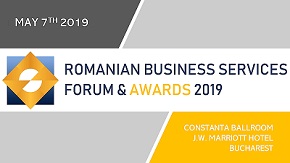 » The most appreciated companies from th...
» Webhelp Romania aiming for EUR 10 mill...
» Tremend joins Mellanox in powering the...
» The Outsourcing industry announces its...
» Manpower: Romania's labor market, more...
» Deloitte's Tech Trends 2019 report: B...
» Bucharest, in the top of cities in Eur...
» Oracle reaches 4,200 employees and pla...
» Genpact's COO: Staying ahead of the cu...
» Ascentis: The top ten HR trends for 20...

Nomination are now open for Romanian Business Services Forum and Awards

Nominations have opened for the prestigious Romanian Business Services Forum & Awards. The 2019 awards will continue to recognize and reinforce the important contribution made by business services professionals
Read Full article »
Study: 89 per cent of finance teams yet to embrace Artificial Intelligence

Report by Association of International Certified Professional Accountants and Oracle shows that almost 90 per cent of finance teams do not have the skills to support digital transformation.
Read Full article »
Bucharest, in the top of cities in Europe with the largest number of experts in high-tech industry

Bucharest is among the top cities boasting the most experts in the high-tech innovative industry, with over 70,000 current employees, next to London, Dublin, Madrid or Budapest, reads a study conducted by CBRE
Read Full article »
CBRE study: Post-millennials, the happiest about their offices
During 2018, real estate consultancy company CBRE conducted the first study dedicated to work environment in office buildings in Bucharest. The respondents have been structured in four age segments, such as Z g
Read Full article »
Deloitte's Tech Trends 2019 report: Beyond the digital frontier

The recently released Deloitte's Tech Trends 2019: Beyond the digital frontier, as each Tech Trends report in the series conducted by the consultancy company, lobbies for embracing the increasing, often mind-b
Read Full article »