US company Visteon looks for software developers at Timisoara

Visteon, automotive supplier focused exclusively on cockpit electronics, it is setting up a new product development center in Timisoara, Romania. The company plans to build a team of 400 employees in Romania, by 2020.



The company is looking for candidates whose skill sets include programming language C and/or C++ design of software for embedded automotive systems or software design and UML modeling.

Visteon Corporation, the only automotive company specialized exclusively on the design and production of electronic board components, opens a new 5,000 sq m development center in Timisoara at ISHO Offices. By 2020, the new technology center will have 400 professionals specializing in a range of disciplines such as software, technology and automotive.

Visteon is a global technology company dedicated to the design and production of innovative electronic products for most global automotive manufacturers. Visteon is a leader in providing instrument clusters, screens, audio systems, SmartCore control devices and DriveCore autonomous driving platforms. Visteon also offers integrated multimedia solutions and smartphone solutions for the global automotive industry. Headquartered in Van Buren Township, Michigan, Visteon has approximately 10,000 employees in over 40 centers in 18 countries.

The Timisoara Bureau will operate as part of the Visteon European Center, which also includes the development offices in Germany, Bulgaria, France and the UK. The center will contribute to the growth of Visteon with customers such as BMW, Mercedes, Porsche, PSA and Jaguar Land Rover.

Timisoara is a performing hub that provides a talent base with the highest level of technical abilities. It also has an ideal location which allows it to be easily connected with Visteon development centers in Europe and to provide support to customers in the region. We are excited to build the new Visteon talent base in Timisoara, which will have the unique opportunity to directly impress the formation of the new center, "said Mark Fosmoen, Vice President, customer engineering - Europe, Visteon.

The Visteon Technology Center in Timişoara will have the skills to transform customer requests into tested solutions designed to be developed for mass production. "We are delighted to host Visteon Corporation's new office at ISHO Offices, which will provide employees with a modern work environment with excellent facilities. Visteon is a new company on the local market with big plans for the future. We are talking about a big company that brings to our city the knowledge of software and automation of the highest level which will definitely contribute to the development of the technical community in Timisoara, "says Ovidiu SANDOR, developer of the ISHO project.

In 2021, when the entire project is completed, ISHO will become a district with over 1,200 apartments, more than 50,000 sqm of new generation offices and a selection of facilities and services, including a top international hotel, but also a pedestrian area restaurants, cafes, proximity stores, banking center and medical center. ISHO will be serviced by over 2,000 parking spaces, will incorporate over 7,500 square meters of green spaces, playgrounds, after-school facilities, etc.



---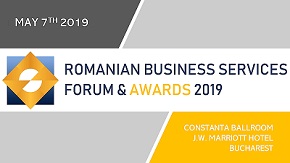 » The most appreciated companies from th...
» Webhelp Romania aiming for EUR 10 mill...
» Tremend joins Mellanox in powering the...
» The Outsourcing industry announces its...
» Manpower: Romania's labor market, more...
» Deloitte's Tech Trends 2019 report: B...
» Bucharest, in the top of cities in Eur...
» Oracle reaches 4,200 employees and pla...
» Genpact's COO: Staying ahead of the cu...
» Ascentis: The top ten HR trends for 20...

Nomination are now open for Romanian Business Services Forum and Awards

Nominations have opened for the prestigious Romanian Business Services Forum & Awards. The 2019 awards will continue to recognize and reinforce the important contribution made by business services professionals
Read Full article »
Study: 89 per cent of finance teams yet to embrace Artificial Intelligence

Report by Association of International Certified Professional Accountants and Oracle shows that almost 90 per cent of finance teams do not have the skills to support digital transformation.
Read Full article »
Bucharest, in the top of cities in Europe with the largest number of experts in high-tech industry

Bucharest is among the top cities boasting the most experts in the high-tech innovative industry, with over 70,000 current employees, next to London, Dublin, Madrid or Budapest, reads a study conducted by CBRE
Read Full article »
CBRE study: Post-millennials, the happiest about their offices
During 2018, real estate consultancy company CBRE conducted the first study dedicated to work environment in office buildings in Bucharest. The respondents have been structured in four age segments, such as Z g
Read Full article »
Deloitte's Tech Trends 2019 report: Beyond the digital frontier

The recently released Deloitte's Tech Trends 2019: Beyond the digital frontier, as each Tech Trends report in the series conducted by the consultancy company, lobbies for embracing the increasing, often mind-b
Read Full article »