Deloitte's Tech Trends 2019 report: Beyond the digital frontier

The recently released Deloitte's Tech Trends 2019: Beyond the digital frontier, as each Tech Trends report in the series conducted by the consultancy company, lobbies for embracing the increasing, often mind-bending velocity of change.

"A decade ago many companies could achieve competitive advantage by embracing innovations and trends that were already underway. Today, this kind of reactive approach is no longer enough. To stay ahead of the game, companies must work methodically to sense new innovations and possibilities, make sense of their ambitions for tomorrow, and find the confidence to boldly go beyond the digital frontier," the report states.

The report states:

"Digital experience. Analytics. Cloud. In the previous nine issues of Tech Trends, we have examined these powerful forces as they evolved from promising innovations and novel approaches into full-fledged trends. We recognized their disruptive potential and looked to the horizon to find innumerable strategic opportunities they could—and eventually would—present. Indeed, each proved to be far more than a trend; over time they evolved and expanded across industries. Today they are considered foundational components not only of enterprise IT, but of corporate strategy.

So in the context of technology trends, there is nothing much left to say about digital, analytics, and cloud, right? Not so fast. Despite their ubiquity and proven value, these technologies' full potential remains largely untapped. Investments in them are often departmental and limited in scope. Likewise, in some companies, analytics, cloud, and digital initiatives are disjointed, even competing efforts.

Meanwhile, three newer trends—digital reality, cognitive technologies, and blockchain—are growing rapidly in importance. In the last several issues of Tech Trends, we discussed how virtual reality and augmented reality are redefining the fundamental ways humans interact with their surroundings, with data, and with each other. We tracked blockchain's meteoric rise from bitcoin enabler to purveyor of trust. And as cognitive technologies such as machine learning, robotic process automation, natural language processing, neural nets, and AI moved from fledgling siloed capabilities to tenets of strategy, we have explored their profound potential for business and society. These three trends are poised to become as familiar and impactful as cloud, analytics, and digital experience are today.

Of course, any pursuit of tomorrow's promise should start from the technical realities of today. Three formative forces have proven essential in the pursuit of digital transformation past, present, and future: modernizing core systems to serve as a foundation for innovation and growth; elevating cyber and the broader risk domain from a compliance-based activity to an embedded, strategic function; and reengineering an organization's technology function to deliver against the promise of technologies emerging and existing—or risk failing at its mission.
Just because these nine forces—digital experience, cloud, analytics, blockchain, cognitive, digital reality, business of technology, core modernization, and cyber—are no longer particularly novel doesn't mean they are not vitally important. In fact, one of the most pressing challenges technology and business leaders face is how to excavate and harness the value these macro forces can deliver collectively.

For example, the factory of the future needs to bring together next-gen ERP, machine learning, embedded sensors across the production floor, augmented reality training, mobile visualization and predictive flow scheduling, secure networks, and cloud-based tools for managing workflow across the supply chain. Not to mention the need to retool workers and cross-pollinate between traditional information and operational technology roles and skills.

Through their collision and the innovation unleashed, these forces will likely dominate enterprise IT, business, and markets to an even greater extent than they have as individual technologies. With macro forces, it's the controlled collision that leads beyond the digital frontier."





---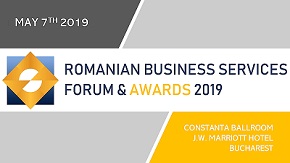 » Huawei opens a centre on cyber securit...
» ROMANIAN OUTSOURCING AWARDS FOR EXCELL...
» Romania ranks above EU average in gend...
» Bucharest, in the top of cities in Eur...
» Meet the experts who will decide the w...
» Berg Software Romania: Reasons to outs...
» KPMG launches an application enabling ...
» Bogdan Pelinescu, president of ABSL: A...
» ABSL GALA AWARDS celebrated its winner...
» George Rotariu, CEO Bitcoin Romania: B...

Catalina Dodu - Meet the speakers at Romanian Business Services Forum 2019 CEO LEADERS DEBATE, on May 7

Catalina Dodu runs the operations of Atos Romania since March 2014, with an experience of over 15 years in IT management. Previous to being appointed Country Manager, Catalina managed the System Integration div
Read Full article »
Philippe Beucher: Meet the speakers at Romanian Business Services Forum 2019 CEO LEADERS DEBATE, on May 7

Philippe Beucher is the Managing Director of Accenture Operations – Danubia Region, leading the Operations entity for Romania, Czech Republic, Slovakia and Hungary starting from February 2019. For the past 1
Read Full article »
Meet the speakers at Romanian Business Services Forum 2019 CEO LEADERS DEBATE, on May 7th - Matthieu Pasquier

Matthieu Pasquier is CEO of Societe Generale European Business Services since August 2018 bringing more than 27 years experience in Societe Generale group. During 2014-2018, Matthieu was Head of SG GSC Chennai
Read Full article »
Sorin Mindrutescu among the speakers at Romanian Business Services Forum 2019 CEO LEADERS DEBATE, on May 7th

Sorin Mindrutescu is the Country Leader for Oracle Romania, as of February 2003. In this role, he is responsible for local sales and project delivery. In Romania, Oracle has two major business directions: the l
Read Full article »
Meet the speakers at Romanian Business Services Forum 2019 CEO LEADERS DEBATE, on May 7th - Vivek Bakshi

Vivek Bakshi is the General Manager of Wipro Technologies. He has spent 12 years heading the International Locations / Delivery Centers Europe from the Bucharest office.
Read Full article »