CBRE maintains its market leader ranking with 24 per cent market share on the Bucharest-based office segment

In 2018, CBRE, the real estate consultant managed 24 per cent of the Bucharest-based office market, according to a release of the company.

For CBRE, last year was characterized by an intense pace of development in the office buildings segment in Bucharest, with 144,000 sqm of newly built and delivered projects. In 2018, more office space was completed by 15 per cent than in 2017 when projects totaling 123,000 sqm were completed. Of the total area traded at the capital level, CBRE broke agreements for approximately 85.000 sqm. The company was also active in regional cities where it was involve in 12,500 sqm of office space operations. In the country, CBRE was involved in office transactions for 12.000 sqm office spaces.

"The year 2018 was extremely prolific for the office space market, which rose compared to 2017, as I had anticipated. For CBRE, it was a period of results that we are proud of, in which we have retained our leadership position for three years and we have managed to bring new and very important names on the Romanian market for the first time. I think that a major role in this success is played by both the talented team that worked on these transactions and the know-how accumulated at the local level. Also, the experience of decades and the support of CBRE consultants around the world are an unquestionable asset for our success in Romania. For 2019, we want not only to maintain our first position, for which we will continue to work at least as much as to bring innovation to this segment and contribute to the development of the office space sector in general that is already approaching fast-paced mature markets in Europe, "said Mihai Păduroiu, CBRE Romania's Head of Advisory & Transaction Services.

The company announced it managed over 40 office transactions in 2018, amounting over 85.000 sqm in Bucharest and 12.500 sqm countrywide in cities such as Cluj, Brasos and Timisoara. Within this volume, almost 40.000 sqm represented renegociations, over 23.000 sqm were pre-lease contracts, another 23.000 sqm represented relocations, expansions and new demands. The expansions and the new demands totalled 12.000 sqm, equalling 1.200 new work places.

---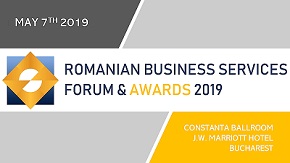 » The most appreciated companies from th...
» Webhelp Romania aiming for EUR 10 mill...
» Tremend joins Mellanox in powering the...
» The Outsourcing industry announces its...
» Manpower: Romania's labor market, more...
» Deloitte's Tech Trends 2019 report: B...
» Bucharest, in the top of cities in Eur...
» Oracle reaches 4,200 employees and pla...
» Genpact's COO: Staying ahead of the cu...
» Ascentis: The top ten HR trends for 20...

Nomination are now open for Romanian Business Services Forum and Awards

Nominations have opened for the prestigious Romanian Business Services Forum & Awards. The 2019 awards will continue to recognize and reinforce the important contribution made by business services professionals
Read Full article »
Study: 89 per cent of finance teams yet to embrace Artificial Intelligence

Report by Association of International Certified Professional Accountants and Oracle shows that almost 90 per cent of finance teams do not have the skills to support digital transformation.
Read Full article »
Bucharest, in the top of cities in Europe with the largest number of experts in high-tech industry

Bucharest is among the top cities boasting the most experts in the high-tech innovative industry, with over 70,000 current employees, next to London, Dublin, Madrid or Budapest, reads a study conducted by CBRE
Read Full article »
CBRE study: Post-millennials, the happiest about their offices
During 2018, real estate consultancy company CBRE conducted the first study dedicated to work environment in office buildings in Bucharest. The respondents have been structured in four age segments, such as Z g
Read Full article »
Deloitte's Tech Trends 2019 report: Beyond the digital frontier

The recently released Deloitte's Tech Trends 2019: Beyond the digital frontier, as each Tech Trends report in the series conducted by the consultancy company, lobbies for embracing the increasing, often mind-b
Read Full article »