Engagement and inclusion through direct feedback from employees

As an example offered by Olga Botusan at Stefanini, the company implemented a satisfaction survey in previous years, and they constantly use the results and the feedback of colleagues to come up with better solutions for the upcoming year, designed to implement actions that are directly related to their requests.

So, it's no longer the HR department that suggests improvements, but rather the feedback of the employees directly. As a consequence, the level of employee satisfaction grows, something highly important especially for Millennials who like to know they are listened to and that their opinion really matters.

According to Stefanini's manager, the automated processes depend a lot on a company's size and specific needs. For example, Stefanini has gone through a process of expanding the teams throughout the EMEA region, so they needed a solution for automating our recruitment process. "We have a resume management application called Taleo, that keeps track of the entire recruitment process. We also have an app called TalentSpotting where our colleagues can recommend potential employees. The app manages all resumes; jobs can be shared easily on social media platforms, users can post links with the LinkedIn profiles of people they recommend," Botusan explained.

Dealing with the employee management tools
Another example is coming from the area of employee management. As for the benefits, Stefanini implemented a platform at the beginning of this year called Benefit Online. The company's employees have a fixed budget every month and they can manage it through this app. They can choose to invest it in sports, personal development, wellness, shopping and so on or to save it for a few months and then invest in a more complex or meaningful experience. Such an app is also useful as it provides trends and meaningful big data on your employees. "For example, over 50 per cent of our colleagues chose to save their budgets for a few months and they use it to make more significant acquisitions. As in most companies, we also have a digital database for the HR admin area, where we manage the entire life cycle of an employee – that's the place where we keep track of their salary, increases, trainings, promotions and so on," Stefanini manager said.
Self-service tools

Hence, it became a practice for companies to look for and implement such self-service tools that lead to the active participation of employees even outside the workplace. They empower the employees with all the necessary data or information required to accomplish their tasks and job responsibilities. Organisations with offices in multiple locations can easily understand the importance of self-service tools and knowledge/data banks. These self-service tools keep employees informed about changes in work plans, schedules, etc. Hence, to maximize the productivity and efficiency of the employees, HR must equip them with the latest self-service tools.

Stefanini's Olga Botusan considers that, in Romania, more and more companies are using digital solutions now, and that this is the focus for many players. "The processes get simplified and the accuracy improves, not to mention how much faster automated processes are. Therefore, many employees in the HR departments can now focus on more complex tasks, with added value and human interaction, while the simple, repetitive ones are taken over by dedicated apps. One very important aspect to mention in this regard is that as automated processes have begun to be implemented, the HR consultants have become more like business consultants," the manager added.

---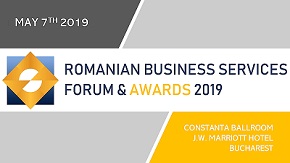 » Raiffeisen Bank Romania outsources onl...
» Horváth & Partners launches Steering ...
» JLL: Total office space in Bucharest t...
» Colliers International takes over the ...
» SSC in Romania. Who takes the lion's s...
» Oracle results pushed down by a strong...
» Survey: Romanians switch to a lower-pa...
» Genpact, Luxoft and Oracle, top lessee...
» Romanian employers report the stronges...
» Eucom: Nine out of ten corporate Roman...

My HR Lab: Research of suitable candidates and giving feedback to rejected ones, the biggest challenge in HR

During June 2019, My HR Lab company run an online (social media platforms) survey "Challenges of the recruitment process" which enrolled over 100 professionals working in HR and recruitment in Romania.
Read Full article »
The local market needs more added-value and complex projects to be developed by the companies

The statement has been uttered within this year's Romanian Outsourcing and Shared Services Summit by Catalina Dodu, Country Manager at Atos, pointing to the local enablers that could enhance the innovation and
Read Full article »
The office market at a glance: The round for tenants is on

Data provided by CBRE show that the office spaces segment will continue to grow rapidly in 2019, and 15 new projects covering 304.000 sqm will be delivered. According to the real estate consultancy agency, curr
Read Full article »
People Empowering Business Forum 2019 to take place on October, 30 at Bucharest

Latest trends like demographic upheaval, globalization, digital technology, and changing social values and worker expectations, are disrupting business models and radically changing the workplace. These are req
Read Full article »
Addressing the mantra of cyber-security: Confidentiality, integrity and availability

The fast advancement of technology in all the aspects of everyday life, either personal or professional, and the emerging of AI (Artificial Intelligence) and ML (Machine Learning), not to mention cloud technolo
Read Full article »