Engagement and inclusion through direct feedback from employees

As an example offered by Olga Botusan at Stefanini, the company implemented a satisfaction survey in previous years, and they constantly use the results and the feedback of colleagues to come up with better solutions for the upcoming year, designed to implement actions that are directly related to their requests.

So, it's no longer the HR department that suggests improvements, but rather the feedback of the employees directly. As a consequence, the level of employee satisfaction grows, something highly important especially for Millennials who like to know they are listened to and that their opinion really matters.

According to Stefanini's manager, the automated processes depend a lot on a company's size and specific needs. For example, Stefanini has gone through a process of expanding the teams throughout the EMEA region, so they needed a solution for automating our recruitment process. "We have a resume management application called Taleo, that keeps track of the entire recruitment process. We also have an app called TalentSpotting where our colleagues can recommend potential employees. The app manages all resumes; jobs can be shared easily on social media platforms, users can post links with the LinkedIn profiles of people they recommend," Botusan explained.

Dealing with the employee management tools
Another example is coming from the area of employee management. As for the benefits, Stefanini implemented a platform at the beginning of this year called Benefit Online. The company's employees have a fixed budget every month and they can manage it through this app. They can choose to invest it in sports, personal development, wellness, shopping and so on or to save it for a few months and then invest in a more complex or meaningful experience. Such an app is also useful as it provides trends and meaningful big data on your employees. "For example, over 50 per cent of our colleagues chose to save their budgets for a few months and they use it to make more significant acquisitions. As in most companies, we also have a digital database for the HR admin area, where we manage the entire life cycle of an employee – that's the place where we keep track of their salary, increases, trainings, promotions and so on," Stefanini manager said.
Self-service tools

Hence, it became a practice for companies to look for and implement such self-service tools that lead to the active participation of employees even outside the workplace. They empower the employees with all the necessary data or information required to accomplish their tasks and job responsibilities. Organisations with offices in multiple locations can easily understand the importance of self-service tools and knowledge/data banks. These self-service tools keep employees informed about changes in work plans, schedules, etc. Hence, to maximize the productivity and efficiency of the employees, HR must equip them with the latest self-service tools.

Stefanini's Olga Botusan considers that, in Romania, more and more companies are using digital solutions now, and that this is the focus for many players. "The processes get simplified and the accuracy improves, not to mention how much faster automated processes are. Therefore, many employees in the HR departments can now focus on more complex tasks, with added value and human interaction, while the simple, repetitive ones are taken over by dedicated apps. One very important aspect to mention in this regard is that as automated processes have begun to be implemented, the HR consultants have become more like business consultants," the manager added.

---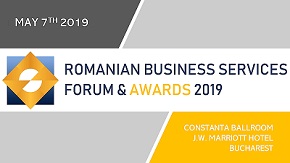 » Molson Coors started to grow its busin...
» TELUS International Europe: Three ways...
» Deloitte's Tech Trends 2019 report: B...
» Capgemini: Investing in people is the ...
» Committed to growth
» The Outsourcing industry announces its...
» Romania ranks above EU average in gend...
» ROMANIAN OUTSOURCING AWARDS FOR EXCELL...
» Engagement and inclusion through direc...
» KPMG study: Big data needs a big re-th...

The voting procedure for the BRAND OF THE YEAR 2019 IN ROMANIAN BUSINESS SERVICES is open!

This is the fifth edition of the event and the second year to select the public's favorite brand in the business services BPO, ITO and SSC in Romania.
Read Full article »
Romania ranks above EU average in gender employment gap

In Romania, the employment rate measures the number of people who have a job as a percentage of the working age population. This page provides - Romania Employment Rate- actual values, historical data, forecast
Read Full article »
Steven Hunt, SAP SuccessFactors: Tectonic movements in the world of work

The world of work will be shaped by five tectonic movements – or global megatrends – over the next few years. As you may guess from the geological analogy, the effects could be dramatic.
Read Full article »
EY: European companies are divesting to future-proof growth

According to the EY Global Corporate Divestment Study, 84 per cent of European companies surveyed intending to divest within the next two years (the majority planning to do so in the coming 12 months), executiv
Read Full article »
Knowledge-sharing presentation on latest trends the industry deals, in the program of Romanian Business Services Forum and Awards

Part of the upcoming joint half-day event, Romanian Business Services Forum and Awards to be held at JW Marriott Hotel on May 7th, the discussion agenda comprises a complex Knowledge-sharing presentation on lat
Read Full article »