How Tech-ready are companies?

Technology has made it easier and faster than ever to prepare, anticipate, implement, and get the job done for everyone, from the simple technology home user to all levels and departments of a corporation. However, the countries are moving towards the goal of using technology on a daily basis through digitalization at their own pace.

According to the latest 2018 Barometer of Digitalization of Companies in Romania, Romania has the lowest rate of digital integration in Europe – a scenario that is holding Romanian businesses back from increasing profits. Digital advancement is driving economies all across the European Union, with the continent's economic stalwarts positioned at the top of both the Digital Economies and Society Index (DESI) and the rankings for GDP per capita. At a glance, this provides an indication of the benefits reaped by companies adapting to the EU's 'Digital Agenda for Europe' plan. The bottom end of these indices, however, tells another story.

Elena Badea, Managing Partner of Valoria Business Solutions, said in the report: "The digitization barometer shows a concern for the growth level of digitization in Romania, especially in comparison to the previous year." Romania currently has the second lowest GDP per capita in the European Union, only ahead of Bulgaria. With only a fraction of businesses in Romania being digitally active, the country brings up the rear of this year's DESI. Romanians are struggling to integrate digital business models with their businesses and, as a result, companies are lagging behind their European counterparts.

In terms of the impact that digitalization has already had on a business, 47 per cent of Romanian companies – compared to 35 per cent last year – say that digitization has had a great influence on their business so far. However, only 42 per cent of Romanian companies have a website for their business, indicating that there is still a way to go in this regard. Furthermore, only 33 per cent of Romanian workers use a computer in their daily activities. In terms of e-commerce, the number of Romanian businesses that sell products online is even lower, sitting at seven per cent nationally.

Romanians are becoming increasingly aware of the opportunities and challenges that digitalization brings. The greatest influence of digitalization can be seen in firms with an annual revenue of 50-100 million Euro at a digitalization influence rate of 59 per cent. This number was closely followed by companies with over 100 million Euro of revenue with an uptake rate of 50 per cent. This is also the case when looking at how confident companies are of their own abilities to bring about digital change, albeit with a smaller margin. This year, 53 per cent of companies overall – in comparison to 31 in 2017 – say that they are confident about digitalization and believe that they themselves have the knowledge to implement it.

In terms of business models, 75 per cent of companies with a turnover over 100 million Euro stated that new and digitally endowed business models have greatly changed the industry in which they operate. This is followed by a dramatic drop to 41 per cent of companies with a turnover of between 50-100 Euro million and 36 per cent of those with turnover of 10-50 million Euro. The majority of businesses within these three groups – with turnovers above ten million Euro– do not believe that digital business models are a threat.

---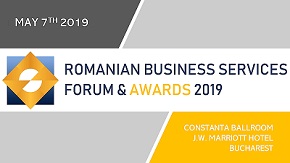 » Raiffeisen Bank Romania outsources onl...
» Horváth & Partners launches Steering ...
» JLL: Total office space in Bucharest t...
» Colliers International takes over the ...
» Oracle results pushed down by a strong...
» Survey: Romanians switch to a lower-pa...
» SSC in Romania. Who takes the lion's s...
» Genpact, Luxoft and Oracle, top lessee...
» Romanian employers report the stronges...
» Eucom: Nine out of ten corporate Roman...

My HR Lab: Research of suitable candidates and giving feedback to rejected ones, the biggest challenge in HR

During June 2019, My HR Lab company run an online (social media platforms) survey "Challenges of the recruitment process" which enrolled over 100 professionals working in HR and recruitment in Romania.
Read Full article »
The local market needs more added-value and complex projects to be developed by the companies

The statement has been uttered within this year's Romanian Outsourcing and Shared Services Summit by Catalina Dodu, Country Manager at Atos, pointing to the local enablers that could enhance the innovation and
Read Full article »
The office market at a glance: The round for tenants is on

Data provided by CBRE show that the office spaces segment will continue to grow rapidly in 2019, and 15 new projects covering 304.000 sqm will be delivered. According to the real estate consultancy agency, curr
Read Full article »
People Empowering Business Forum 2019 to take place on October, 30 at Bucharest

Latest trends like demographic upheaval, globalization, digital technology, and changing social values and worker expectations, are disrupting business models and radically changing the workplace. These are req
Read Full article »
Addressing the mantra of cyber-security: Confidentiality, integrity and availability

The fast advancement of technology in all the aspects of everyday life, either personal or professional, and the emerging of AI (Artificial Intelligence) and ML (Machine Learning), not to mention cloud technolo
Read Full article »