How Tech-ready are companies?

Technology has made it easier and faster than ever to prepare, anticipate, implement, and get the job done for everyone, from the simple technology home user to all levels and departments of a corporation. However, the countries are moving towards the goal of using technology on a daily basis through digitalization at their own pace.

According to the latest 2018 Barometer of Digitalization of Companies in Romania, Romania has the lowest rate of digital integration in Europe – a scenario that is holding Romanian businesses back from increasing profits. Digital advancement is driving economies all across the European Union, with the continent's economic stalwarts positioned at the top of both the Digital Economies and Society Index (DESI) and the rankings for GDP per capita. At a glance, this provides an indication of the benefits reaped by companies adapting to the EU's 'Digital Agenda for Europe' plan. The bottom end of these indices, however, tells another story.

Elena Badea, Managing Partner of Valoria Business Solutions, said in the report: "The digitization barometer shows a concern for the growth level of digitization in Romania, especially in comparison to the previous year." Romania currently has the second lowest GDP per capita in the European Union, only ahead of Bulgaria. With only a fraction of businesses in Romania being digitally active, the country brings up the rear of this year's DESI. Romanians are struggling to integrate digital business models with their businesses and, as a result, companies are lagging behind their European counterparts.

In terms of the impact that digitalization has already had on a business, 47 per cent of Romanian companies – compared to 35 per cent last year – say that digitization has had a great influence on their business so far. However, only 42 per cent of Romanian companies have a website for their business, indicating that there is still a way to go in this regard. Furthermore, only 33 per cent of Romanian workers use a computer in their daily activities. In terms of e-commerce, the number of Romanian businesses that sell products online is even lower, sitting at seven per cent nationally.

Romanians are becoming increasingly aware of the opportunities and challenges that digitalization brings. The greatest influence of digitalization can be seen in firms with an annual revenue of 50-100 million Euro at a digitalization influence rate of 59 per cent. This number was closely followed by companies with over 100 million Euro of revenue with an uptake rate of 50 per cent. This is also the case when looking at how confident companies are of their own abilities to bring about digital change, albeit with a smaller margin. This year, 53 per cent of companies overall – in comparison to 31 in 2017 – say that they are confident about digitalization and believe that they themselves have the knowledge to implement it.

In terms of business models, 75 per cent of companies with a turnover over 100 million Euro stated that new and digitally endowed business models have greatly changed the industry in which they operate. This is followed by a dramatic drop to 41 per cent of companies with a turnover of between 50-100 Euro million and 36 per cent of those with turnover of 10-50 million Euro. The majority of businesses within these three groups – with turnovers above ten million Euro– do not believe that digital business models are a threat.

---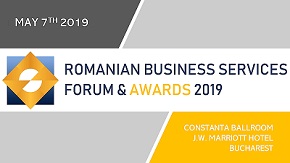 » Molson Coors started to grow its busin...
» TELUS International Europe: Three ways...
» Deloitte's Tech Trends 2019 report: B...
» Capgemini: Investing in people is the ...
» The Outsourcing industry announces its...
» KPMG study: Big data needs a big re-th...
» Romania ranks above EU average in gend...
» Committed to growth
» ROMANIAN OUTSOURCING AWARDS FOR EXCELL...
» Engagement and inclusion through direc...

The voting procedure for the BRAND OF THE YEAR 2019 IN ROMANIAN BUSINESS SERVICES is open!

This is the fifth edition of the event and the second year to select the public's favorite brand in the business services BPO, ITO and SSC in Romania.
Read Full article »
Romania ranks above EU average in gender employment gap

In Romania, the employment rate measures the number of people who have a job as a percentage of the working age population. This page provides - Romania Employment Rate- actual values, historical data, forecast
Read Full article »
Steven Hunt, SAP SuccessFactors: Tectonic movements in the world of work

The world of work will be shaped by five tectonic movements – or global megatrends – over the next few years. As you may guess from the geological analogy, the effects could be dramatic.
Read Full article »
EY: European companies are divesting to future-proof growth

According to the EY Global Corporate Divestment Study, 84 per cent of European companies surveyed intending to divest within the next two years (the majority planning to do so in the coming 12 months), executiv
Read Full article »
Knowledge-sharing presentation on latest trends the industry deals, in the program of Romanian Business Services Forum and Awards

Part of the upcoming joint half-day event, Romanian Business Services Forum and Awards to be held at JW Marriott Hotel on May 7th, the discussion agenda comprises a complex Knowledge-sharing presentation on lat
Read Full article »