CrowdStrike opens a new center of innovation in Bucharest

CrowdStrike Inc., the leader in cloud-delivered endpoint protection, announced the official opening of its new Center of Innovation in the Pipera Technology District, Bucharest, Romania.



The office already is home to a fast-growing team of cybersecurity professionals spanning the fields of cloud engineering, security response and data science and is expected to grow as CrowdStrike continues its expansion globally. The center will be crucial hub for driving research, development and innovation to help support the growing demands of CrowdStrike's expanding global footprint and the company's ambitious technology roadmap.

"I am very happy to announce the opening of CrowdStrike's new Center of Innovation in Romania, a country with the top world-class talent in computer science and cybersecurity," said Dmitri Alperovitch, chief technology officer and co-founder of CrowdStrike. "Our growing presence in Romania has already become a critical hub of innovation for our cloud engineering, Windows/MacOS/Linux kernel experts, security research and response, and data science teams and I look forward to continuing to expand our presence in the coming years."

The new Center of Innovation will give CrowdStrike the chance to continue to grow and recruit experts from Romania and the wider region as the company continues to develop its market- leading capabilities. The Center has been founded and is headed by Research and Development director Daniel Radu and principal engineer Horea Coroiu.

Alex Ionescu, vice president, EDR Strategy at CrowdStrike said: "As a Romanian expat, I am extremely proud to be able to support my home country through the opening of this center, and it is my deepest hope that all of this country's great specialists in kernel programming, systems design, and secure computing will be able to take advantage of our benefits and work opportunities."
CrowdStrike Falcon® is the first and only platform that unifies next-generation antivirus (AV), endpoint detection and response (EDR), and a 24/7 threat huning service - all delivered via a single lightweight agent. CrowdStrike Falcon's modular approach enables customers to have integrated access to the full suite of endpoint protection capabilities, including vulnerability management, IT hygiene, threat intelligence automation, device control, and more.

The company is meeting spiking demand for its unique cloud-native solution as more and more organizations are looking to replace their AV or augment it with advanced endpoint detection and response capability.

CrowdStrike is the leader in cloud-delivered endpoint protection. Leveraging artificial intelligence (AI), the CrowdStrike Falcon® platform offers instant visibility and protection across the enterprise and prevents attacks on endpoints on or off the network. CrowdStrike Falcon deploys in minutes to deliver actionable intelligence and real-time protection from Day One. It seamlessly unifies next-generation AV with best-in-class endpoint detection and response, backed by 24/7 managed hunting. Its cloud infrastructure and single-agent architecture take away complexity and add scalability, manageability, and speed.



---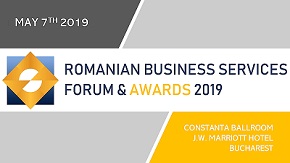 » Molson Coors started to grow its busin...
» TELUS International Europe: Three ways...
» Deloitte's Tech Trends 2019 report: B...
» Capgemini: Investing in people is the ...
» Committed to growth
» The Outsourcing industry announces its...
» Romania ranks above EU average in gend...
» ROMANIAN OUTSOURCING AWARDS FOR EXCELL...
» Engagement and inclusion through direc...
» KPMG study: Big data needs a big re-th...

The voting procedure for the BRAND OF THE YEAR 2019 IN ROMANIAN BUSINESS SERVICES is open!

This is the fifth edition of the event and the second year to select the public's favorite brand in the business services BPO, ITO and SSC in Romania.
Read Full article »
Romania ranks above EU average in gender employment gap

In Romania, the employment rate measures the number of people who have a job as a percentage of the working age population. This page provides - Romania Employment Rate- actual values, historical data, forecast
Read Full article »
Steven Hunt, SAP SuccessFactors: Tectonic movements in the world of work

The world of work will be shaped by five tectonic movements – or global megatrends – over the next few years. As you may guess from the geological analogy, the effects could be dramatic.
Read Full article »
EY: European companies are divesting to future-proof growth

According to the EY Global Corporate Divestment Study, 84 per cent of European companies surveyed intending to divest within the next two years (the majority planning to do so in the coming 12 months), executiv
Read Full article »
Knowledge-sharing presentation on latest trends the industry deals, in the program of Romanian Business Services Forum and Awards

Part of the upcoming joint half-day event, Romanian Business Services Forum and Awards to be held at JW Marriott Hotel on May 7th, the discussion agenda comprises a complex Knowledge-sharing presentation on lat
Read Full article »