CrowdStrike opens a new center of innovation in Bucharest

CrowdStrike Inc., the leader in cloud-delivered endpoint protection, announced the official opening of its new Center of Innovation in the Pipera Technology District, Bucharest, Romania.



The office already is home to a fast-growing team of cybersecurity professionals spanning the fields of cloud engineering, security response and data science and is expected to grow as CrowdStrike continues its expansion globally. The center will be crucial hub for driving research, development and innovation to help support the growing demands of CrowdStrike's expanding global footprint and the company's ambitious technology roadmap.

"I am very happy to announce the opening of CrowdStrike's new Center of Innovation in Romania, a country with the top world-class talent in computer science and cybersecurity," said Dmitri Alperovitch, chief technology officer and co-founder of CrowdStrike. "Our growing presence in Romania has already become a critical hub of innovation for our cloud engineering, Windows/MacOS/Linux kernel experts, security research and response, and data science teams and I look forward to continuing to expand our presence in the coming years."

The new Center of Innovation will give CrowdStrike the chance to continue to grow and recruit experts from Romania and the wider region as the company continues to develop its market- leading capabilities. The Center has been founded and is headed by Research and Development director Daniel Radu and principal engineer Horea Coroiu.

Alex Ionescu, vice president, EDR Strategy at CrowdStrike said: "As a Romanian expat, I am extremely proud to be able to support my home country through the opening of this center, and it is my deepest hope that all of this country's great specialists in kernel programming, systems design, and secure computing will be able to take advantage of our benefits and work opportunities."
CrowdStrike Falcon® is the first and only platform that unifies next-generation antivirus (AV), endpoint detection and response (EDR), and a 24/7 threat huning service - all delivered via a single lightweight agent. CrowdStrike Falcon's modular approach enables customers to have integrated access to the full suite of endpoint protection capabilities, including vulnerability management, IT hygiene, threat intelligence automation, device control, and more.

The company is meeting spiking demand for its unique cloud-native solution as more and more organizations are looking to replace their AV or augment it with advanced endpoint detection and response capability.

CrowdStrike is the leader in cloud-delivered endpoint protection. Leveraging artificial intelligence (AI), the CrowdStrike Falcon® platform offers instant visibility and protection across the enterprise and prevents attacks on endpoints on or off the network. CrowdStrike Falcon deploys in minutes to deliver actionable intelligence and real-time protection from Day One. It seamlessly unifies next-generation AV with best-in-class endpoint detection and response, backed by 24/7 managed hunting. Its cloud infrastructure and single-agent architecture take away complexity and add scalability, manageability, and speed.



---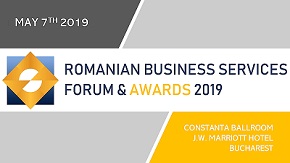 » Evolving from consumers of resources t...
» Preparing for the new future
» ROMANIAN OUTSOURCING AWARDS FOR EXCELL...
» Pepper Escu, the first humanoid robot ...
» Volvo Cars and Uber present production...
» Berg Software Romania: Reasons to outs...
» Marian V. Popa: Meet the speakers at R...
» Deloitte 2019 Global Human Capital Tre...
» Andrei Voica: Meet the speakers at Rom...
» How giving back pays dividends for com...

Digital Transformation Conference to take place on June 19 at Bucharest

The Diplomat – Bucharest organizes Digital Transformation Conference to be held on 14 of June in Bucharest, at Hilton Hotel - Regina Maria Hall, starting 8:30 AM.
Read Full article »
L&D Conference by The Diplomat Bucharest took place on June 4th at Bucharest

The Diplomat-Bucharest organizes the Third Edition of its Learning & Development CONFERENCE on 4 June, 2019 at InterContinental Hotel Bucharest starting 09:00 am.
Read Full article »
Meet the winners of ROMANIAN BUSINESS SERVICES AWARDS, 2019 edition

ROMANIAN BUSINESS SERVICES FORUM & AWARDS 2019, in its fifth year, brrought on May 7, in Bucharest, a new concept event with engaging keynote sessions by industry leaders, interactive panel discussions, network
Read Full article »
Few hours away from to the long awaited CEO Leaders Debate, a premiere of Romanian Business Services Forum and Awards
We are a few hours away to the long awaited CEO Leaders Debate, a premiere of Romanian Business Services Forum and Awards on May 7.
Read Full article »
Colin C. Lovering: Meet the speakers at Romanian Business Services Forum & Awards 2019, on May 7

Colin C. Lovering has been living and working in Romania since 2009 when he arrived to offer consultancy and advice to organisations looking for growth and profitability and founded Achieve International.
Read Full article »