Romania leads in top of countries with highest number of cybersecurity incidents

Romania is leader in the top of jurisdictions recording the highest number of cybersecurity incidents with 14 attacks, followed by the Czech republic (11) and Hungary (8), according to the study "The Cybersecurity Challenge in Central and Eastern Europe," published by CMS and Legal Week Intelligence.

Despite the fact that over 100 separate cyber incidents last year, affecting 18 Central and East European countries, less than a quarter of them focused on government actions, the document shows.

"The escalation of cyber crime is the most serious threat on economic activity at global level today. Cyber criminals constantly identify new ways of handling data and expose companies to unprecedented attacks", according to Gabriel Sidere, Managing Partner CMS Romania. "Companies affected by cyber attacks are in a difficult situation, as some of them are real victims which need support from authorities."

At region level, two thirds of respondents (67 per cent vs. 33 per cent) consider that procedures and protocols concerning cybersecurity, used by the authorities need improvement. That is the major opinion in every Central and East European country.

Although most respondents expressed their concern about the threat of an imminent cyber attack the study shows a clear lack of preparation among Central and East European companies. Only 66 per cent of respondents have mandatory cyber training courses for employees, while less than a half trust their ability to detect or handle an attack. The fact that only a third of respondents have cybersecurity insurances is surprising.

CMS Cameron McKenna Nabarro Olswang LLP-SCP is the sixth lawyer company in the world with 4,500 lawyers and 1,000 partners in over 40 countries.


---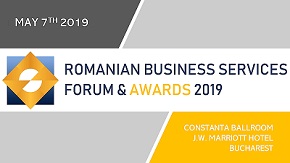 » Molson Coors started to grow its busin...
» TELUS International Europe: Three ways...
» Deloitte's Tech Trends 2019 report: B...
» Capgemini: Investing in people is the ...
» The Outsourcing industry announces its...
» KPMG study: Big data needs a big re-th...
» Romania ranks above EU average in gend...
» Committed to growth
» ROMANIAN OUTSOURCING AWARDS FOR EXCELL...
» Engagement and inclusion through direc...

The voting procedure for the BRAND OF THE YEAR 2019 IN ROMANIAN BUSINESS SERVICES is open!

This is the fifth edition of the event and the second year to select the public's favorite brand in the business services BPO, ITO and SSC in Romania.
Read Full article »
Romania ranks above EU average in gender employment gap

In Romania, the employment rate measures the number of people who have a job as a percentage of the working age population. This page provides - Romania Employment Rate- actual values, historical data, forecast
Read Full article »
Steven Hunt, SAP SuccessFactors: Tectonic movements in the world of work

The world of work will be shaped by five tectonic movements – or global megatrends – over the next few years. As you may guess from the geological analogy, the effects could be dramatic.
Read Full article »
EY: European companies are divesting to future-proof growth

According to the EY Global Corporate Divestment Study, 84 per cent of European companies surveyed intending to divest within the next two years (the majority planning to do so in the coming 12 months), executiv
Read Full article »
Knowledge-sharing presentation on latest trends the industry deals, in the program of Romanian Business Services Forum and Awards

Part of the upcoming joint half-day event, Romanian Business Services Forum and Awards to be held at JW Marriott Hotel on May 7th, the discussion agenda comprises a complex Knowledge-sharing presentation on lat
Read Full article »