Romania leads in top of countries with highest number of cybersecurity incidents

Romania is leader in the top of jurisdictions recording the highest number of cybersecurity incidents with 14 attacks, followed by the Czech republic (11) and Hungary (8), according to the study "The Cybersecurity Challenge in Central and Eastern Europe," published by CMS and Legal Week Intelligence.

Despite the fact that over 100 separate cyber incidents last year, affecting 18 Central and East European countries, less than a quarter of them focused on government actions, the document shows.

"The escalation of cyber crime is the most serious threat on economic activity at global level today. Cyber criminals constantly identify new ways of handling data and expose companies to unprecedented attacks", according to Gabriel Sidere, Managing Partner CMS Romania. "Companies affected by cyber attacks are in a difficult situation, as some of them are real victims which need support from authorities."

At region level, two thirds of respondents (67 per cent vs. 33 per cent) consider that procedures and protocols concerning cybersecurity, used by the authorities need improvement. That is the major opinion in every Central and East European country.

Although most respondents expressed their concern about the threat of an imminent cyber attack the study shows a clear lack of preparation among Central and East European companies. Only 66 per cent of respondents have mandatory cyber training courses for employees, while less than a half trust their ability to detect or handle an attack. The fact that only a third of respondents have cybersecurity insurances is surprising.

CMS Cameron McKenna Nabarro Olswang LLP-SCP is the sixth lawyer company in the world with 4,500 lawyers and 1,000 partners in over 40 countries.


---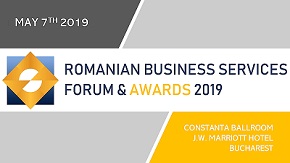 » Evolving from consumers of resources t...
» Preparing for the new future
» ROMANIAN OUTSOURCING AWARDS FOR EXCELL...
» Pepper Escu, the first humanoid robot ...
» Volvo Cars and Uber present production...
» Berg Software Romania: Reasons to outs...
» Marian V. Popa: Meet the speakers at R...
» Deloitte 2019 Global Human Capital Tre...
» George Didoiu: Meet the moderator of R...
» Andrei Voica: Meet the speakers at Rom...

Digital Transformation Conference to take place on June 19 at Bucharest

The Diplomat – Bucharest organizes Digital Transformation Conference to be held on 14 of June in Bucharest, at Hilton Hotel - Regina Maria Hall, starting 8:30 AM.
Read Full article »
L&D Conference by The Diplomat Bucharest took place on June 4th at Bucharest

The Diplomat-Bucharest organizes the Third Edition of its Learning & Development CONFERENCE on 4 June, 2019 at InterContinental Hotel Bucharest starting 09:00 am.
Read Full article »
Meet the winners of ROMANIAN BUSINESS SERVICES AWARDS, 2019 edition

ROMANIAN BUSINESS SERVICES FORUM & AWARDS 2019, in its fifth year, brrought on May 7, in Bucharest, a new concept event with engaging keynote sessions by industry leaders, interactive panel discussions, network
Read Full article »
Few hours away from to the long awaited CEO Leaders Debate, a premiere of Romanian Business Services Forum and Awards
We are a few hours away to the long awaited CEO Leaders Debate, a premiere of Romanian Business Services Forum and Awards on May 7.
Read Full article »
Colin C. Lovering: Meet the speakers at Romanian Business Services Forum & Awards 2019, on May 7

Colin C. Lovering has been living and working in Romania since 2009 when he arrived to offer consultancy and advice to organisations looking for growth and profitability and founded Achieve International.
Read Full article »