Oracle and KPMG study shows data security as priority for business leaders

In August 2018, Oracle applied a questionnaire with a number of questions about transformation technologies to a total of 4,000 respondents in 21 markets. Respondents were top managers in the following markets: Saudi Arabia, Thailand, South Africa, India, South Korea, Singapore, Turkey, New Zealand, Germany, Great Britain, Spain, Australia, UAE, Poland, China, Italy, Malaysia.



According to the present Oracle study on the importance of technology trends, data security clearly outstrips other top-level IT developments and is becoming the biggest technological challenge facing business leaders in the near future. In an opinion poll that summed up the responses of 4,000 leading international executives, security technology is cited as the most important technological issue for companies before many other transformation technologies. 86 per cent of executives rated cloud security as the most important current technology problem that would affect company viability, followed by autonomous databases (78 per cent) and AI (75 per cent).

In spite of the sustained efforts of the industry and the media to promote IoT, blockchain technology and chatbots, managers who answered the questionnaire considered them to be less important from the point of view of the technological impact. Industry respondents rated it as important IoT to 70 per cent, blockchain to 66 per cent and chatbots to 57 per cent. "Companies know that security is a top priority threat. Everything else is built on that foundation," said Liviu Gherman, Oracle CEE Innovation Leader. "There has been a great interest from the media for some of the technologies that promised to revolutionize the business environment, but what we have found is that the fundamental issue is data security, a priority and main concern for business leaders."

When it comes to the most susceptible technology to revolutionize businesses in the near future, cloud security is once again on the top of the list, closely followed by autonomous databases. A percentage of 59 per cent of business people believe they will rely on cloud security in three years; 42 per cent believe they will rely on autonomous databases by 2021 and look for this technology to improve efficiency and reduce human error.

"From our experiences with our Romanian clients, we can see that business people are more interested in technology that improves efficiency and offers solutions than to be interested in the latest buzzword. Although the potential of new technologies is recognized in the future, decision-makers want immediate access to technology that solves both cyber security and data security issues, "said Liviu Gherman, Oracle CEE Innovation Leader.


---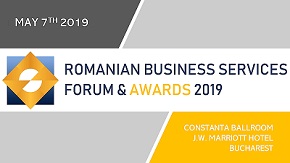 » Molson Coors started to grow its busin...
» TELUS International Europe: Three ways...
» Deloitte's Tech Trends 2019 report: B...
» Capgemini: Investing in people is the ...
» The Outsourcing industry announces its...
» Romania ranks above EU average in gend...
» Committed to growth
» ROMANIAN OUTSOURCING AWARDS FOR EXCELL...
» Engagement and inclusion through direc...
» KPMG study: Big data needs a big re-th...

The voting procedure for the BRAND OF THE YEAR 2019 IN ROMANIAN BUSINESS SERVICES is open!

This is the fifth edition of the event and the second year to select the public's favorite brand in the business services BPO, ITO and SSC in Romania.
Read Full article »
Romania ranks above EU average in gender employment gap

In Romania, the employment rate measures the number of people who have a job as a percentage of the working age population. This page provides - Romania Employment Rate- actual values, historical data, forecast
Read Full article »
Steven Hunt, SAP SuccessFactors: Tectonic movements in the world of work

The world of work will be shaped by five tectonic movements – or global megatrends – over the next few years. As you may guess from the geological analogy, the effects could be dramatic.
Read Full article »
EY: European companies are divesting to future-proof growth

According to the EY Global Corporate Divestment Study, 84 per cent of European companies surveyed intending to divest within the next two years (the majority planning to do so in the coming 12 months), executiv
Read Full article »
Knowledge-sharing presentation on latest trends the industry deals, in the program of Romanian Business Services Forum and Awards

Part of the upcoming joint half-day event, Romanian Business Services Forum and Awards to be held at JW Marriott Hotel on May 7th, the discussion agenda comprises a complex Knowledge-sharing presentation on lat
Read Full article »